Larry Wooten: An Extraordinary Leader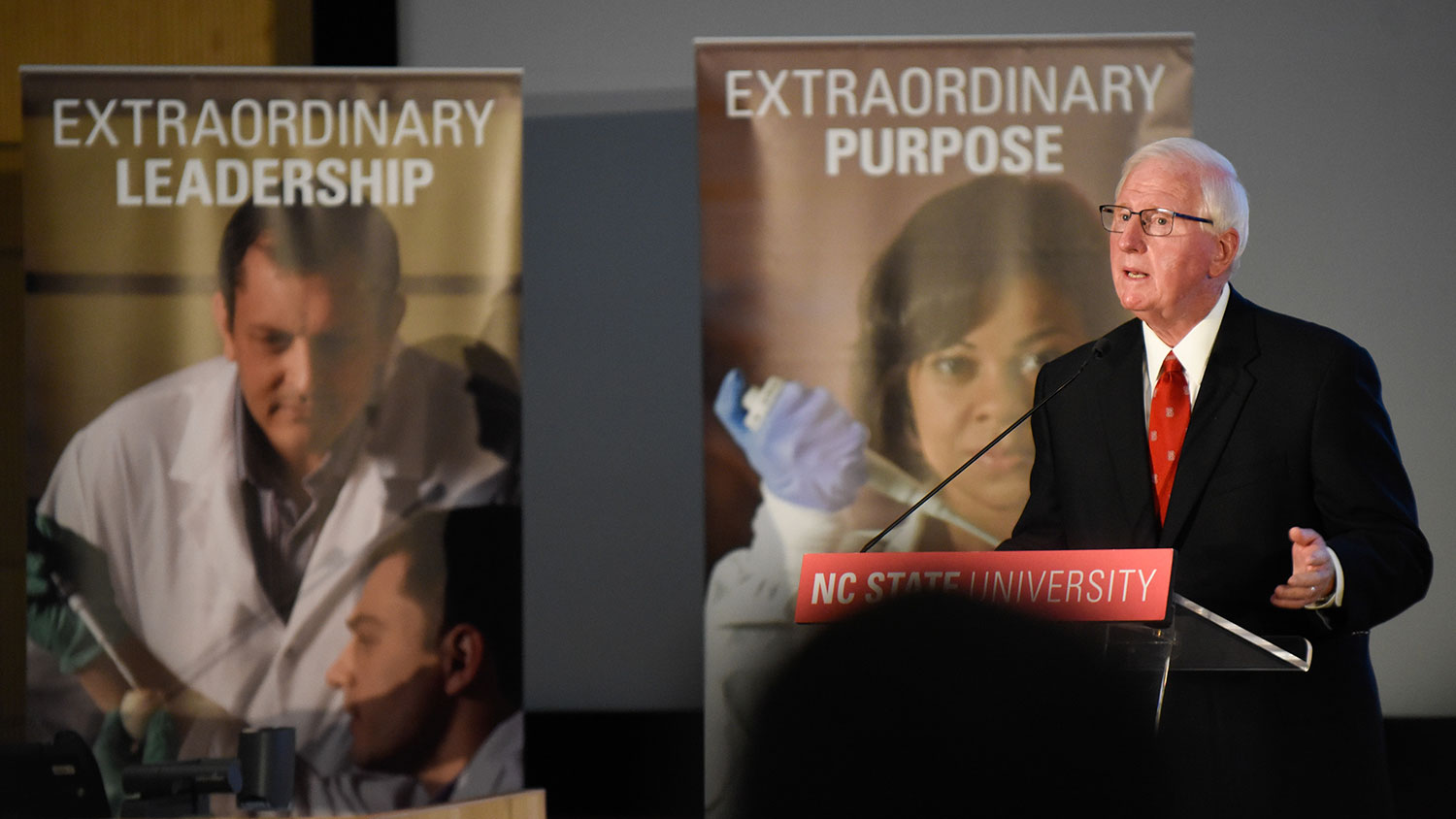 Editor's Note: Congratulations to Shawn Harding upon his election as North Carolina Farm Bureau president on Tuesday Dec. 10. In accepting the gavel from Larry Wooten, Harding said, "Leading this organization is the only endeavor I would leave my farm to pursue. My goal will be to lead this organization with conviction and excellence."
After a 20-year journey as president of the North Carolina Farm Bureau, Larry Wooten has his eyes set on new directions. While he's stepping down from the helm of the state's largest farm organization this month, he remains committed to working for a strong future in North Carolina.
Lifelong Ties to NC State
Wooten's ties to agriculture and the College of Agriculture and Life Sciences stretch back to childhood, when he was a 4-H'er in Pender County. Since then, he has built a legacy of service to farmers and agriculture. 
Wooten, an animal science alumnus from the college's Class of '73, credits much of his success to the tools he found at NC State. "The college has given me an education and broadened my experience," he reflected. "It certainly broadened my world as a young man."
After graduation, Wooten returned to farm in Pender County, where he relied on assistance from NC State Extension agronomy specialists. He also took part in NC State's first class of the Philip Morris Agricultural Leadership Development Program. The leadership skills he learned in that program have, he said, been invaluable.
Wooten not only speaks highly of the university, he also gives back. In September of this year, for example, Wooten was a guest speaker for the groundbreaking ceremony for the Plant Sciences Building. The building is a key asset for the overarching North Carolina Plant Sciences Initiative, and Wooten and the Farm Bureau have been strong supporters of the initiative since its start.
'Paramount' in Growing N.C. Agriculture
As CALS Dean Richard Linton said, Wooten has made an indelible imprint on North Carolina agriculture and his alma mater.
"His leadership has been paramount in growing agriculture in North Carolina and the rest of the nation and in providing more opportunities for our state's rural citizens," Linton said.  "He has been a mentor and an example to us all. We are deeply appreciative of who he is and all that he has done for our great state."
Wooten's impact on rural North Carolina was in the spotlight in November, when Gov. Roy Cooper and N.C. Agriculture Commissioner Steve Troxler presented him with the first-ever North Carolina Rural Leadership Award. The award recognizes his longstanding commitment to rural endeavors, positive impact on rural life and exemplary character. In the future, the honor will carry Wooten's name.
A People-Centered Approach
For Wooten, each day in the Farm Bureau's fast-paced work environment has been different. The Farm Bureau has offices in all 100 counties of North Carolina and over 500,000 member families, and his job as president has taken him across the state and beyond. 
While each day brings uncertainty, Wooten said that one aspect of the job remains the same: It is people-centered.
"To do this job, you've got to have an innate love and respect for people," Wooten emphasized. "You also need to be willing to listen to ideas you don't necessarily agree with."
Challenges Bring Opportunities
When it comes to the future of North Carolina agriculture, Wooten is positive and confident.
"Profitability is an issue for our farmers today, but we are working to make that better," he said. "At the same time, urbanization in North Carolina presents both opportunities and challenges for our farmers and agriculture."
North Carolina is home to some of the nation's fastest-growing urban communities, including cities, such as Charlotte and Raleigh, but the state's rural population remains significant. About 40% of North Carolinians — approximately 4 million people — live in the state's 80 rural counties.
"On the challenge side, population growth has put pressure on agriculture in terms of people butting up against agriculture. It causes some frictions, whether it be noises, smells, land use, moving farm equipment or escalating land values," Wooten said.
Still, he sees an upside. "As consumers have come closer in proximity to farmers, the farm-to-fork movement has spurred new interest in agriculture," he said. "It has provided opportunities for new farmers and young farmers to become involved in food production."
A Labor of Love
Working to advance agriculture has, Wooten said, been a labor of love. 
"Almost one out of every five people that got up this morning to go to work owe their jobs to agriculture and agribusiness," he said. "It's the engine that pulls the train for much of North Carolina's business community. It's an integral part of our economy, and I'm proud to be part of that."
Discover more amazing CALS alumni!