Distinguished and Outstanding Alumni Honored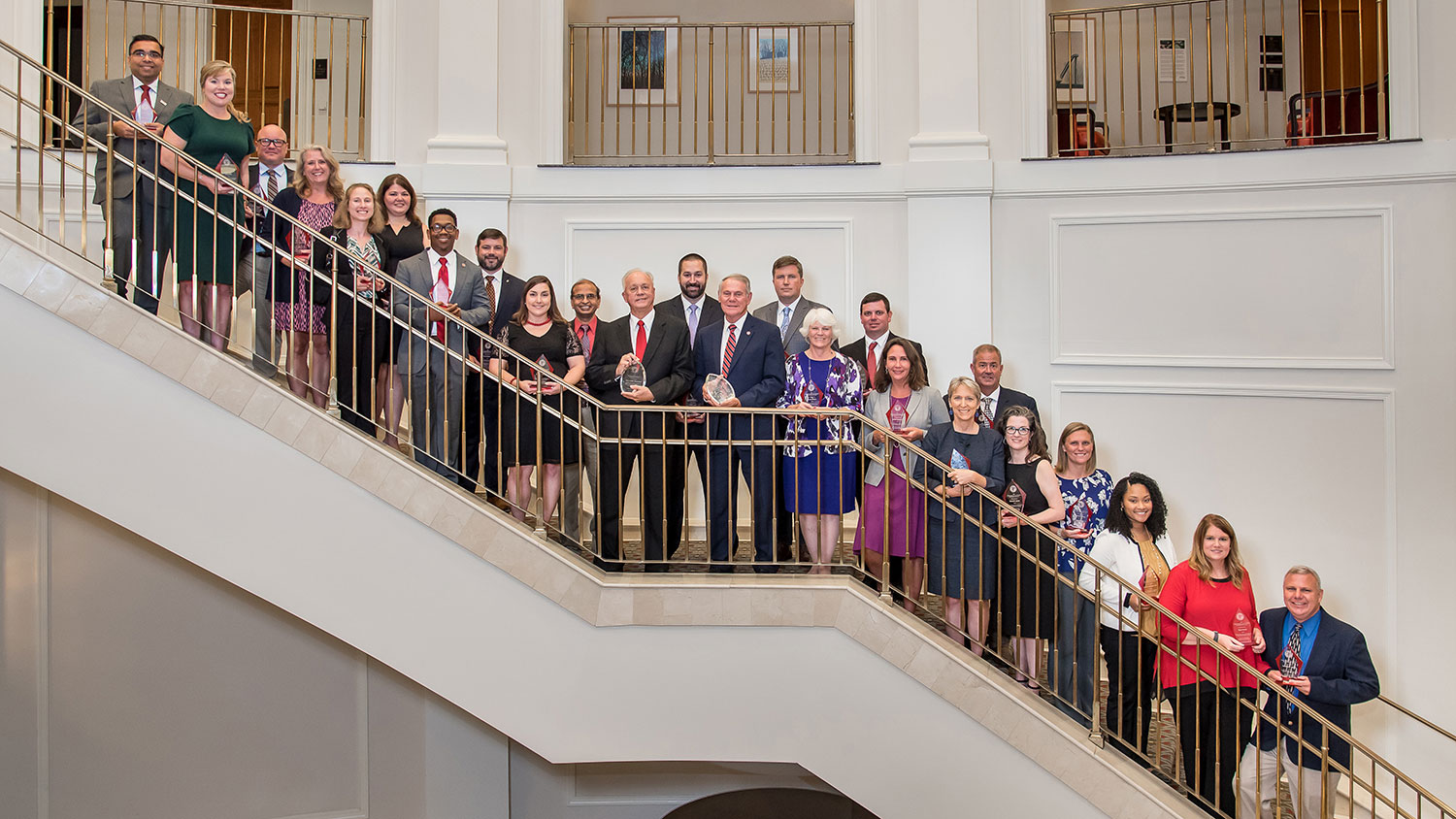 Richard Reich and Keith Shoemaker are this year's Distinguished Alumni Award winners for NC State's College of Agriculture and Life Sciences. They were honored Friday Sept. 6 during a ceremony at NC State's Park Alumni Center.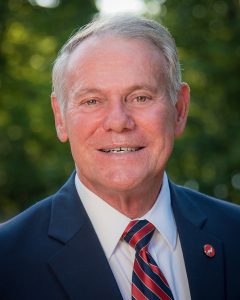 Reich grew up on a small family farm in Forsyth County, where he saw firsthand the impact extension agents make on North Carolina. Since then, he has spent his career serving the state's agricultural industry.
He began his career as an assistant agricultural extension agent in Lincoln County in 1976. He later joined R.J. Reynolds Tobacco Co., where he developed and coordinated cooperative research, extension and educational programs at land-grant universities in 14 states. In 1999, he went to work for the N.C. Department of Agriculture and Consumer Services, first as a director of the agronomic services division and later as the assistant commissioner of agricultural services.
Reich received his bachelor's degree in agronomy and his master's and Ph.D. in soil science from NC State. He has maintained close ties with NC State's Department of Crop and Soil Sciences department and the college.
"Dr. Reich has been a leader at all levels when it comes to serving the agricultural industry of North Carolina," said Dean Richard Linton. "He is a tireless ambassador whose service and wise council serve as a valuable asset to us all."
Shoemaker, a native of Statesville, spent summers working for Perdue Farms – which piqued his interest in poultry science. That lead him to NC State, where he earned a poultry science degree. After graduation, he began moving up in the ranks of leadership with Perdue Farms.
He served as director of primary breeders, then as vice president of Perdue Foods' Food Service and Turkey Division and later as executive vice president of total Perdue operations. In 1996, he was hired by Carroll's Foods as vice president of turkey operations. He was responsible for the integration of Butterball and Carolina Turkeys, which formed the largest integrated turkey company in the United States. At the time of his retirement in 2011, Shoemaker was serving as chief executive officer and president of Butterball, LLC.
Linton said that Shoemaker "has played a critical role in the nation's poultry industry. His commitment, innovation and drive allowed him to reach the highest professional levels in our industry."
Outstanding Alumni Honored
The CALS Alumni and Friends Society also presented Outstanding Alumni and Outstanding Young Alumni awards, which recognize excellence and the achievements of former students in their careers and communities. Chosen by their academic departments, 2019 winners are:
Matt and Kaye Harris, a husband-and-wife agriculture teacher team and FFA advisors at Crest High School in Shelby (Department of Agricultural and Human Sciences)
Stephanie Jones, past chair of the National Parenting Education Network and owner of the parenting education and family life consulting company Just Families (Department of Agricultural and Human Sciences)
Ashok Mishra, the Kemper and Ethel Marley Foundation Chair in Food Management for the W.P. Carey Morrison School of Agribusiness at the University of Arizona (Department of Agricultural and Resource Economics)
A.B. Parker, founder of Parkers Landscape Services, a family-owned business with locations in Apex and Rocky Mount (Agricultural Institute)
Leopoldo Miranda, regional director of the U.S. Fish and Wildlife Service in Atlanta (Department of Applied Ecology)
Sue Nokes, professor and associate dean for faculty affairs and facilities at the University of Kentucky's College of Engineering and president of the American Society of Agricultural and Biological Engineers (Department of Biological and Agricultural Engineering)
Deanna Osmond, associate head and department extension leader for crop and soil sciences at NC State (Department of Crop and Soil Sciences)
Barbara Shew, research assistant professor and director of NC State's Plant Disease and Insect Clinic (Department of Entomology and Plant Pathology)
Donald Rutz, professor emeritus of veterinary entomology with Cornell University (Department of Entomology and Plant Pathology)
Prabhat Kumar, senior manager of product development of private brands for Walmart (Department of Food, Bioprocessing and Nutrition Sciences)
Michael Arnold, professor and associate head of the department of horticultural sciences at Texas A&M (Department of Horticultural Science)
Philip Snider, chief medical information officer for the Guthrie Clinic in Sayre, Pennsylvania (Department of Molecular and Structural Biochemistry)
Ronald Gagliardo, senior manager of horticultural sciences for Amazon, who helped create the company's plant-filled Spheres building (Department of Plant and Microbial Biology)
Deana Jones, research food technology with the Egg Safety and Quality Research Unit with the U.S. Department of Agriculture's Agricultural Research Service (Prestage Department of Poultry Science)
Outstanding Young Alumni Recognized
This year's Outstanding Young Alumni Award winners are:
Sara Hough, technical services veterinarian for swine with DSM Nutritional Products (Department of Animal Science)
Jamie Alexander, assistant professor of human development and family studies at Anderson University (Department of Agricultural and Human Sciences)
Katie Mills, counselor to the assistant secretary for Fish, Wildlife and Parks for the U.S. Department of the Interior (Department of Agricultural and Human Sciences)
Adam Lytch, operations manager for L&M Farms in East Palatka, Florida (Department of Agricultural and Resource Economics)
Silas Charles Craig, parks superintendent with the City of Raleigh (Agricultural Institute)
James Morley, postdoctoral researcher at the University of North Carolina Institute of Marine Sciences and future faculty member at East Carolina University (Department of Applied Ecology)
Matthew Vann, assistant professor of tobacco production and management (Department of Crop and Soil Sciences)
Brandon Batten, owner of Flying Farmer and manager of Trip B Farms in Johnston County (Department of Biological and Agricultural Engineering)
Kevin Donohue, senior group leader of pesticide discovery at Syngenta Crop Protection (Department of Entomology and Plant Pathology)
Courtney Gallup, global biology program leader at Corteva Agriscience in Indianapolis (Department of Entomology and Plant Pathology)
Ali McDaniel Hill, director of sales at Golden Peanut and Tree Nuts in Alpharetta, Georgia (Department of Food, Bioprocessing and Nutrition Sciences)
Elizabeth Riley, department head for horticulture technology, Alamance Community College (Department of Horticulture Science)
Shanna Chriscoe, lead of regulatory knowledge management for Syngenta (Department of Plant and Microbial Biology)
Devorah Stowe, a clinical assistant professor of clinical pathology at NC State's College of Veterinary Medicine (Prestage Department of Poultry Science)