Christian Gray Is #AgPackStrong
On Christian Gray's basketball court, you will stay focused, and you will stay positive, and you will always remember that your team is your family.
You do not hang your head when you miss a shot. You do not bend over to catch your breath, stopping the game. And if your 12-year-old teammate catches you doing one of those things and corrects you, you'd better do as he or she says.
Because on Gray's court, you do not disrespect your family.
That's because Gray's court is more than opposing hoops and colorful lines. It's a zen garden. It's a finishing school. It's a safe haven from poverty, danger and distraction — in his own challenging childhood and for many of the players he's mentored.
"For me, I see a painting of hope when I'm on that court," Gray said. "Those lines, that structure, they saved my life."
From the NBA to middle school
In the five years since Gray founded DIVERSE Training, the CALS alum has trained NBA players like Brice Johnson of the Los Angeles Clippers. He was the youngest Division I coach in the country at NC Central University in 2015. Demand for Gray's skills as a trainer have taken him from Los Angeles to North Dakota to the Bahamas.
Athletes like Dominique Wilson, a former NC State shooting guard who graduated in May 2017, swear by Gray's combination of athleticism and accountability. In Wilson's three years on the NC State team, she was first team all-ACC and second round run in the NCAA, as well as the leading scorer her last two years. She trained with Gray from the beginning.
"He'll push me and tell me straight up how my attitude is that day, how I'm working, driving me to be better," Wilson said.
But Gray has also canceled business trips because he promised one of his middle school trainees he would be at a school or family event. Mentoring younger players both on and off the court is his priority. He graduated from CALS' Youth, Family and Community Sciences program in May 2017 with a master's degree that he immediately put to use through DIVERSE.
"Keeping your word with kids is one of the most important things you can do," he said. "I will not let these kids down."
Childhood motivation
Gray's mother was 16 when he was born. Growing up, the two of them moved almost every year — Fayetteville to Sanford, Sanford to Fort Lauderdale, Fort Lauderdale back to Fayetteville. His mom worked long hours at multiple bartending jobs. Every time rent went up, they packed their bags.
Gray often slept on couches, on the floor, sometimes in the back of their car. Some mornings, he had to heat water on the stove to clean up for school. For the first 10 years of his schooling, Gray didn't spend two consecutive years in the same district.
"I don't know if you know anything about project homes, but there's no carpet, and I just remember the coldest, hardest floors," Gray said. "You have your roaches going on, and of course there's going to be crime that comes with all that. But my mom, I give her so much credit — we were so poor, but she's where I got my work ethic. She did the best job I can imagine covering it up and making sure I didn't go without."
But the year his mom turned 29, Gray turned 13. Their age proximity led to friction. She set rules around curfew and how he spent his spare time; he ditched home and started living at his coach's house. They had bounced back to Fort Lauderdale for his mom to earn her real estate license; she sent Gray to live with his dad in Fayetteville, hoping it would calm him down.
Paying it forward
Even in his self-proclaimed "knucklehead" phase, Gray kept in touch with his middle school mentor, social studies teacher Zack Reynolds Jr., who he credits with "seeing something in me that I honestly didn't see in myself at the time."
Though he was also Gray's assistant basketball coach, Reynolds was more concerned academic and personal development. That made Gray pay attention. Even when Gray moved the following year, they kept in touch. The desire to play sports kept Gray accountable — he was captain of every team he played on, and that required good grades — but Reynolds kept Gray aspiring to something greater.
Years later, Gray had to scramble to meet the required 50 community service hours for high school graduation. Inspired by Reynolds, he chose a mentorship program.
At first, his middle school mentee refused to speak. They would pass notes back and forth instead — until one day, the student mentioned that he enjoyed being outside. Gray made a deal: They would hold a daily basketball shooting competition. Every time Gray won, the student would have to tell him something new about himself.
Slowly, his mentee opened up. And Gray's love of sports, coupled with deep understanding of the impacts of a challenging childhood, drew other children in the program to the court. Gradually, Gray realized he had stumbled upon his calling.
Finding a 'why'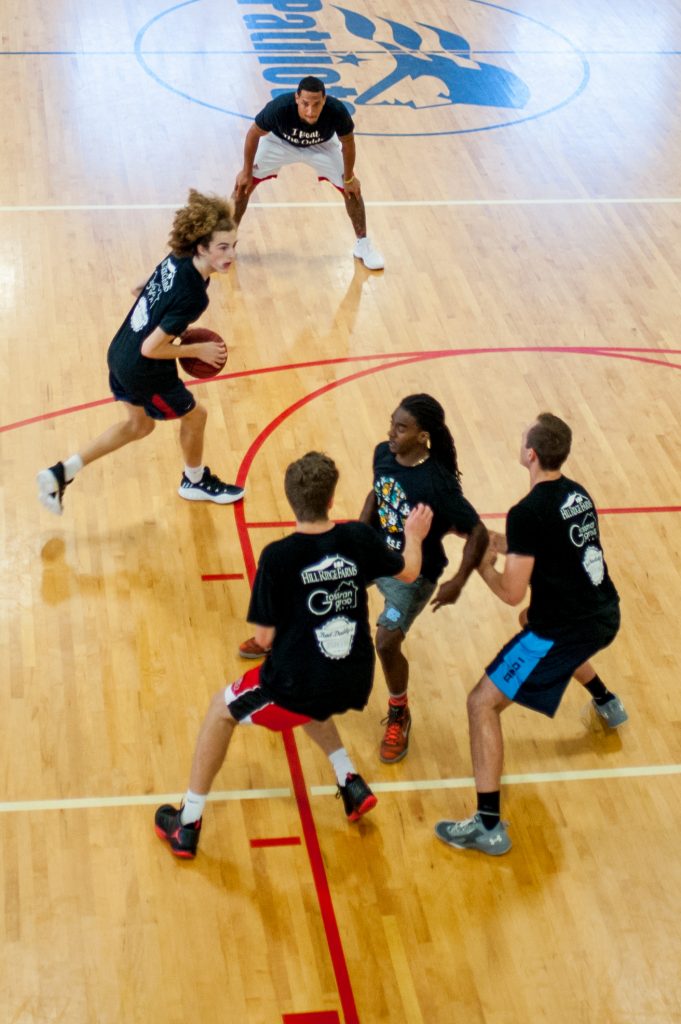 Gray founded DIVERSE Training in his junior year at William Peace University. It's an acronym: Dedicated Individuals who Value Education, Relationships, Success and Effort.
DIVERSE is about more than basketball. If your children train with Gray, they'll get lessons in money management and social media etiquette alongside ball-handling and agility. It's intense, he says, and not for everyone.
Gray's focus on attitude and maturity is crucial in professional sports, Wilson explains. A bad attitude can tank your chances with an NBA scout in a second.
"Attitude can carry through a team and ruin the goals the coach has set for those players," Wilson said. "If you have a bad attitude, they don't care how good a player you are, they're not going to take you."
After graduating from Peace, Gray's attitude and expertise won him a prestigious job in player development at NCCU under Coach LeVelle Moton. It was his dream job, and one that he fought for fiercely. Leaving was a difficult choice, but Gray decided education came before career.
He doesn't regret it. He found a sense of home at CALS, he said, and a directly applicable education.
"I could sit in class from 6 to 9, and go right to the basketball court and see the kids' behaviors we just discussed in class," Gray said. "For the first time in my life, school made sense."
At his graduation in May 2017, Gray credited the young people he trains as the reason he pushes himself to be better.
"I always preach having a 'why,' having a purpose in what you do," he told the graduating class. "Because one thing we all share and have in common is adversity. Regardless of whether you're white, black, privileged, not privileged, it doesn't matter. … If your goal is only about you, you'll fail yourself every time."
For Gray, there's an even deeper reason to push himself to be better: his mom.
"To this day, I don't know how she made it happen for us, but she did," Gray said. "That's really what drives me, because that's my mission: I'm going to take care of my mom, period."
Warming up
At Tuesday night practice in Wake Forest, Gray's trainees line up to thank visitors for their time, shake hands and introduce themselves.
As they huddle before warm-ups, Gray gives a short pep-talk.
"For the next two hours, nothing else matters," Gray tells them. "No distractions."
Then they break for practice the way they always do.
"With me on three," Gray shouts. "One, two, three…"
The rest of the players join in.
"Family."