Big Data Yields Plant Sciences Innovation
As NC State University and its partners work to improve agricultural yields and production predictability through the North Carolina Plant Sciences Initiative, they've noted the importance of bringing together the best minds from academia, industry and government. A recent workshop at NC State emphasized the role that computer scientists, data analytics experts and IT professionals will play in the initiative's success.
Harnessing Big Data
North Carolina farmers have been fast adopters of precision agriculture, or "smart farming," collecting data from field-based sensors, drones, tractors and harvesters to make better decisions about irrigation, fertilizer, and weed and pest control solutions, down to the square inch.
Now, said Steve Lommel, director of the North Carolina Agricultural Research Service at NC State, it's time to harness data from farms and agricultural scientists across the state to solve production problems on a bigger scale.
"We have to better understand what the data are telling us to gain new insights that can be scaled to many crops and growing locales," Lommel said. "Our ability to extract more knowledge will come as we integrate large, disparate data sets, speed analysis using artificial intelligence and machine learning tools, and build new predictive tools to expedite advances in plant breeding, the introduction of new seed traits and the improvement of agricultural yields and environmental protection."
Game-Changing Science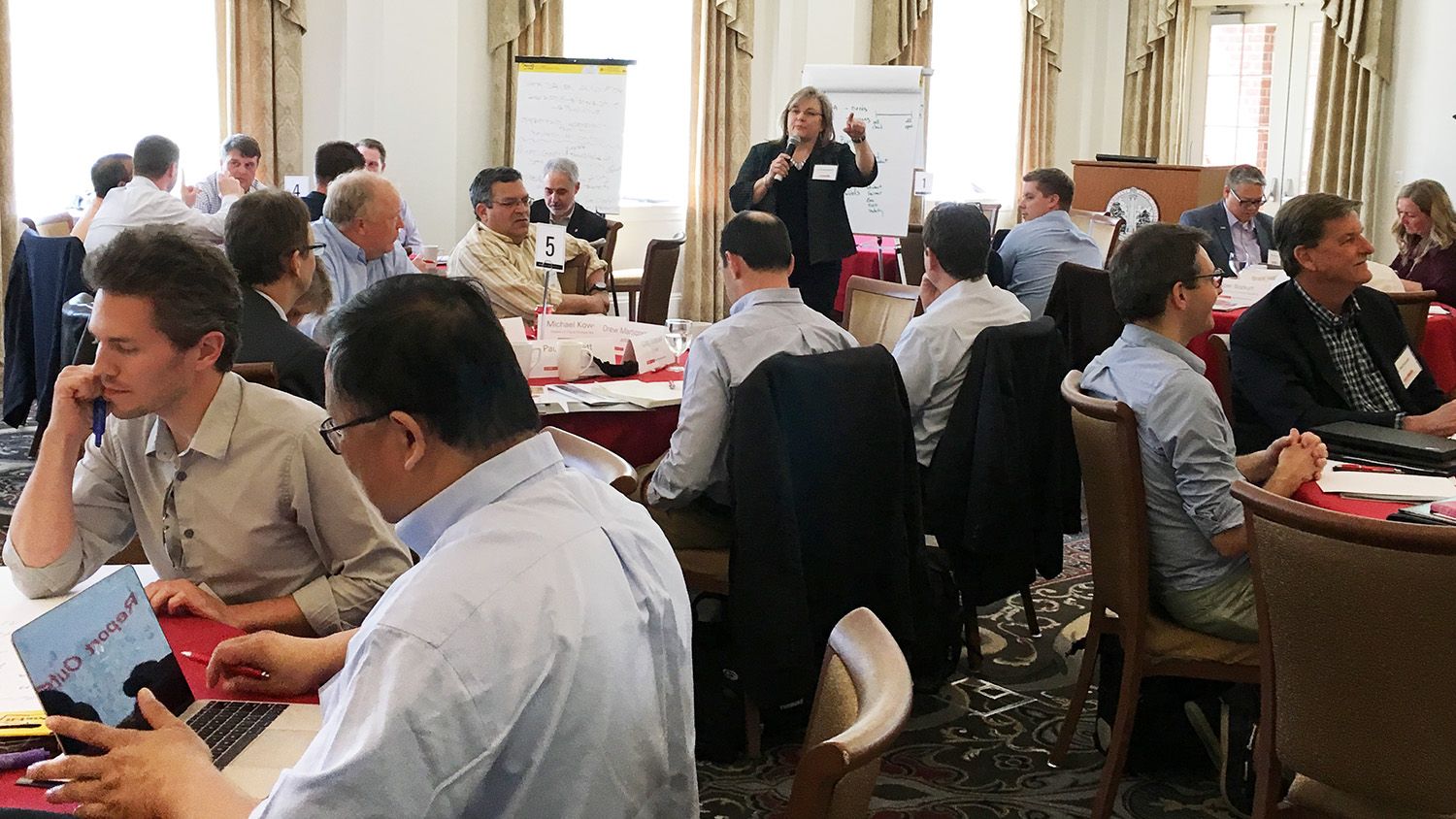 At the Innovation Workshop: NC Plant Sciences Initiative for Big Data Research, North Carolina agriculture and agribusiness leaders, as well as representatives from agricultural technology companies, ag biotech organizations and NC State administrators and scientists came together to discuss how to improve the collection, analysis and applicability of agriculture's big data.
NC State and Oracle, a global innovator that provides a comprehensive and fully integrated stack of cloud applications and platform services, co-sponsored the workshop. It included panel discussions and faculty presentations that underscored the importance of data analytics to the success of the PSI. Small group breakouts provided an opportunity for participants to outline initial components of an optimal big data framework and platform.
"This was a very productive workshop," said Marc Hoit, NC State's vice chancellor for information technology and chief information officer. "The PSI provides our scientists and partners the opportunity to bring game-changing science to the farmers of our state and the world, in an environment that can also help revolutionize how all the players in agriculture collect and interpret data for decades to come. There is no other initiative in the world that offers a ground-up opportunity to engineer big data like this. It's very exciting."
Dan Gerlach, president of the Golden LEAF Foundation, expressed similar optimism. "The Golden LEAF Foundation's $48 million investment in the PSI is really an investment in agricultural infrastructure," he shared. "Our expectation is the science and innovation developed here, as well as the educational opportunities that will help train the next generation of farmers and plant scientists, will be a force in improving our state's rural economy.
"We know that technology on the farm and its connection to the PSI are vital in meeting this objective, and we believe NC State researchers and Extension will be key in helping our farmers bridge gaps in how to use new technology and big data to create opportunities and solutions," Gerlach added.
"Better understanding of how environmental and societal changes are impacting agriculture is not only a critical business imperative, but also fundamental to our way of life," said Patrick Mungovan, Group Vice President, U.S. Higher Education, Research, and Academic Medical Center Technology Sales at Oracle. "By applying Oracle's deep industry expertise in data management, analytics, IoT and AI, we are helping organizations, such as NC State to crack the code on smart farming – facilitating better crop outcomes while preserving precious resources."
Big Data Partnerships
Noting that the PSI grew from partnerships with agricultural groups, College of Agriculture and Life Sciences Dean Richard Linton said, "We will need that same spirit of collaboration and partnership with data platform and data analytics solution providers."
Linton confirmed that "agriculture is at the starting line" in its understanding of how to work with big data, and the PSI can become a global model for discovery and innovation through data analytics. "We understand the opportunity before us, and we are aggressively pursuing partners to help make it happen. If this workshop is any indication, I think we will find strong interest and support to get us where we need to be."