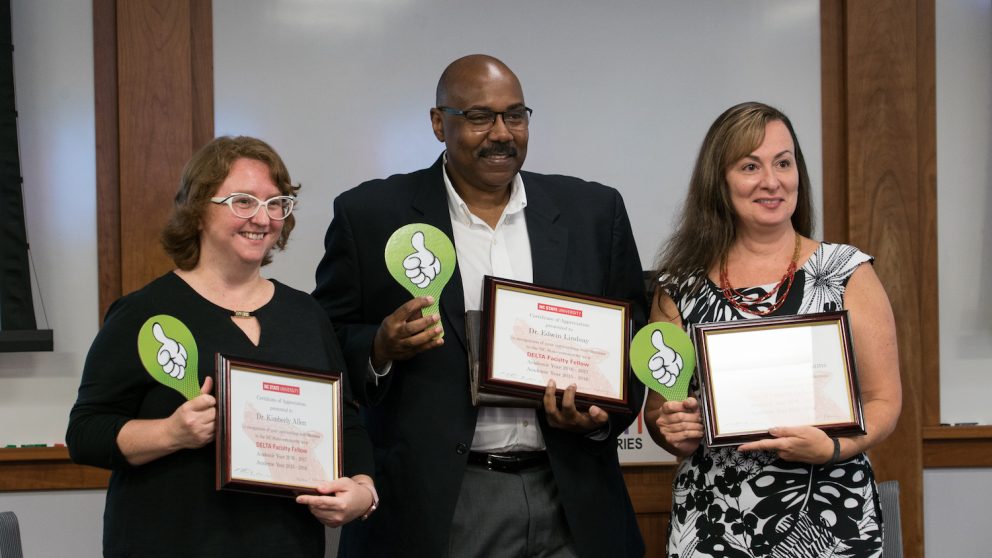 Congratulations to three CALS faculty members who've recently received special recognition of their work at NC State:
Dr. Kim Allen, of CALS' Department of Agricultural and Human Sciences, was honored recently for being among the first cohort of Faculty Fellows for NC State's Distant Education and Learning Technology Applications. She was one of four Faculty Fellows finishing their two-year tenure. The program recruits faculty members to be "technology mentors" to share best practices with other faculty, facilitate workshops and present teaching with technology best practices at conferences representing DELTA and NC State.
Dr. Clint Stevenson, of the Food, Bioprocessing and Nutrition Sciences Department, was given a Teacher Fellow Award at the Annual Conference of the North American Colleges and Teachers of Agriculture (NACTA). The purpose of the conference is to provide for professional advancement of faculty engaged in classroom teaching. Participants have the opportunity to share teaching methods, philosophies and styles of instruction.
Dr. Natalie Cooke and her students were featured on the WRAL-TV's Backpack Buddies. The video highlights the partnership between NC State (A PACKed Kitchen), the Inter-Faith Food Shuttle, and Neighbor-to-Neighbor Outreach. (The clip starts at 27:23 http://www.wral.com/news/video/16827397.)
We will continue to share the names and awards received by CALS faculty and staff through the intranet every few weeks. Please submit the names of colleagues who have recently received awards at go.ncsu.edu/CALSAwards. Self-submissions are also welcome.