Academic
Dr. Wusheng Liu recognized with ASHS Early Career Award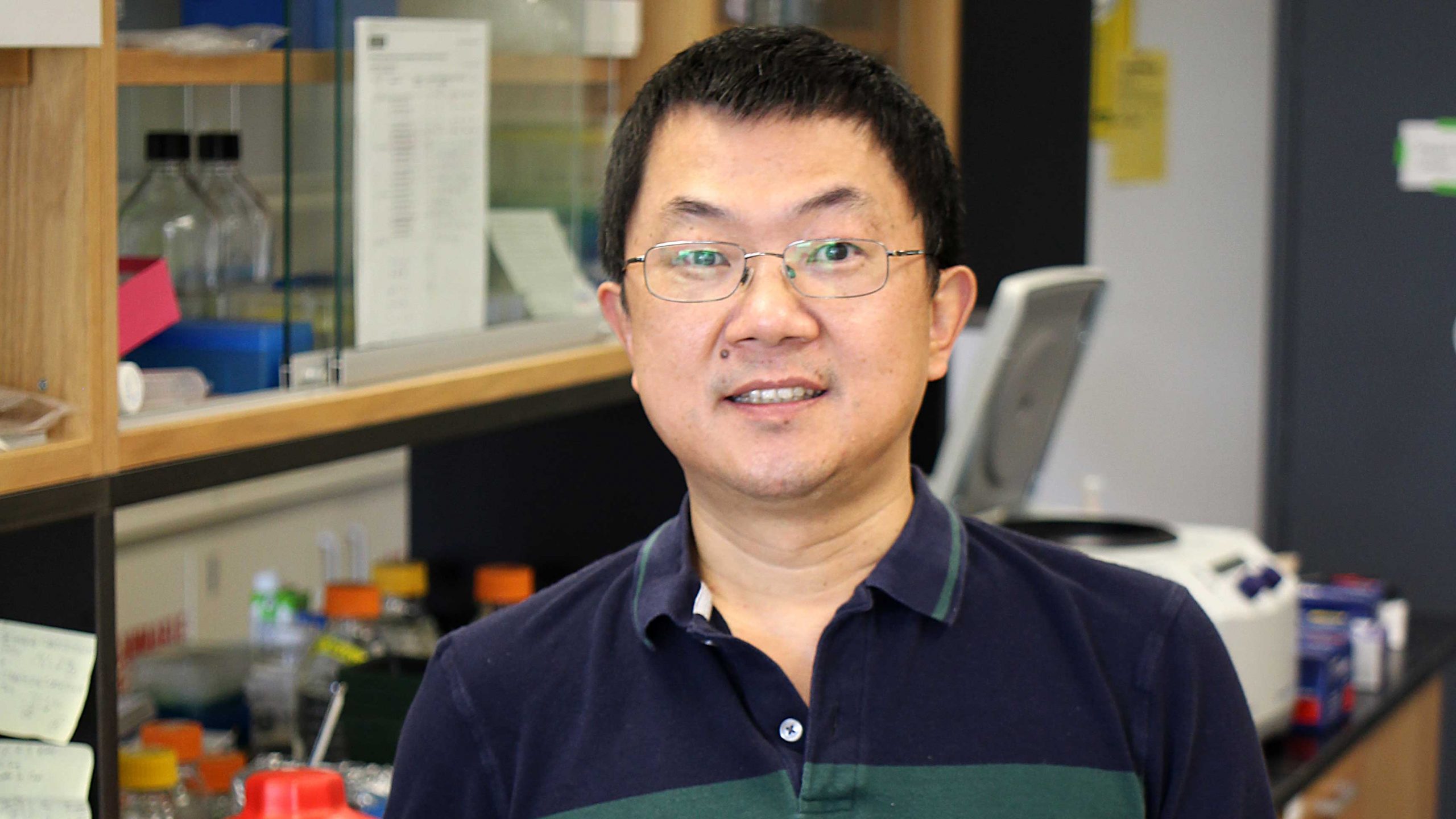 Dr. Wusheng Liu, assistant professor in the Department of Horticultural Science, recently returned from the American Society of Horticultural Science (ASHS) conference where he was awarded first place in the Early Career Competition Dr. Liu began translational genomics and plant bioengineering research at NC State in 2018 with graduate students that followed to continue their research.
While Liu is familiar with leadership, he has since been inducted into the inaugural ASHS Leadership Academy as a top scholar. The program supports early career horticulture researchers in developing effective leadership and spokesperson skills in their professional roles while engaging with international, local, state, and national governments.
When Liu began research with the College of Agriculture and Life Sciences, he developed a series of plant breeder collaborations adapting various biotechnologies for crop trait improvement in multiple specialty crops. It is Liu's development of a non-GMO delivery method for introducing the Cas9 protein into plants for gene editing that is gaining the most attention.
Would you give a basic explanation of what translational genomics research is and what you study?
Translational Genomics is to bridge basic research and applied research by translating the advances and knowledge in genomics research to applied research for crop improvement.
Gene editing introduces a completely new crop breeding paradigm to generate beneficial traits or eliminate unwanted traits in one generation. The delivery of the CRISPR/Cas9 system into crops largely depends on crop transformation and regeneration, which remains to be highly species- and genotype-dependent. Most crops only have one or several genotypes in which transformation and regeneration can be achieved, and many of these genotypes are not elite cultivars. The use of plant transformation makes the commercialization of the gene-edited crops problematic because of the concerns from farmers, trade organizations and governments about market acceptance of GMO crops. Thus, when you do gene editing, you need to ask three questions: Can your crop be transformed? Do you know what genes are responsible for the trait of interest? Can you use those genes to improve the trait of interest?
To answer these questions, our program studies (1) development of genotype-independent non-GMO delivery of the CRISPR/Cas9 system into specialty crops for gene editing; 2) understanding of the molecular mechanisms of agronomic traits such as seed weight and fruit lycopene content; and 3) specialty crop trait engineering such as modified flowering patterns and enhanced virus resistance. The specialty crops under study include tomato, camelina, rose, tripidium, sweetpotato, potato, and lettuce, which ensure our findings will be transferable to a wider range of specialty crops with similar characteristics. We anticipate that success in these research and other ongoing efforts will contribute greatly to crop improvement, food security, and agricultural sustainability.
Tell us about the class you teach?
I teach HS/CS 720 'Molecular Biology in Plant Breeding' for graduate students in the departments of Horticultural Science and Crop and Soil Science. The course focuses on the understanding of the relationship between genes and crop traits, the theory and principles of molecular biology applied to plant breeding, the principles and molecular mechanisms of crop traits, and their applications to solve breeding problems and improve crop traits. The topics include heterosis, male/female sterility, self-incompatibility, polyploidy, double haploid, protoplast fusion, random mutagenesis, plant regeneration, transgenic breeding, advanced genome editing for breeding, gene silencing, gene activation, gene drive, plant synthetic biology, metabolic engineering, epigenetics for trait improvement, gene stacking, decoy and R genes, and bioconfinement.
The learning outcomes of the course are to (1) explain the principles of the theory and principles of the molecular biology underlying each trait; (2) analyze gene-trait relationships via case studies; (3) apply the knowledge in (1) and (2) into crop trait improvement. It is a heavy-content course and students really love it.
What do you attribute your award to?
I attribute my award to:
The long-term education and training I received, especially the postdoc training I received in Dr. Neal Stewart's laboratory at University of Tennessee, Knoxville, which prepared me very well for this position;
Self-motivation, staying focused, and thinking and doing innovatively;
The intelligence and hard work of my personnel; and
The great collegial and administrative support from my department, college and university.
What is the best advice you received?
Whatever you do, always try to do it differently and innovatively, and go for the gusto.
See yourself as a plant geneticist?
Learn more about Horticultural Science graduate programs.