Sweeter than Sweetpotato Research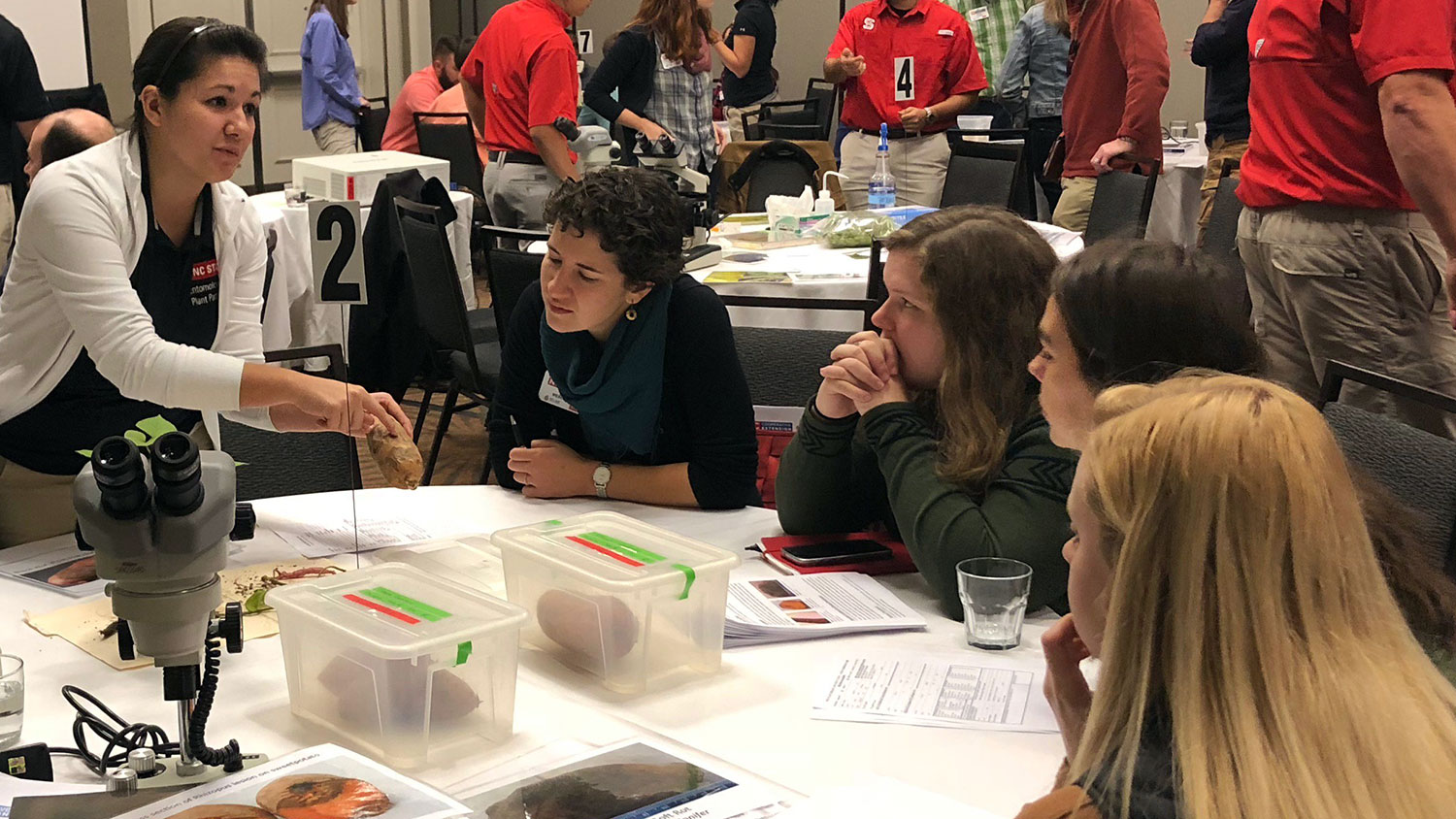 NC State reaped sweeping honors at the National Sweetpotato Collaborators Annual Meeting. With North Carolina being the nation's top sweetpotato producer, the Nashville, Tennessee meeting was well represented by the College of Agriculture and Life Science's sweetpotato breeders, research faculty, graduate students, staff and alumni. NC State's David Monks received the National Impact Award for his numerous contributions to the industry, while NC State graduate students took the top three awards in the presentation contest.
The National Sweetpotato Collaborators Group and Annual Meeting provides a unique forum in the United States with its focus solely on sweetpotato research and extension work. The association includes university, industry and government representatives from 21 states and at least five countries. Group activities include evaluation of new sweetpotato varieties, assessment, and improvement of production practices and investigation into disease, insect and weed management issues.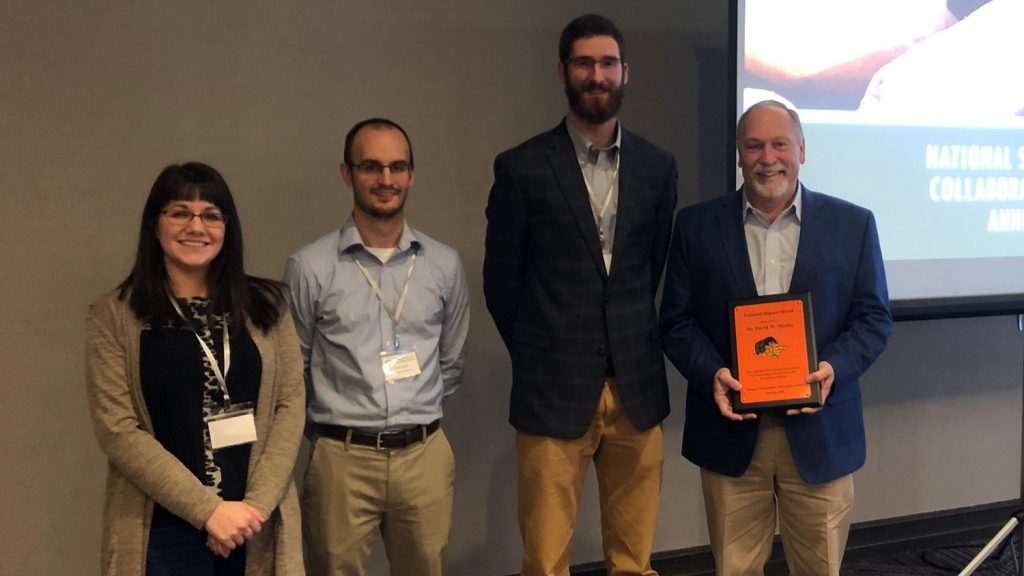 Madison Stahr
First place for graduate student oral presentation
Madison Stahr, a Ph.D. graduate student under the direction of Dr. Lina Quesada, Ph.D., from the Department of Entomology and Plant Pathology, won first place for her presentation "Identifying insect vectors of Ceratocystis fimbriata, causal agent of black rot, within North Carolina sweetpotato storage and packing systems."
Stahr, what challenges did you find in preparing your research presentation and how did you succeed?
The main challenge I face when making a presentation is finding ways to present my research so it can be understood by anyone, regardless of background or degree. I love the work I do and am always happy to talk about it, so it is tempting to quickly move to the results and discuss their meaning. However, I have found that when I put in the effort to make sure my presentations are oriented to my audience, they are always well received and prompt interesting feedback that I would not have gotten otherwise. Whether I am presenting to a group of growers or scientists, making sure my presentation is accessible to anyone can be as simple as finding alternatives to discipline heavy terminology or altering the introduction based on the audience's expertise. I also always make sure to clearly describe the different visual aids I use in a slide. For example, if I show a bar graph of my data I will only go into the results presented after describing what each axis and the different bars represent. With this short introduction to my graphs and figures, I know that when I get to the results the audience can listen to what I have to say, rather than ignore me while trying to decipher the figures I failed to describe. So by always keeping those I am talking to in mind, I can more effectively share my excitement for my research, which makes the entire presentation more enjoyable for everyone.
Cole Smith
Second place for graduate student oral presentation
Cole Smith, a Ph.D. graduate student under the direction of Katie Jennings, Ph.D., from the Department of Horticultural Science, won second place for his presentation "Evaluation of a reduced-tillage production system in sweetpotato."
Smith, why is it so valuable for graduate students to attend and present research at the National Sweetpotato Meeting?
Attending conferences like the National Sweetpotato Collaborators Group allows students to network with other scientists, learn about research findings from around the world, and gives students an opportunity to share their research with the scientific community.
Levi Moore
Third place for graduate student oral presentation
Levi Moore, a Ph.D. student under the direction of Katie Jennings, Ph.D., from the Department of Horticultural Science, won third place for his presentation "Evaluation of high-density polyethylene cloth row coverings to simulate Palmer amaranth competition in sweetpotato."
Moore, how has this experience and/or past meetings influenced your graduate career?
I value scientific meetings because it forces me to comb through my research to ensure the methodology and results are sound. I feel that presenting my research forces me to become a better scientist, because there is nothing like someone disagreeing with how or why a study was conducted. Through piecing together my research, I typically reveal new questions that future studies could be conducted to answer. Furthermore, most conferences I have attended have provided a broader view of the problems and respective solutions that are facing the various sections of agriculture outside of the area I work in.
David Monks
Recognized with the National Impact Award
David Monks, who holds a doctoral degree in weed science, was recognized with the National Impact Award at the annual sweetpotato meeting. As associate director of the N.C. Agricultural Research Service, Monks' responsibilities have included commodity relations and research station administration. Once a professor in the Department of Horticultural Science, Monks served as department Extension leader and assistant department head. His primary research focus is on weed management in vegetable and fruit crops. Monks was previously honored by the American Society for Horticultural Science with its  Outstanding Extension Publication Award, Outstanding Extension Educator Award, and Distinguished Achievement Award. The North Carolina Vegetable Growers Association also honored Monks with the Educator of the Year award.
Want to Learn More about Horticultural Sciences?
NC State students learn from amazing professors and hands-on opportunities every day.  Learn more about the student graduate degree pathways of our Department of Horticultural Science.  It's how we are advancing plants.