Ivy – Strengthening the HortPack through Competition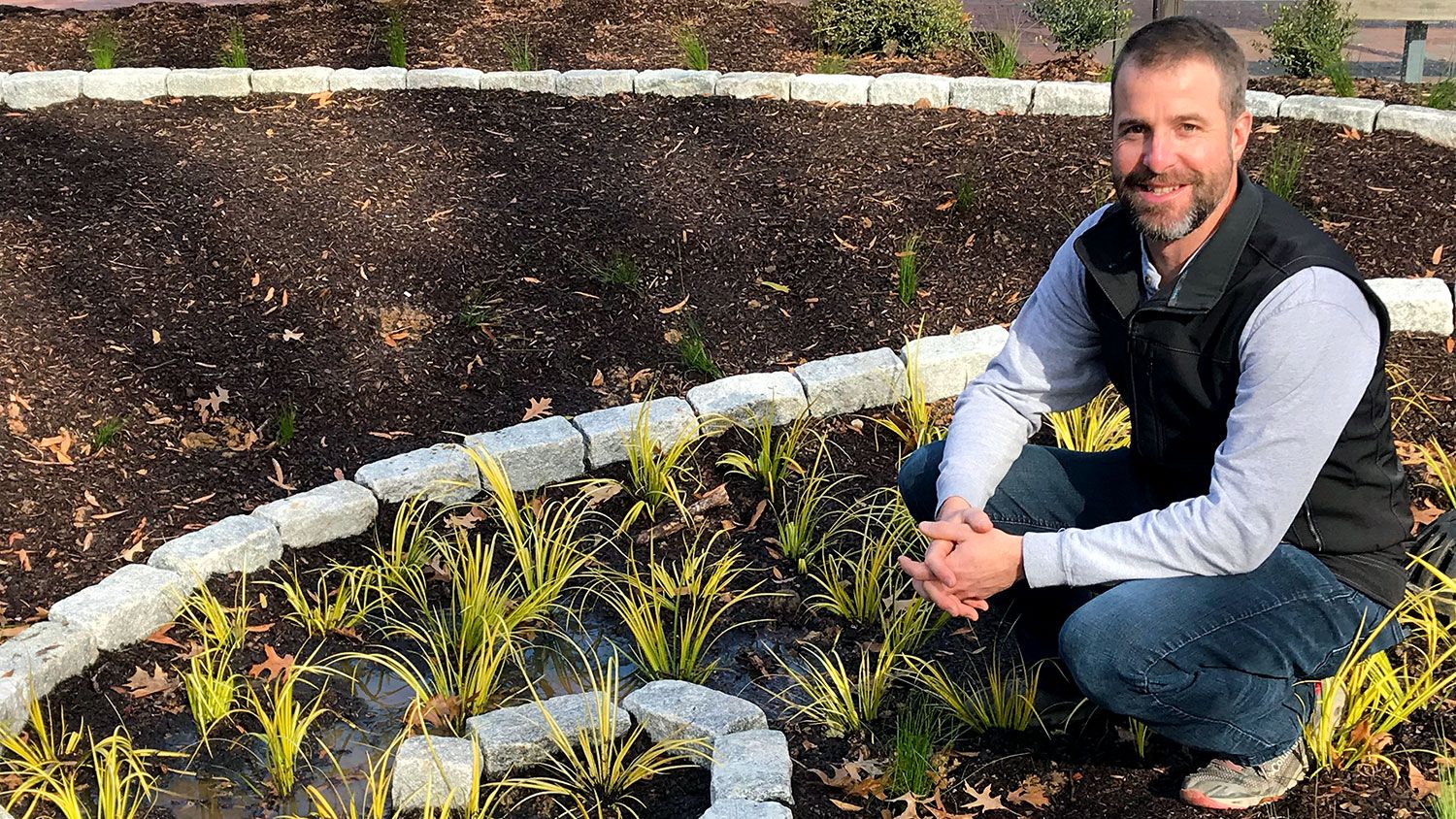 Lee Ivy is connecting North Carolina landscape professionals with students through high school and collegiate competitions. On Friday through Saturday, Feb. 27-28, NC State, 7 high schools, 4 community colleges, one university and a number of regional industry professionals will converge at the JC Raulston Arboretum and Horticulture Field Laboratory to attend the inaugural North Carolina High School Landscape Competition (NCHSLC). Aside from the event being a student landscaping competition, the event will also host a series of workshops, industry discussions, and student networking events.
Ivy has teamed up with industry professionals and fellow educators to coordinate the first NCHSLC event and lead a team to compete in it as well. He and colleagues Lis Meyer, fellow senior lecturer from the Department of Horticultural Science, and Emily Erickson, a lecturer from the Department of Crop and Soil Sciences also take a team to compete in the annual National Collegiate Landscape Competition (NCLC) event each March. The NCLC event was the inspiration for the NCHSLC. Landscape industry professionals have been instrumental in contributing money, time, food, materials, and educational support to this event. Horticulture educators from NC State and across North Carolina are collaborating through this event to help satisfy the need for highly-trained and skilled young professionals in the industry.
Landscape competitions have been influential in Lee Ivy's student and professional career. Growing up in the neighboring state of Tennessee, Ivy became a student landscaping competitor while earning his bachelor's degree at the University of Tennessee. During his undergraduate senior year, NC State hosted the national student landscape competition, where he competed and then returned in the fall to earn a master of science in 2001 from the Department of Horticultural Science. After completing his master's degree, Ivy went on to teach horticulture at Sandhills Community College and co-led its student competition team for nine years. Upon his return to NC State in 2011, Ivy joined the Department of Horticultural Science as a member of the teaching faculty. In addition to teaching,  he advises the two-year Agriculture Institute program and has since co-led the student landscaping team, known as the HortPack.
How did the inaugural North Carolina High School Landscaping Competition (NCHSLC) event develop?
It began with an invitation to lunch. John Janes, a sales professional with Caterpillar, invited me to discuss ways he could integrate business and profitability strategies into my courses. As we talked through lunch, we both realized our goals were much bigger than a class or two. He shared Caterpillar's goals of engaging with students in secondary and post-secondary education to present career opportunities in the green industry. Of course, our daily initiatives as educators at NC State are to present opportunities for students to learn and achieve. I shared with him that North Carolina had previously held landscape competitions in the late 1980's and early 1990's, and the idea of retooling that concept was born. 
Is any other state or program hosting high school landscaping competitions?
We know that Ohio and Texas host similar events and think we are the third across the nation.  
Were there any unique collaborations with high schools, departments, colleges and/or industry?
A network of horticulture educators across the state has been discussing ways to collaborate to satisfy the need for highly-trained and skilled young professionals in the green industry. We invited 11 high schools within an hour to an hour and a half from Raleigh to participate. This occurred last summer so they could budget for travel. The colleges involved, in addition to our Agricultural Institute and bachelor's degree students at NC State are Alamance, Lenoir, Sandhills and Wilkes community colleges, plus the University of Mount Olive. The plan is that each college will take turns hosting the event each year. This will hopefully gain local and regional interest from students and industry across North Carolina. Local industry professionals are playing a huge role in conducting this event. They are contributing money, time, food, materials, and educational support. One unique part of the event will be a progressive lunch where students are required to gather food from six different companies. This is like a tailgating event designed to encourage interaction between students and industry professionals. 
How will this event generate interest in prospective CALS students?
NC State offers degrees for any area of student interest and provides educational opportunities on campus, through distance education and through articulation agreements.  As educators, we have the opportunity to educate, inspire and equip students for successful careers. Sometimes, collaboration with students at the participating colleges nearby happens naturally; this event will provide a unique opportunity for NC State to collaborate and partner with these students. What an awesome opportunity to be part of their story.   
What do you want our HortPack competition team to take from this event?
This concept was designed to help our competition team determine their level of readiness for the National Collegiate Landscape Competition in March. We think the other impact will be a sense of collaboration with other students and pride in their chosen academic and professional careers. It should also be lots of FUN! 
Want to Learn More About Landscaping?
NC State students learn from amazing professors and hands-on opportunities every day.  Learn more about two-year programs and Agricultural Institute pathways for students in NC State's Department of Horticultural Science. It's how we are advancing plants.