Alumni and Friends
2021 Horticultural Science Alumni Awards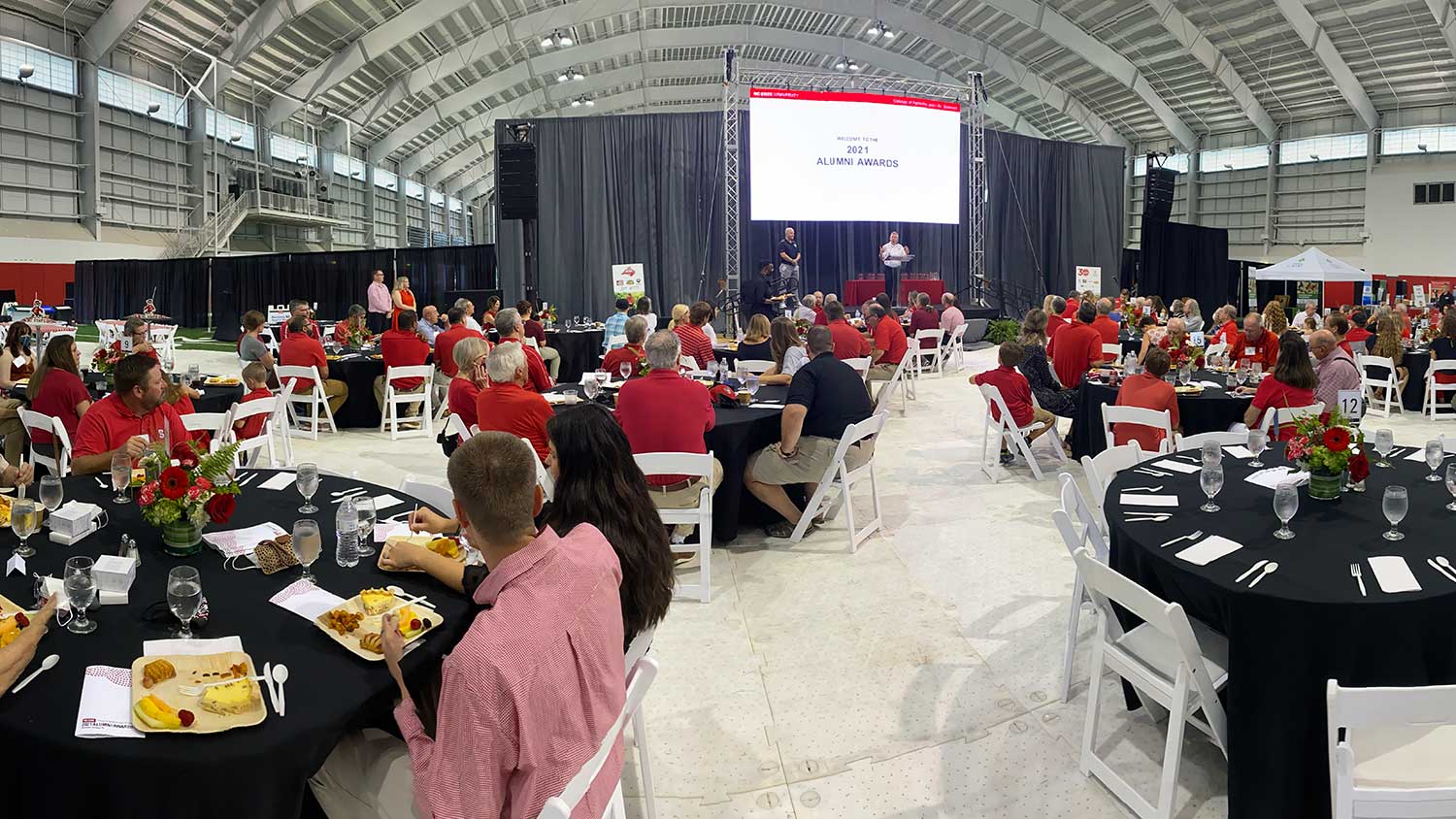 Before the 30th CALS Tailgate, there was another celebration held in honor of a few extraordinary alumni. The 2021 CALS Alumni Awards was filled with reflection on past experiences, current events, connecting and recognizing their achievements with friends and family.
The Department of Horticultural Science honored and congratulated distinguished alumni awardee Dr. Kathie Kalmowitz and young alumni award recipients, Dr. Alicain Carlson and Mr. Andrew Scruggs.
Distinguished Alumni Award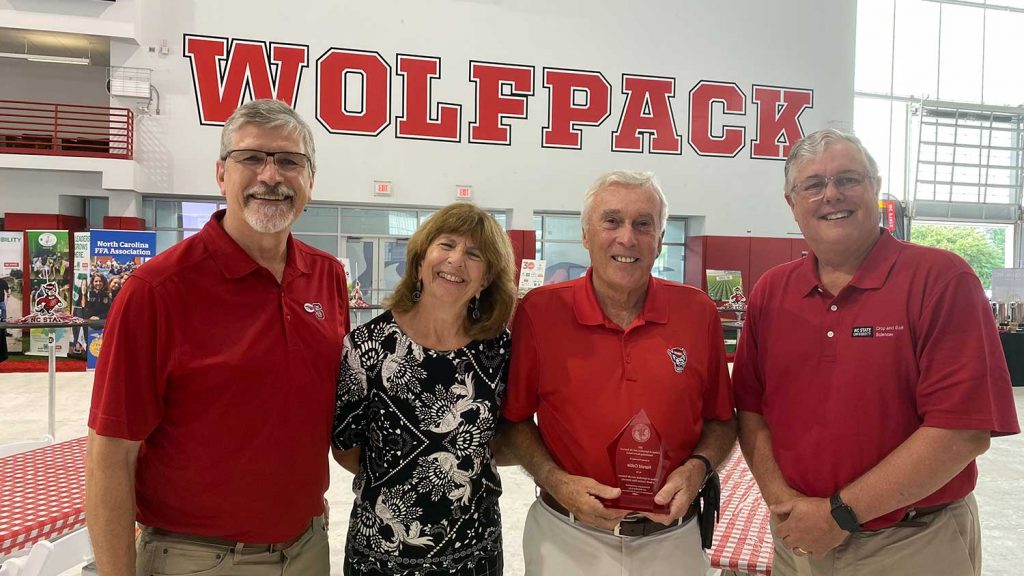 Dr. Kathie Kalmowitz received her master's degree in ornamental horticulture from Clemson University and her doctorate in horticultural science from NC State. After earning her Ph.D., she received two mentorship opportunities, which allowed her to travel and to learn about horticulture crops in the Pacific Northwest, California, England, Germany and the Netherlands. Her professional career includes roles as a horticulture extension agent in Charleston, S.C. for Clemson University, and as field research agriculturist and research & development product development manager at American Cyanamid Company. Kalmowitz joined BASF Professional Turf & Ornamentals in 2000, and as a technical specialist, championed and directed research in several areas. Four of her most notable projects resulted in commercial products that have been highly successful for use by turfgrass and greenhouse managers. Until her retirement in 2019, she continued to be part of BASF teams that developed successful new products in the horticultural marketplace. Throughout her career, Kalmowitz was an active member in the Weed Science Society of America and Northeastern Weed Science Society (NEWSS). She is the recipient of the NEWSS 2016 Award of Merit, which recognized her service on the board, as section chairs and on committees for the society. Kalmowitz is active in her community, currently serving on the board of advisors and volunteering at the JC Raulston Arboretum. She also volunteers regularly with the Interfaith Food Shuttle Farm in Raleigh.
Horticultural Science Young Alumni Award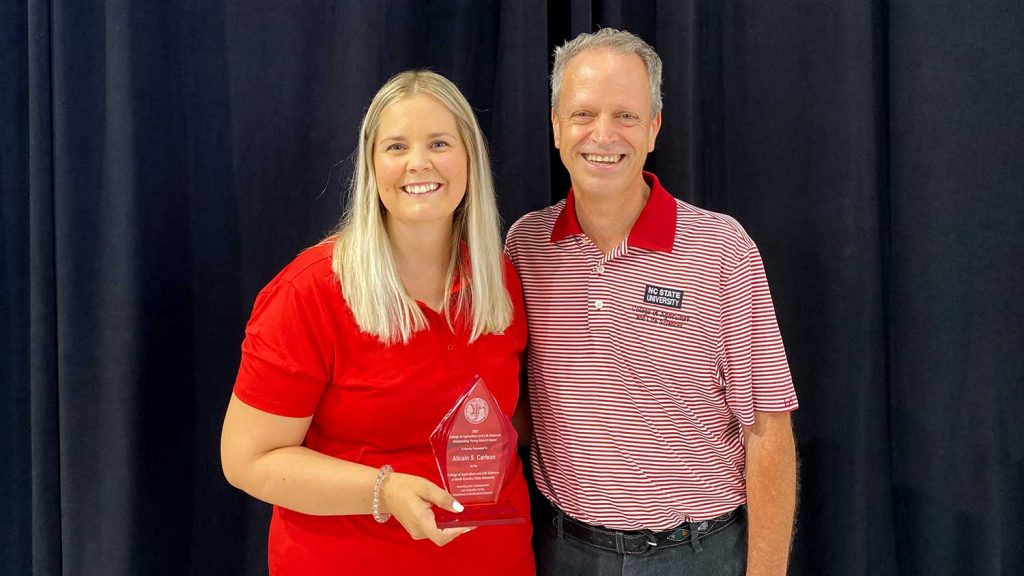 Dr. Alicain Carlson is a technical manager at Syngenta Flowers. She received her undergraduate degree in biology from Virginia Tech, and both her master's degree and doctorate in horticultural science from NC State. There, her research focused on cut-flower production and post-harvest, as well as the molecular aspects of cut flowers after harvesting. After receiving her Ph.D., Carlson completed a one-year postdoctoral fellowship with Dr. John Dole before landing a job with Syngenta Flowers as a technical scientist in June 2015. She has now been with Syngenta Flowers for six years in various roles, and proudly supports data-driven grower solutions, marketing and business improvements for the company. In 2017, Carlson was recognized in Greenhouse Product News magazine's 40 Under 40 list, which highlights exemplary horticulture professionals for their impressive career accomplishments. Carlson is the co-author of the book "Postharvest Handling of Cut Flowers and Greens" with her graduate advisor, Dr. John Dole. She currently serves as vice president on the board of directors for All-America Selections, and as chair of the American Society for Horticultural Science partnership development committee. Carlson lives in Burke, Va. with her husband and two children.
Plant Pathology Young Alumni Award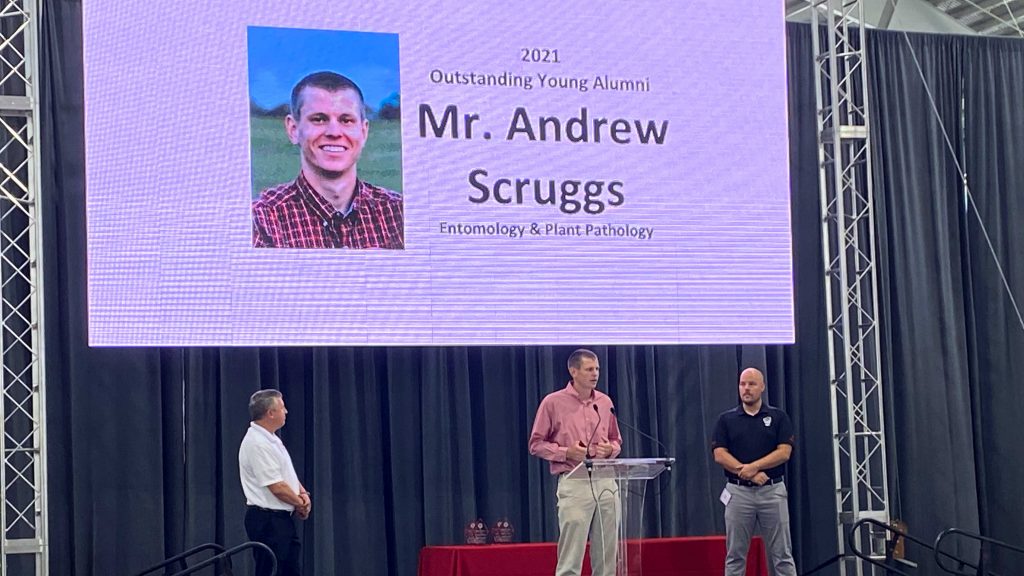 Andrew Scruggs grew up with a passion for agriculture. What started as a childhood love for plants carried through his school years and eventually into a career in horticulture. Scruggs graduated in 2014 with a bachelor's degree in horticulture science and in 2016 with a master's degree in plant pathology, both from NC State. After graduating, he worked as an area extension agent at NC State, providing research-based information across all facets of row crop management to producers in Lincoln and Cleveland counties. In 2019, he moved into his current role as market development representative at Bayer Crop Science. In this role, Scruggs manages field-based research trials throughout the Carolina's and east Tennessee to determine the value, positioning, and agronomic fit of new Seminis vegetable seeds. He works closely with growers to identify important needs and collaborates across Bayer to develop innovative and tailored solutions. Scruggs is the recipient of the Pride of the Wolfpack Award and the National Association of County Agricultural Agents Applied Research Award. He is also a Certified Crop Advisor. Scruggs lives on a small family farm in Forest City, N.C. with his wife and son, who is the fifth generation on the farm. In his spare time, he enjoys working in the yard and on his hobby farm.
Want to advance plants with us?
Learn more about Horticultural Science graduate programs.