Inclusion, Diversity, Equity, and Accessibility in the Classroom and Beyond
Inclusion, diversity, equity, and accessibility is needed in the classroom, workspace, and beyond. Alumni Byron Green pursues his passion for these efforts and impacts his community through his position at PRX, which is a non-profit media company that works in the public media space. Their mission is to elevate the voices that have historically been excluded from the public media space. They work to support storytellers from very different backgrounds, not only creating spaces that feel welcoming to storytellers, but also helping them grow and expand their reach.
As a triple-degree holder, Green has spent a fair amount of time at NC State in the past 15 years. He graduated with a Bachelors in Applied Nutrition in 2010. In 2012, he graduated with a Masters in Extension Education, and then obtained his Adult Education and Extension Education Doctorate degree in 2019. Green's time at NC State has built a deep foundation on which he has been able to construct all his work and accomplishments thus far. While the knowledge he obtained from his time at NC State has allowed him to succeed in his career, it has also taught him how to learn and bounce back from failures, and that in itself is a success! "NCSU allowed me to learn, grow, fail, and learn from that failure to propel me further. Kay Yow once said "when life kicks you, let it kick you forward. I learned the importance of this concept throughout my college career, and I still carry it with me today."
Of the many staff and peers that Green encountered along his journey at NC State, Dr. Jackie Bruce has stood out to him the most. Green credits her with introducing him to the world of adult education. She was a constant encouragement that pushed Green past boundaries he didn't know he could achieve. "Dr. Bruce saw potential in me that I had not ever considered and did not give up on me at any point along the way." Green has so much adoration for Dr. Bruce and how she approaches learning and supporting students. She invests in each person, helping them reach their full potential, while also helping students learn more about themselves along the way.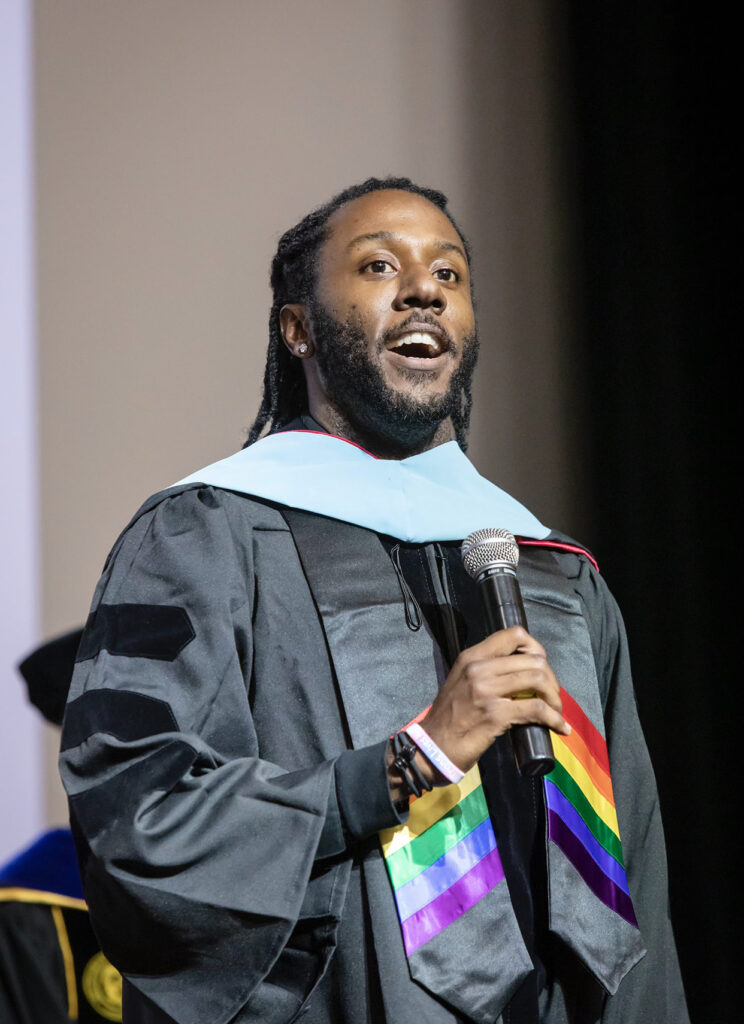 Not only has Dr. Bruce been a great educator to Green, but she is also the reason he chose his career path. In the spring of 2010, Green took Volunteer Management with Dr. Bruce. The class altered his career path and changed his life! Dr. Bruce's approach to student development and support radically shifted how Green wanted to approach his own work. Dr. Bruce inspired him to radically pursue his dream of educating adults in ways that feel authentic to them, and to take knowledge built and acquired within the walls of academia and share it with the people. After building inclusive spaces in the classroom and expanding out to inclusive spaces on campus, Green realized he wanted to share his talents with people and spaces outside of higher education. Inclusive spaces on campus are incredibly important and facilitate learning in ways that are authentic to each student. However, having that same space in the workforce and in communities is even more impactful! PRX gave him the opportunity to do just that!
In his current role, Green leads the inclusion, diversity, equity, and accessibility efforts. This entails building organizational assessments, and creating subsequent learning and development plans based on feedback. A part of that road map includes building curriculum for training, managing employee affinity groups, creating educational opportunities, establishing community outreach within the cities they have a physical presence in, and providing inclusion coaching. As PRX continues to grow, Green will be leading this effort working with stations across the country.
Green shared James Baldwin's famous statement "Not everything that is faced can be changed, but nothing can be changed until it is faced." It is with this approach that he walked boldly in the research methodology that he learned. This sentiment, along with the instruction and support Green has received from Dr. Bruce and Dr. Katherine McKee has been tantamount to how he helps professionals build empathy, explore diversity, and inclusion to create more equitable solutions for all! Over the next five years, Green plans on continuing to advocate for marginalized populations and equity in spaces where it is challenged. Although it is a tall order, and lacks a bit of specificity, Green is ready to tackle any opportunity that presents itself that allows for the work to be done!