Food Systems Communicator Coming to NC State
Arkansas native Katie Sanders will serve as the College of Agriculture and Life Sciences' first faculty member in food systems communication, which encompasses agricultural and applied science communication.
North Carolina State University launched an Agricultural Communications Program for undergraduates in fall 2022. Undergraduates learn from CALS faculty and communication faculty in the College of Humanities and Social Sciences. The College of Veterinary Medicine contributes expertise in food animal health for the graduate program.
Sanders' goals are to help students learn critical and systems thinking and to encourage interdisciplinary interest in agricultural communication across campus. She wants to find ways that stakeholders, professors, students and extension agents can engage in a dialogue that brings more ideas to the table.
"The biggest goal of mine is that, say, five years down the road, we're recruiting students because of NC State Agricultural Communications. We're doing something different and we're doing something exciting," Sanders says. "I see a lot of potential here."
As an NC State Extension specialist, Sanders will support ways that Extension can serve all North Carolinians, enhancing it as a central aspect of the work that is taking place at the university. "I want people to know that Extension isn't the best-kept secret anymore," Sanders says, "And that starts with helping folks in ag connect with folks that aren't through cultural understanding."
Sanders' path to agricultural communication wasn't a direct one. Thinking she wanted to be a plant geneticist, Sanders started her undergraduate work as a double major in biology and Spanish. After a summer internship in a botany lab coding on a computer, she changed direction.
"I realized I'm much more interested in the sociological aspects of plants and people. I had a big interest in agriculture because of its impact on the environment, how climate change disrupts food systems and learning about the role of food in people's lives," she says, adding, "Plus, I've always had a love for plants."
Sanders says the internship in the botany lab that she didn't love ultimately led her to find her passion, and she plans to make sure her students at NC State have the same opportunities. She looks forward to developing relationships with agricultural industry partners and nurturing existing ones so that students learn not just what they want to do, but also what they don't.
After completing her undergraduate degree at Hendrix College in Spanish with minors in biology and environmental studies, Sanders obtained her master's degree from the University of Arkansas in agricultural extension and education. "Growing up, we did not have 4-H or FFA in my school. It was a totally different world to me. I just knew that I wanted a career in the social sciences and was open to an assistantship."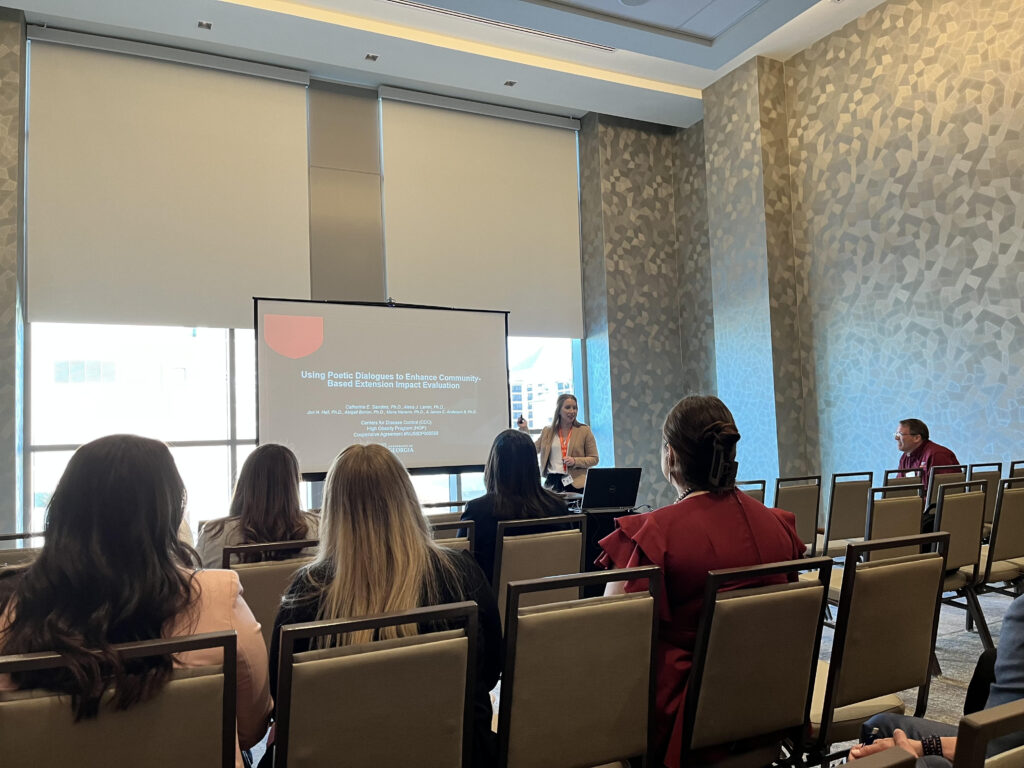 An assistantship with then-honors dean Leslie Edgar, Ph.D., involved working on a grant for global horticulture and human nutrition to enhance community resilience. This was Sanders' introduction to agriculture in the land-grant university system and what sparked her interest in agricultural communication.
"I also did my master's thesis on extension relationships with urban farmers," Sanders says, "So I came into my master's program not knowing about extension and left doing a thesis all about it. I was interested in domestic extension work as well as international agricultural development."
Sanders began work on a Ph.D. at the University of Georgia under Alexa Lamm, where her initial focus area was program evaluation. Through her work with Lamm, a professor of science communication, Sanders saw an intersection of her passions.
"I started absorbing communication just from being in her lab and realized there's so much more to it. When we're dealing with science and when we're dealing with agriculture, everything is so complex," Sanders says, "And if we don't think about how culture is integrated and influenced by agriculture or vice versa, then we're missing out on a huge communication opportunity."
When her mentor emailed her the job posting at NC State, Sanders says it just clicked. "It gave me everything: my love for extension and my interest in science communication in agriculture.
"When I was interviewed here, I left and told my husband, 'I want to start tomorrow.' I already knew I wanted the job because of the description. But when you get here and feel the environment of how inviting everyone is, how across the college and in the department everyone has a stake in it, that makes you feel like you're part of something important, and I could feel that."
This post was originally published in College of Agriculture and Life Sciences News.