Extension
Lab Rats to Field Mice: The N.C. Plant Sciences Initiative's Inaugural Backroad Tour
22 N.C. PSI faculty were brought out to the fields of North Carolina to hear from growers and commodity board leaders about the grand challenges they face in agriculture.
From labor shortages and sweetpotato automation to data sharing and sustainability programs, growers across North Carolina face myriad challenges as they toil daily to feed the world and remain profitable. As an initiative committed to tackling these and other challenges facing the agriculture industry, the North Carolina Plant Sciences Initiative aims to bridge the divide between producers, researchers and industry leaders through team-based interdisciplinary science.
On Oct. 19, 2022, the N.C. PSI brought 22 affiliated faculty members out to the fields of North Carolina on the inaugural Backroad Tour to meet with growers from Vick Family Farms, processors from Nash Produce and commodity board leaders representing cotton, peanuts, soybeans and sweetpotatoes. The faculty represented nine departments across three colleges at NC State, including the College of Engineering, the College of Agriculture and Life Sciences and the College of Sciences.
The all-day event set forth from the NC State Plant Science Building at 8 a.m. sharp with four goals in mind:
Provide an opportunity for N.C. PSI researchers to engage with growers, listen to their challenges and encounter them firsthand in the field
Expand our agricultural networks with commodity board and other agricultural leaders across NC
Gain an understanding of the function of NC Extension at the local level
Build internal N.C. PSI culture
Throughout the day, engineers ideated with horticulturalists, economists found common ground with crop and soil scientists, and chemists made plans for future collaborations with applied ecologists in an effort to bring interdisciplinary solutions to applied agricultural problems.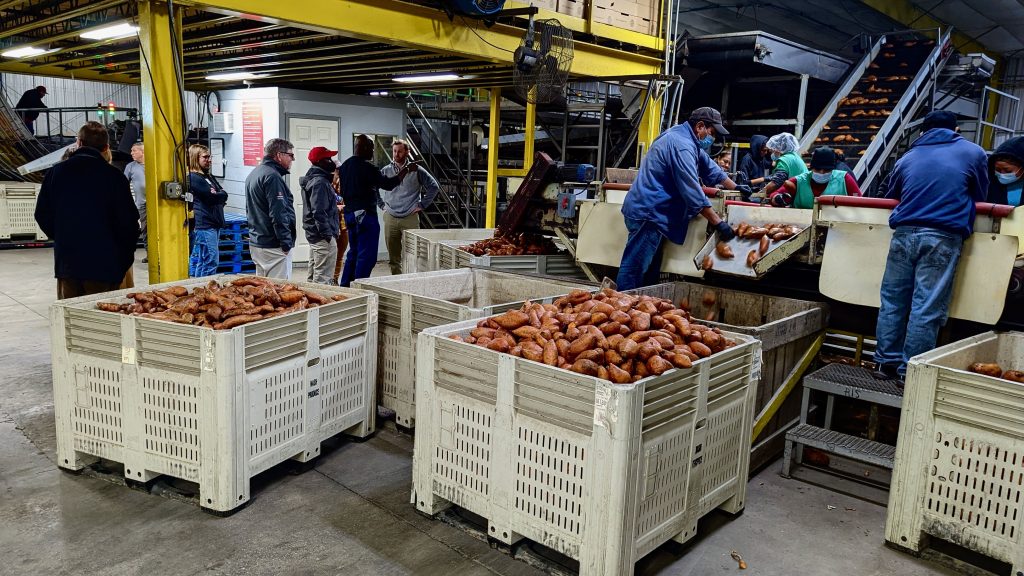 Grand Challenge: Labor
"It's important to have sound immigration policies that address the needs of growers and workers. Research by interdisciplinary groups of investigators is necessary to develop machines that help address these labor issues. Even if you have machines, workers will be needed to operate the machines and fix them if they break down. There will always be a demand for labor, it's just that the skillset will change over time."

– Alejandro Gutierrez-Li, assistant professor and Extension economist in the Department of Agricultural and Resource Economics.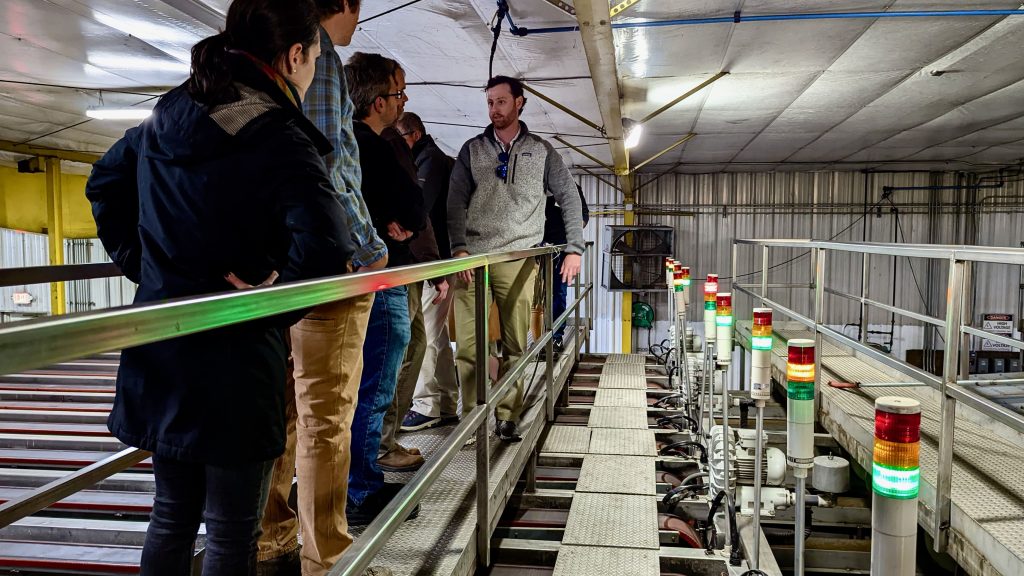 Grand Challenge: Automation
One of the greatest challenges on our farm is trying to automate because of our labor issues. Automation is going to be key for us to remain sustainable and profitable in the future.
– Charlotte Vick, Director of Sales and Marketing, Vick Family Farms
Grand Challenge: Soybean Quality and Data Science
"Here in North Carolina, we have a tremendous opportunity with our livestock industries to provide nutritious, high-protein soybeans to our poultry and swine industries. My challenge to [researchers] is to figure out how we can trace the quality component through the production system back to the farm level to capture it in a way that adds value to the customer, the farmer and the end product."

– Charles Hall, Executive Director, North Carolina Soybean Producers Association
Acres of soybeans grown in North Carolina: 1.6 million
Value of soybeans for North Carolina farmers: $879 million
"When I talk to farmers, they recognize that we generate a tremendous amount of data, but what we seem to be struggling with is how to apply that data at the farm level. How do we translate all the data that's being collected into something that's easy to use, easy to translate and drives decisions that increase profitability?"

– Jeff Chandler, Research Coordinator, North Carolina Soybean Producers Association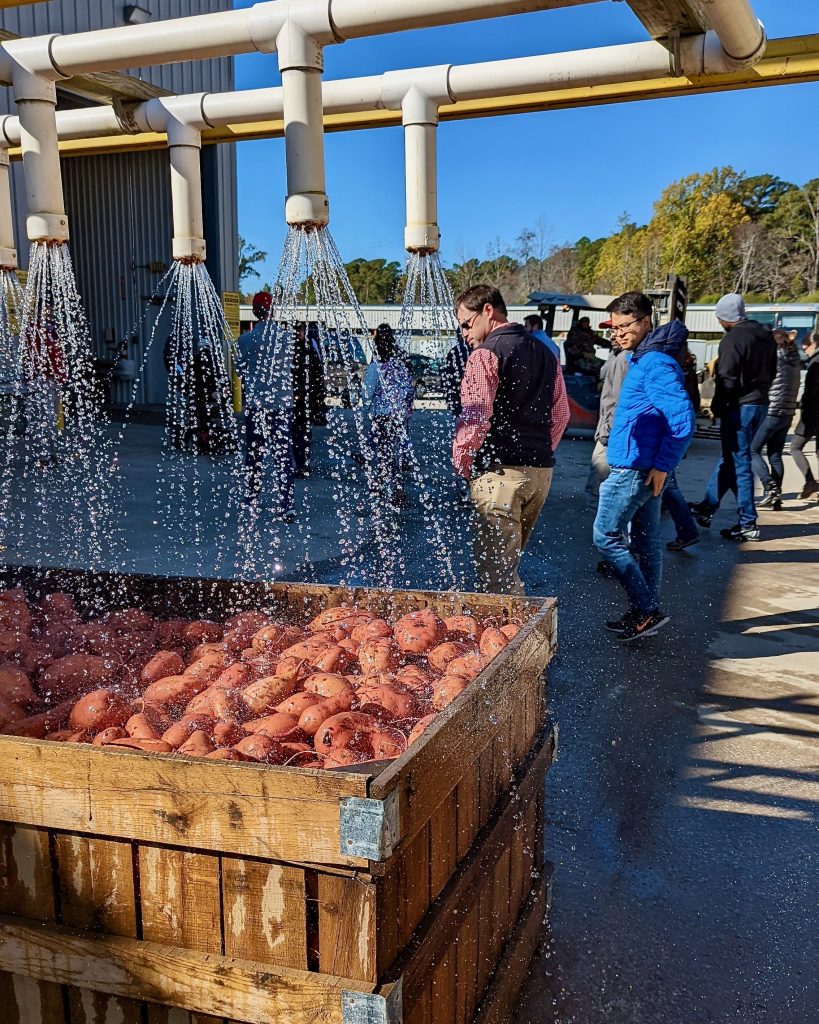 Grand Challenge: Sustainability
Customers like Walmart are asking us and our farmers for a sustainability plan, but they don't know how to do that or where to even start. They're being asked about carbon sequestration but they don't know how to measure that. We could use [researchers'] help with developing that plan and collecting that data.
– Thomas Joyner, President, Nash Produce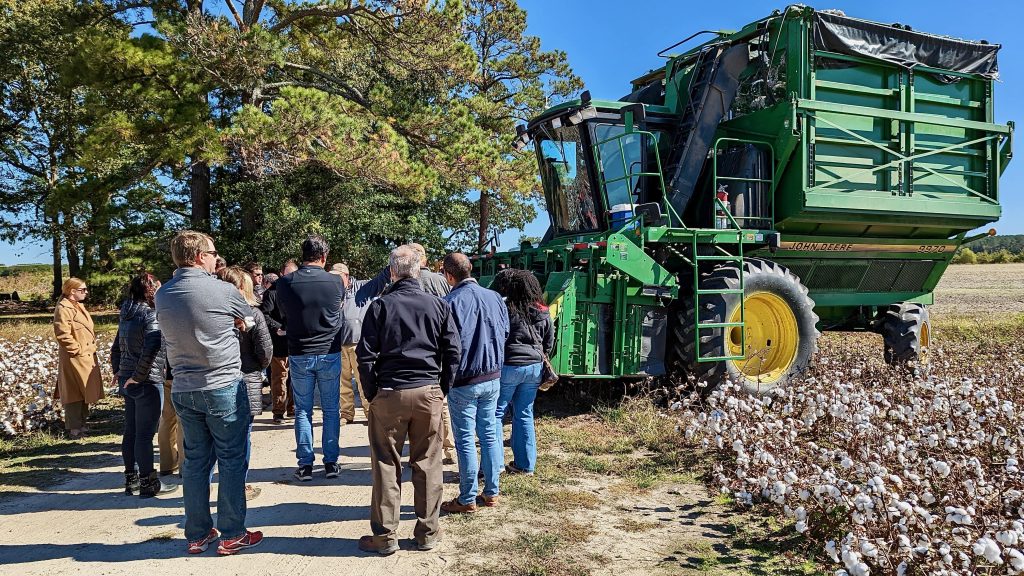 Grand Challenge: Connecting Lab to Field
"I feel like I know how to farm pretty well, but I'm not afraid to pick up the phone and call Extension because I have questions. Extension is a huge part of what [researchers] do to get that information out to us. In order for us to be profitable, we have to work together. Whether they work in a lab or a field, [researchers] are part of what goes on here and we appreciate that work."

– Lyn Vick, General Farm Manager, Vick Family Farms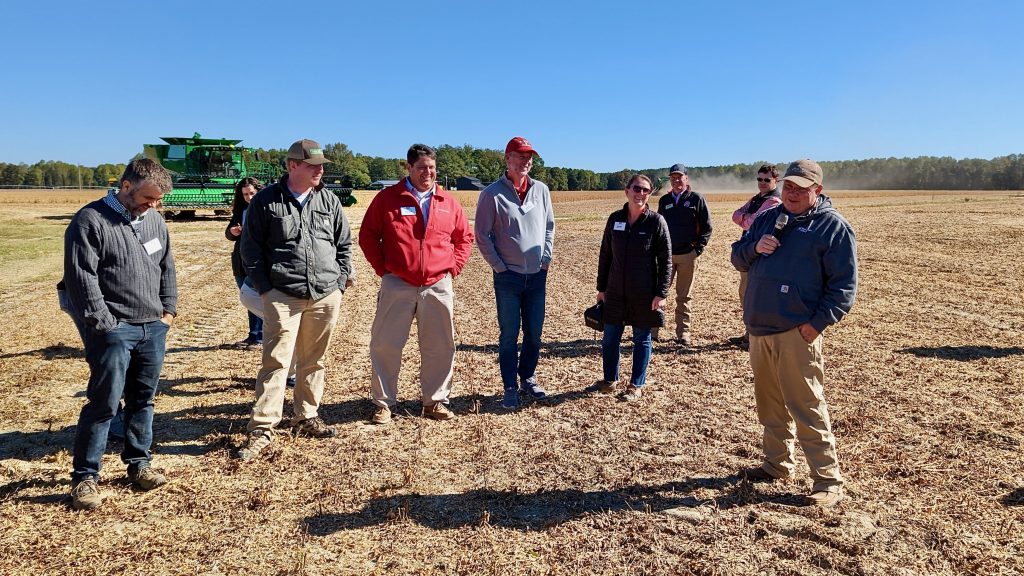 Grand Challenge: The Next Generation
"We have to hire people at a higher level who can help us with automation because we have to be able to do what we do with fewer people. That's just the time we're in. My nephew wants to be an aerospace engineer and my niece wants to be a lawyer. They know what cotton looks like, they've seen the struggles and the successes, but I'm not training them to drive a tractor. Ten years from now, I'm going to need a lawyer on the farm. I'm going to need an aerospace engineer on the farm for these advanced machines."

– Lyn Vick, General Farm Manager, Vick Family Farms
One thing we're trying to do is put engineers and data scientists into agriculture so they can see a pathway forward for themselves. We need the best engineers, the best data scientists and the best agronomists to address these complex issues.
– Adrian Percy, Executive Director, N.C. PSI