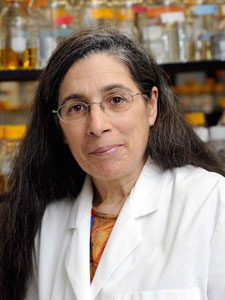 Sophia Kathariou, NC State professor of food science and microbiology, has been named a fellow of the American Academy of Microbiology, an honorific leadership group within the American Society for Microbiology.
Fellows are elected annually through a highly selective, peer-review process based on their records of scientific achievement and original contributions that have advanced microbiology.
Kathariou is one of 73 new fellows named this year. She will be recognized at the Academy Fellows Reception in New Orleans on June 2.
An expert in genetics, microbiology and molecular biology, Kathariou studies foodborne pathogens such as listeria and campylobacter. Before joining the faculty of the Department of Food, Bioprocessing and Nutrition Sciences in 2000, she was an associate professor in the Department of Microbiology at the University of Hawaii. She received the Heinz P.R. Seeliger Award for promotion of scientific research in listeriosis and was named to the Gamma Sigma Delta Honor Society of Agriculture.
This post was originally published in College of Agriculture and Life Sciences News.