Faculty and Staff
2023 Plant and Microbial Biology Departmental Awards and Recognitions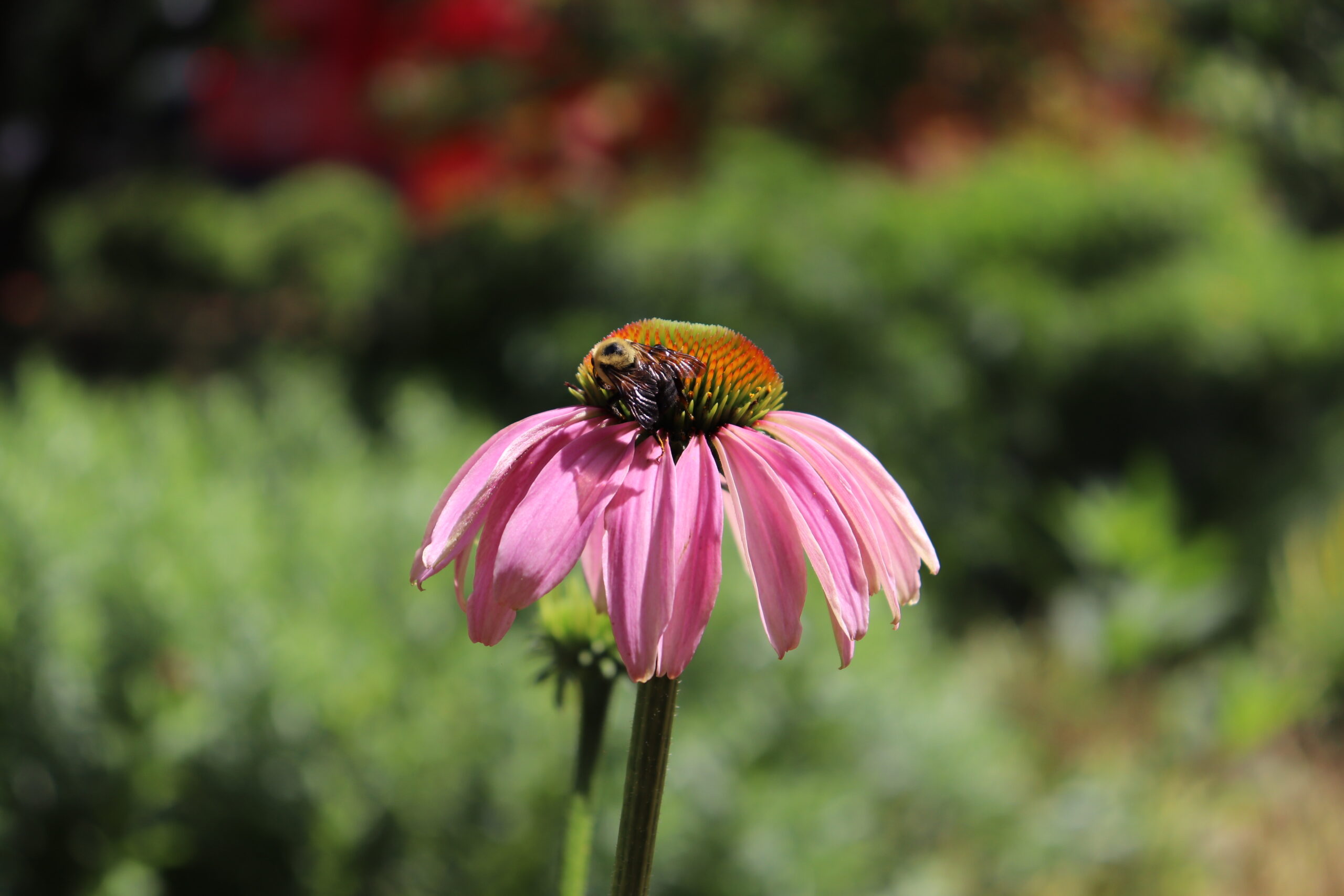 Each spring, the Department of Plant & Microbial Biology hosts an ice cream social to come together and celebrate the accomplishments of our community, give recognition to award-winners, and bid fond farewells to graduating students and others departing for their next adventures.
'The Scoop' From the Department Head
We had a wonderful time celebrating The Department of Plant & Microbial Biology at our annual Ice Cream Social Event in April. At this event, we highlighted some of the many successes that our department has worked very hard to achieve over the past year, introduced new members, and caught up with colleagues. In this spring newsletter, we provide updates on our recent efforts within the department in the areas of research, teaching, and community engagement.
On May 6th, we celebrated PMB Spring Graduates at our graduation ceremony. We graduated twenty-one Bachelor of Science students from the Plant Biology undergraduate program, thirteen from the Master of Microbial Biotechnology Program, and then three additional Master's level and two Doctoral level degrees from the Microbiology and Plant Biology Graduate programs. I want to congratulate our students who graduated this spring. We are excited to see what the future holds for you.
To all, I hope you have a safe and relaxing summer break! See you in the fall.
-Bob Franks
Plant Biology Undergraduate Student Awards and Recognition
At the end of each academic year, the Undergraduate Program Committee gives awards to recognize exceptional graduating seniors and continuing students. For more information about the awards and recipients, please click on the name of the award.
Awards for Graduating Seniors
Awards for Continuing Students
Recognition
Botany Club
The mission of the undergraduate Botany Club is to promote interactions among NC State students who are interested in the fundamental science of plants as well as to promote scholarship in and an open discussion of all things botanical. The club certainly accomplished that mission during the 2022-2023 academic year by offering an array of hands-on activities including but not limited to propagating and exchanging plants, pumpkin carving and painting, making leaf prints, and creating terraria. The club officer team also organized a dynamic lineup of guest speakers on topics that ranged from ethnobotanical research (Dr. Jillian De Gezelle) to strategies for detecting and monitoring emerging plant diseases (Dr. Jean Ristaino) to field botany and floristics (Dr. Alexander Krings). The club also hosted a special meeting focused on applying for NC State and CALS scholarships, led by CALS Academic Programs (Coleman Simpson). Another highlight from the year was a visit and tour of the new Plant Sciences Building on Centennial Campus, led by Dr. Terri Long.
The Plant Biology Undergraduate Program recognizes the enthusiasm, commitment, and hard work of this year's Botany Club Officer Team:
President – Jackson Cooper
Vice President – Sydney Buck
Secretary/Treasurer – Seline Pons (fall) and Zoe Curtis (spring)
Agri-Life Council Representatives: Helen Nocito, Zoe Curtis (fall), and Shriya Reddy (spring)
The 2023-2024 Botany Club Officers are:
President – Jackson Cooper
Vice President – Jake Thompson
Secretary/Treasurer – Zoe Curtis
Agri-Life Council Representatives: Shriya Reddy and Giuliana Mendoza
Every year, the PMB Department recognizes the exemplary work of graduate students who have been awarded internal departmental awards, as well as external awards. For more information about the awards and recipients, please click on the name of the award.
Awards
Martha Sue Sebastian Award: Kira Lindelof
Susan R. Vitello Award: Melina Keighron
NCSU Kenan Institute for Technology, Engineering & Science Climate Leadership Program Fellowship: Kaleb Goff
2022 Kenneth R. Keller Award for Excellence in Doctoral Dissertation Research: Dr. Imani Madison
NSF Graduate Research Fellowship Program: Katie Vollen
Master of Microbial Biotechnology (MMB)
This Spring, the MMB program has 13 graduating students. These students completed and presented on their Capstone Projects.
Additionally, the MMB program partnered with several companies this semester: Sensal Health, Altis Biosystems, and Cosmic Eats. MMB students worked with these partner companies over the course of the semester and completed their Spring practicum projects. Thank you to all of our MMB partners for their continued support in providing meaningful industry-related experiences to our students through guest lectures and practicum projects!
Faculty Awards and Announcements
Dr. Deyu Xie has been elected a 2022 Fellow of the American Association for the Advancement of Science (AAAS).
Staff Announcements and Recognition
Catherine Freeman, PMB Executive Assistant, received the CALS Award for Excellence!
Lab Announcements and Publications
Alonso-Stepanova Lab
1st-year Genetics and Genomics PhD student, Jade Lyons, joined the Alonso-Stepanova lab in January of 2023.
Sara Belcapo is visiting the Alonso-Stepanova lab for six months from the University of Milan, Italy.
Postdoc Mario Fenech received travel awards from the American Society of Plant Biologists to attend the Plant Biology 2023 meeting in Savannah, Georgia and from North American Arabidopsis Steering Committee to attend the International Conference on Arabidopsis Research 2023 in Chiba, Japan.
Dr. Chengsong Zhao was promoted to Senior Research Scholar in the Alonso-Stepanova lab.
3rd-year Plant Biology PhD student Anna Yaschenko won a USDA travel award to attend the Ethylene Conference in Toulouse, France.
Krings Lab
At the 2023 meeting of the Southern Appalachian Botanical Society, it was announced that the paper coming out from Katherine Culatta's master's thesis received the Richard and Minnie Windler Award for best paper in systematics in Castanea for 2022:
Lyu Lab
The Lyu Lab welcomes new members, research technician, Abigail O'Brien and incoming graduate student Carla Sanchez!
Sheth Lab
Seema has been out in California and Oregon setting up common garden experiments to study evolutionary responses to recent climate change in the scarlet monkeyflower, in collaboration with researchers at the University of Hawaii, San Diego State University, UC Merced, and the University of Oregon.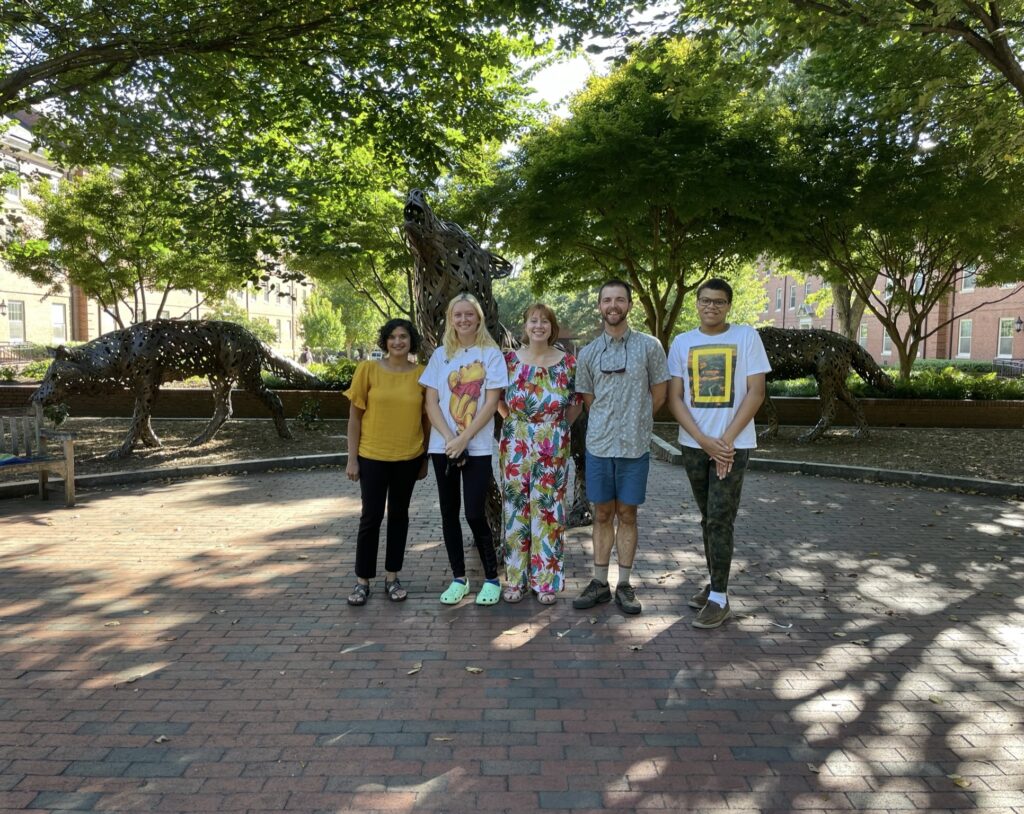 The Sheth Lab welcomed undergraduate Mataeus Funderburk to the lab in Fall 2022. Mataeus will be doing a summer REU with Naomi Pierce at Harvard University.
The Sheth Lab welcomed MC Moazed as a field technician for PERSIST (Predicting Evolutionary Rescue of a Species in Space and Time) project in Spring 2023!
Congratulations to undergraduate Sophie Meng on her recent graduation! Sophie will begin a position as Plant Conservation Technician with the North Carolina Botanical Garden in May.
Kaleb Goff received a NCSU Kenan Institute for Technology, Engineering & Science Climate Leadership Program Fellowship for an internship with Dr. Meagan Oldfather at North Central Climate Adaptation Science Center.
With lead PI Jill Anderson and co-PIs Megan DeMarche, Susana Wadgymar, Emily Josephs, and Jenny Cruse-Sanders, the Sheth Lab received a National Science Foundation Organismal Response to Climate Change grant to integrate evolutionary and migratory potential of Chamaecrista fasciculata into forecasts of range-wide population dynamics under climate change.
Xiang Lab
Dr. Jenny Xiang is hosting three visiting scholars, Prof. Zhiduan Chen and his two PhD students from Institute of Botany, Chinese Academy of Sciences for a one week visit to NCSU.
The Xiang Lab has four new publications to share.
Sun*, Y, X Zhang, A Zhang, JB Landis, H Zhang, H Sun, Q-Y(J) Xiang#, H Wang#. 2023. Population Genomic Analyses Suggest a Hybrid Origin, Cryptic Sexuality, and Decay of Genes Regulating Seed Development for the Putatively Strictly Asexual Kingdonia uniflora (Circaeasteraceae, Ranunculales). International Journal of Molecular Sciences. 10.3390/ijms24021451.
Note: "*" – mentored students or visiting scholars; "#" -corresponding authors.
Xie Lab
Dr. Seyit Yuzuak, our former PhD student graduated in 2018, joined our lab as a visiting scientist in March. He is working on plant products for anti-COVID-19.
Dr. Yue Zhu finished his postdoctoral position in March and went back to China to start his own research lab.
Bethany Mostert received a travel award from our department.
Plant and Microbial Biology Spring 2023 Graduates
The PMB department commends you all on your resilience and perseverance in completing your degrees. Congratulations Graduates! Good luck on all your future endeavors and be sure to fill out our Alumni Update Form to stay in touch!