Naudia McKoy Wins Spirit of the Village Award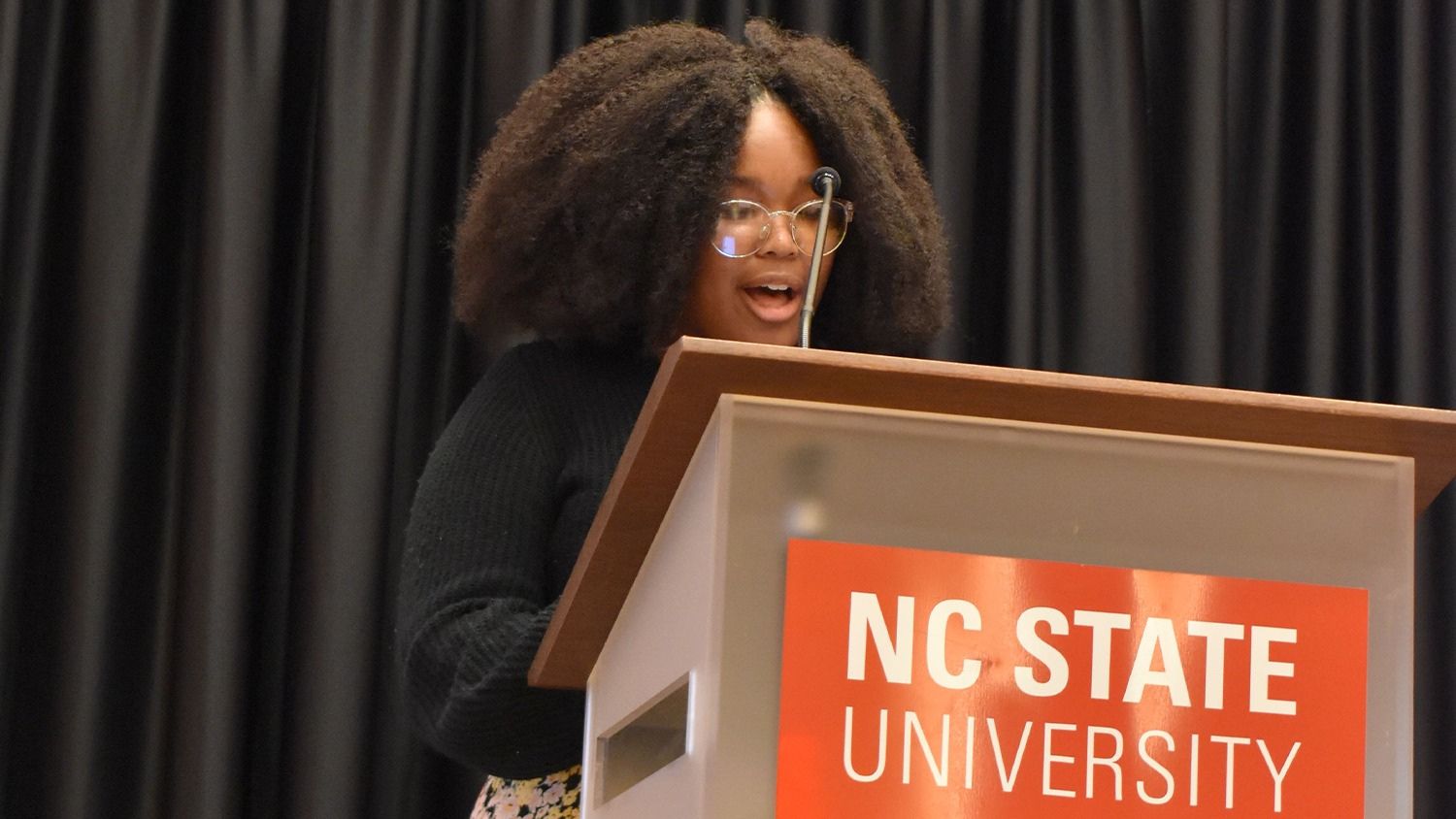 In an April ceremony every year, NC State's Living and Learning Villages and University Housing recognize student residents who stand out most for representing the true embodiment, or spirit, of each of the 15 living and learning communities on campus. Students are nominated by their peers and village staff for being visible, engaged and contributory to their village experience, displaying exceptional leadership qualities, actively giving back through service, and/or enthusiastically promoting the community. Village "Spirits" encourage and contribute to the sense of belonging for others and best represent the purpose and mission of each village. For the Honors Village this year, that special Spirit is Naudia McKoy. 
McKoy is a first-year biochemistry student in the College of Agriculture and Life Sciences and has been an active member of the Honors Program and associated residential Honors Village since move-in in August. The Honors Village staff recognized Naudia for her consistent and welcoming presence in the Quad (the residential campus where the Honors Village is housed, consisting of Becton, Berry and Bagwell residence halls), and for "bringing laughter, support and encouragement, even when it seems like no one else is watching."    
Scott O'Leary, director of the Honors Village, has this to say about her: "Naudia's dedication to scholarly conversation, critical inquiry, research and civic engagement has continuously promoted expansive thinking and knowledge creation in the village. She has demonstrated an interdisciplinary approach to problem-solving, and has actively contributed to the available knowledge that can be found in the classroom, the village, and beyond. Continuous consideration of a diverse set of perspectives and openness to new ideas are just a few ways in which her actions reflect, in every possible sense, the ethos of our village." 
According to O'Leary, "No resident in recent memory has explored quite the same breadth and depth of the opportunities offered by the Honors Village. McKoy has been active in the Village's Campus Conversations programming, Around Us film series, Breakout! puzzle solving initiative, and the In the Headlines series. At the same time, her presence and leadership in the community has been felt by many, whether one-on-one, on the Village Discord (a communication channel), or through her work as vice president of operations for the Area Council. When the decision was announced to the student staff team, almost all staff members had their own specific ways that McKoy had positively impacted the community beyond all the considerations in her initial nomination." 
For McKoy, being named Spirit of the Honors Village means that she has successfully contributed to something bigger than herself, that she has made a positive impact on the Honors Village and the Wolfpack. It means that she has been noticed and recognized for her contributions, which she says "is a great feeling."
"Despite being more on the introverted side, I have never shied away from starting conversations and meeting new people," McKoy said. "The various events in the village have been a great opportunity for me to broaden my horizons, learn new perspectives and interact with individuals from diverse backgrounds."
McKoy's experience in the village has impacted her in many ways, both personally and professionally. "As someone from a small town, I had never experienced such diversity before. However, being part of this community has expanded my understanding and appreciation of different cultures, lifestyles and beliefs. This exposure to different perspectives has made me a more well-rounded individual and has influenced my personal and professional goals."
"I plan to use what I have learned in the Village to become a better, more informed, and more engaged member of society. Whether it's through civic engagement, research or interdisciplinary problem-solving, I will continue to apply the skills and knowledge that I have gained from my time in the Honors Village."
"I remember applying to live [in the Honors Village] on a whim because I thought the sense of community would be nice, especially when I come from such a small town… The year I have lived here, I have been open to more opportunities, both related to and not related to my major, that have made me feel better that I have more options on where I want to go, career-wise, in the future." 
For more information about the Honors Village and how to apply, please visit our website at https://honors.dasa.ncsu.edu/village/.
Are you a University Honors Program or University Scholars Program student that has achieved something note-worthy during your time at NC State? Want to tell us about it? Submit your story on this form for a chance to be featured as a Student Spotlight Story!
This post was originally published in DASA.