Soldiers In The Field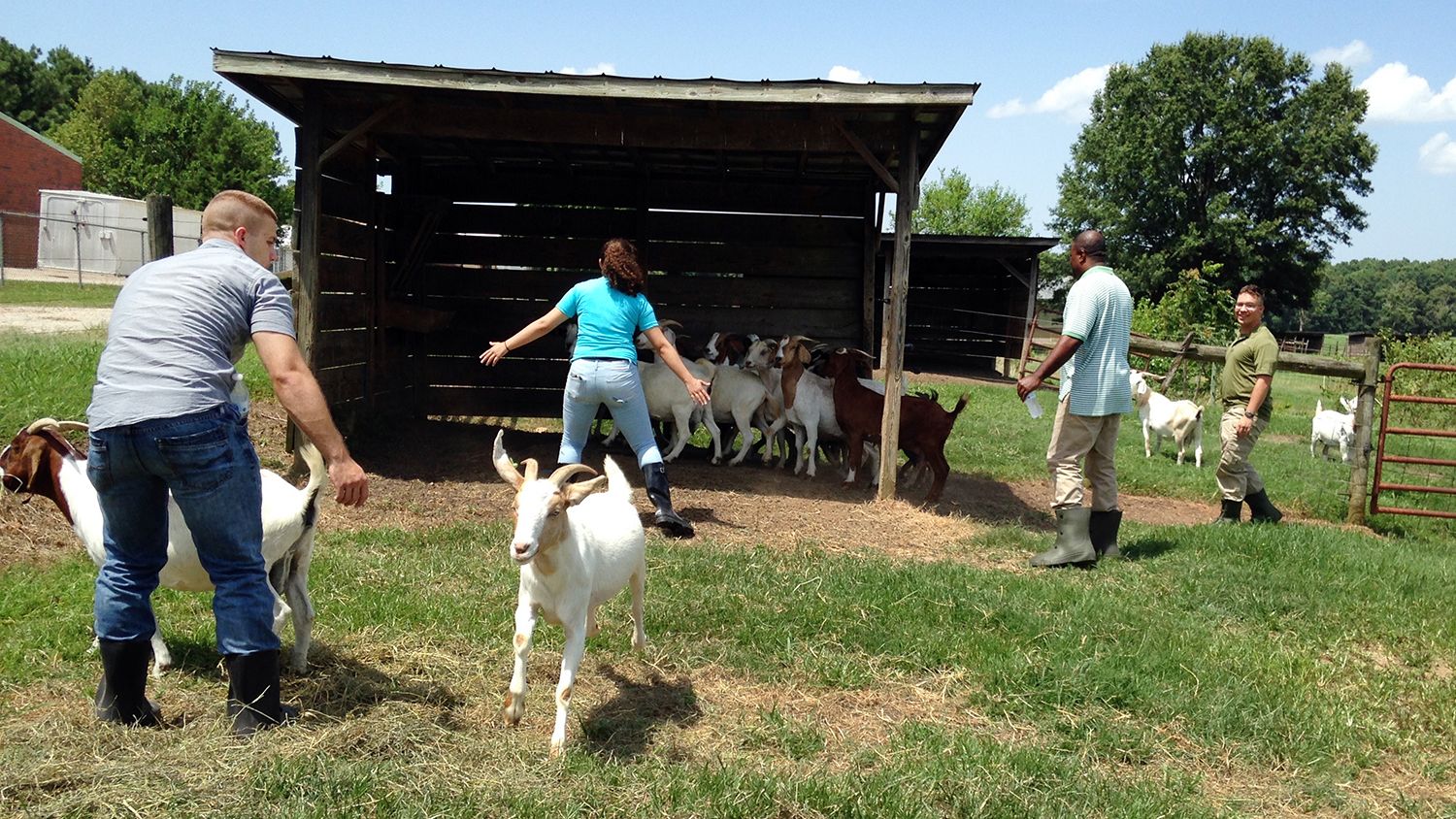 Partnering with the College of Veterinary Medicine, NC State Extension helps provide hands-on farm animal training before U.S. soldiers deploy to countries with agricultural economies.
When Staff Sgt. Angelsea Sorrells reported to the CALS Beef Educational Unit in summer 2016, she had never been near an animal bigger than a cat or dog.
And then she was faced with a cow.
"It was intimidating at first because, for example, even sheep are fairly large," Sorrells said. "Not knowing animals, I didn't know which ones could side-kick you or would run you over if they felt intimidated."
A member of Fort Bragg's 83rd Civil Affairs Battalion, Sorrells and her unit are charged with forging relationships with civilians overseas. Since 2013, members of NC State Extension have partnered with the College of Veterinary Medicine and Fort Bragg to provide livestock-handling training to soldiers who will serve in agriculture-based economies around the world.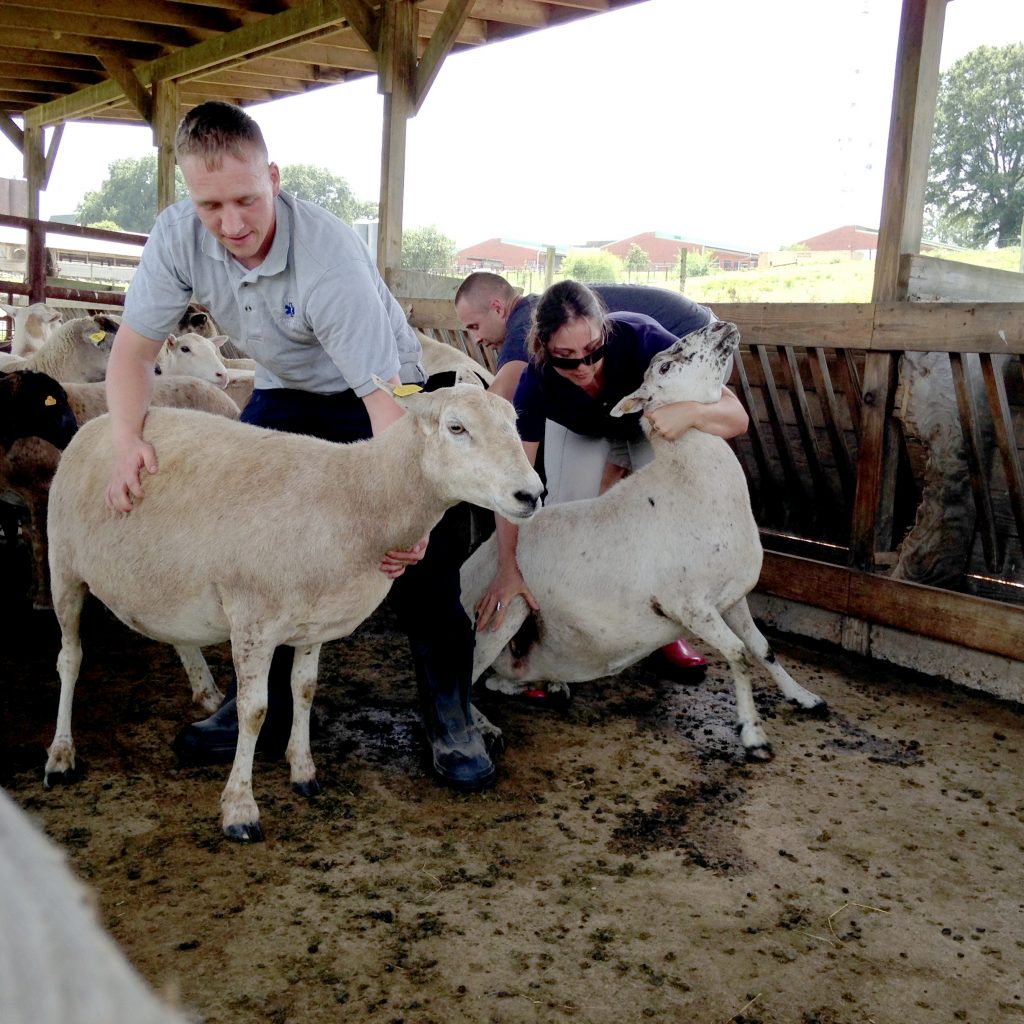 Capt. Sarahanne Simpson, battalion veterinarian, said the training aids their mission in more ways than one. In many countries, agriculture is a major economic engine. A basic understanding of farm animal handling and care allows soldiers to help improve local livelihoods while building human connection.
"Being able to walk into an area and have a knowledge of what's important to the population … gives us credibility," Simpson said.
Army Embraces Ag
When the soldiers arrive at CALS' Lake Wheeler Road Field Laboratories, their experience levels vary. For most, it's their first time around farm animals.
The first day of class is general background, followed by three days of training with specific animals. Participants learn how to conduct a basic physical exam, how to wrangle a rope into a halter, how to gauge age from one end of the animal and nutrition from the other.
Research and Extension Associate Sharon Freeman returned from retirement to assist with the program. Freeman, who has a Ph.D. in nutrition from NC State and formerly managed CALS' Metabolism Education Unit, works with CVM veterinarians Harrison Dudley, Derek Foster and Andrew Stringer on soldier training.
"The agriculture they'll see overseas is often very different from the agriculture they'll see here," Freeman said.
For example, Freeman said, American farms are often very large and most of the livestock relatively undomesticated.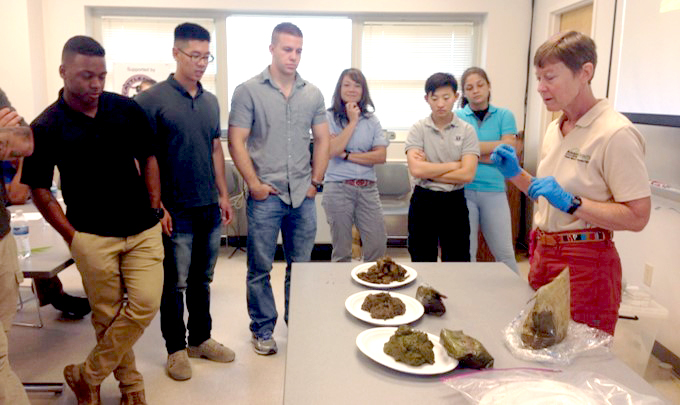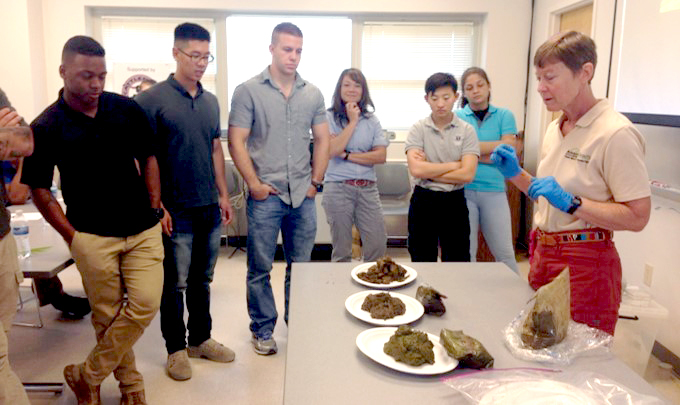 "If you go to Africa, you might see kids riding around on the back of the family cow, while here you would rarely see that — the animals wouldn't allow it," Freeman said. "We try to consider where they'll be going and what they need to know."
For Freeman, the work is personal. Many of the soldiers she teaches remind her of her nephew, she says: U.S. Air Force Captain Joel C. Gentz was a "born leader" who was killed at age 25 on his first deployment. Like Gentz, the soldiers Freeman sees in the workshop are "eager to learn," she says — "the perfect students."