Putting the Science in Low and Slow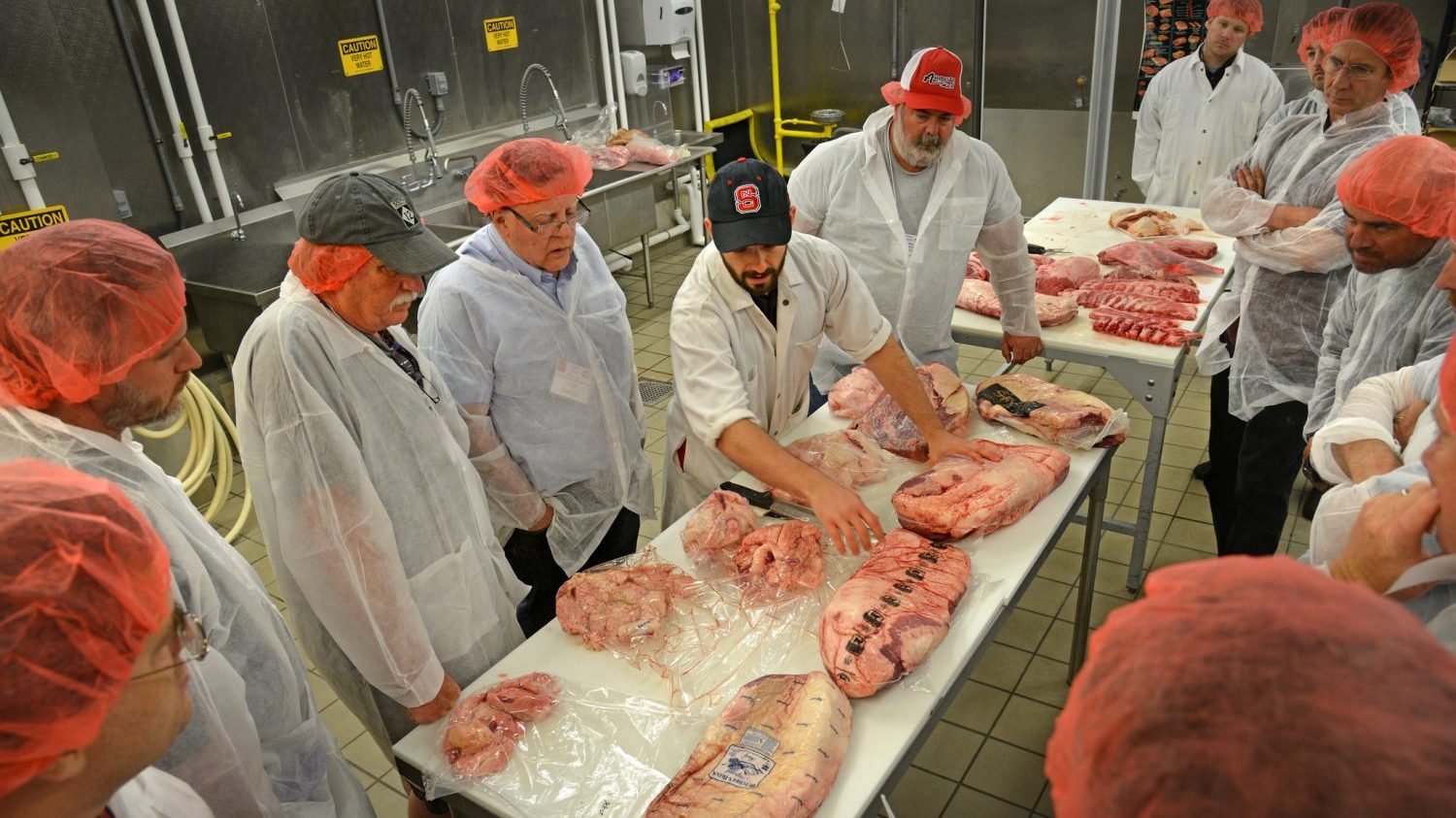 "This is really like going back to school, not like some cooking class," one participant said of the NC State BBQ Camp. Indeed, the event proved that what makes barbecue delicious is far more than firing up the grill.
Hosted by NC State University's Department of Food, Bioprocessing and Nutrition Sciences and the North Carolina Meat Processor's Association, the two-day seminar was the first public offering of a university-level, science-based class in the Southeast. To prepare for the event, the two groups conducted a test camp in 2015 and several shorter sessions for North Carolina 4-H members.
Limited to 25 participants, tickets sold out almost immediately. "I was going to plug it in an interview on Friday but found out it was sold out on Thursday," said WUNC-TV host and noted author Bob Garner. "A small mention in Wednesday's Raleigh News & Observer beat me to the punch!"
At $395 per person, it may seem an expensive lesson to some. But for the 27 people who missed the cutoff, it was a big disappointment. "We're keeping a list of everyone who didn't get in," said the NCMPA's Candace Cansler. "We'll certainly let them know the next time we have one."
Participants included an entertainment lawyer from New York City, a barbecue competition veteran from Connecticut and aficionados from across North Carolina. Individual skill levels pre-class ranged from highly experienced to those who just enjoyed eating what local columnist Dennis Rogers proclaimed the "Holy Grub."
The camp opened Friday with an overview by Bob Garner and course leader Dr. Dana Hanson. Hanson, an NC State associate professor of meat science, quickly got to the, ahem, meat of the matter, delving into the intricacies of the muscle versus fat ratios of beef brisket. He went into detail on how the specifics of the various means of raising cattle – and the breeds themselves – influenced the final product.
Five briskets ranging from USDA Choice to a Japanese Waygu breed Super Prime were selected for the class's next session. Hanson provided an overview of how seasonings not only affected taste, but how they would affect the delicate marbling that would render the meat tender enough to fall apart in one's fingers.
Students then grouped into teams of five and developed dry rub recipes using a wide array of seasonings ranging from simple kosher salt to a concoction called smoked sugar – so concentrated a drop is enough. Their efforts were applied to the briskets and sent to the cooker, to be judged at that night's dinner.
Trimmings from the briskets were then used to make Texas Hot Link sausages. Students learned correct fat-to-lean proportions, the many different casings used commercially and the flavor profiles different spice combinations would impart on the finished product.
Saturday's program began as the sun rose by putting a traditional North Carolina whole hog on a cooker for the evening meal. After a smoker-side breakfast of four types of sausages and biscuits, students donned protective coats and hairnets and entered the facility's meat labs for an in-depth session on converting carcasses to the various cuts used in barbecue.
Led by Hanson's team, the class cut out ribs, chops and tenderloins, learning how bone, muscle groups and even membranes made the finished meats we are all familiar with. They discovered how liquid solutions improved both flavor and moisture levels. (For the uninitiated, marinating adds flavor, while injections of sodium phosphate enhance moisture.)
They also learned how manufacturers are actively experimenting on alternatives to the seven major allergens, including soy and dairy, used in retail ready-to-use meat products. And that the red color in hamburger packages is not blood but myoglobin – a protein that turns red when exposed to the air.
Moving from the meat labs to the university's farm, the class learned the variety of techniques available to properly prepare the meat they now understood scientifically. Cooking low and slow can take many paths, from traditional 'sticks' of hickory to sophisticated pellets made from a number of woods to impart different flavors. The cookers themselves run as wide a gamut, and half a dozen different types were demonstrated to the group.
Man cannot live on meat alone, so Chef Eddie Wilson, Golden Corral's director of culinary innovation was brought in to give a lesson in campfire cooking. Using wood fires and cast iron Dutch ovens, including a century-old family heirloom, Wilson built ingredients step-by-step for baked beans, fire-roasted peppers, potato salad and blueberry cobbler.
For their graduation dinner, the class feasted on their hard-learned efforts, including beef ribs, sausage and pork barbecue, accompanied by the campfire-cooked sides. Each had also received a raffle ticket in their gift package of promotional t-shirts, hats, aprons and barbecue tools. Top prize went to Jean-Jacques B Dubois – a Frenchman no less – who is now the proud owner of a custom smoker built from an oil drum.
Was learning the science of low and slow a success? We say, "Oui, oui!"
– M. Quinlan