Partner Profile: NC Tobacco Trust Fund Commission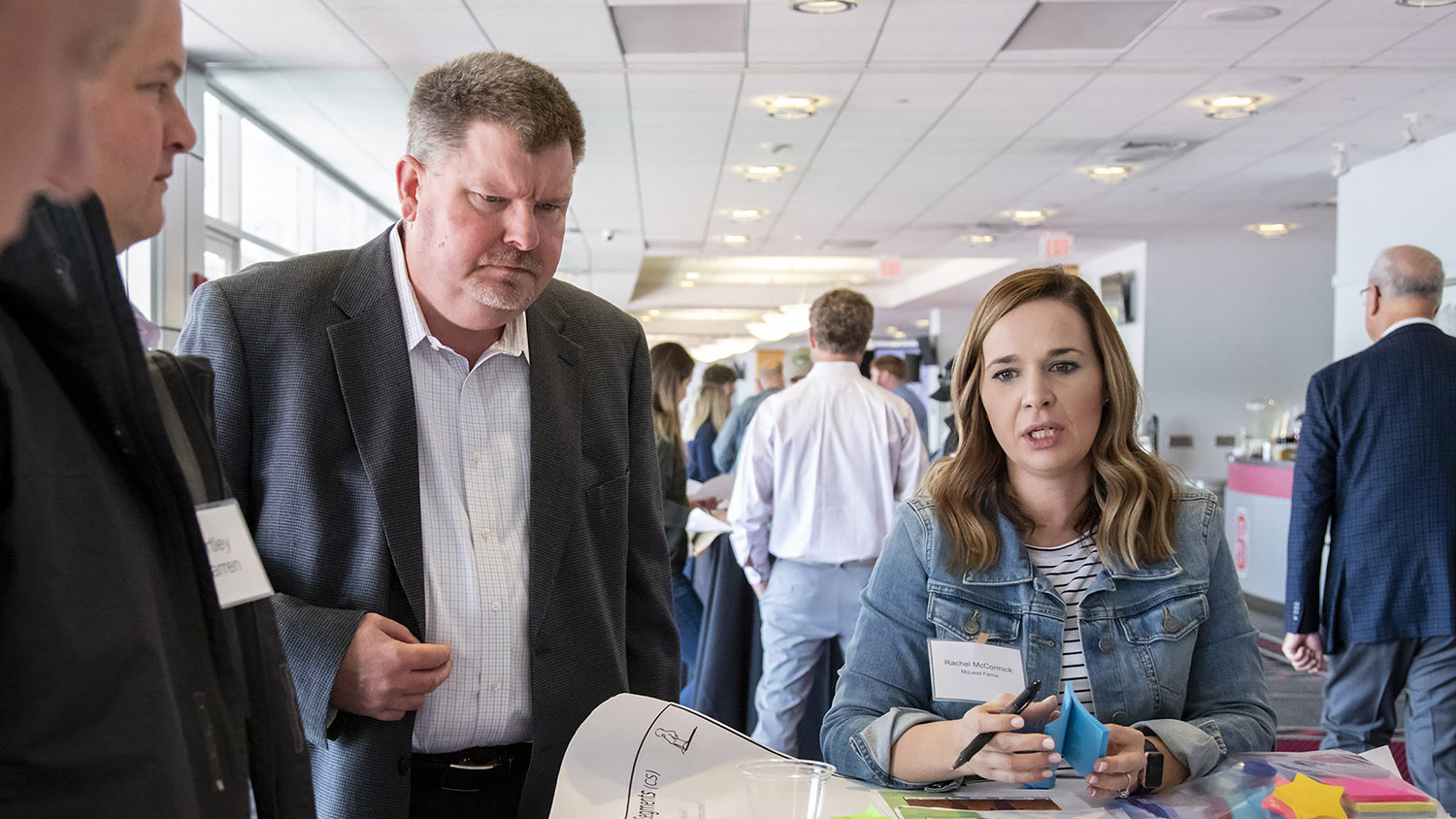 For nearly 20 years, the NC Tobacco Trust Fund Commission has been a staple in advancing agriculture in North Carolina—and an important partner of NC State University's College of Agriculture and Life Sciences.
The state's General Assembly created the commission to help distribute funds from a settlement signed by the attorneys general of 46 states. Beginning in 2012, the legislature appropriated $2 million for grant programs and administrative costs.
In its 20-year history, the TTFC has invested millions of dollars annually in projects ranging from creating skills courses in community colleges to enhancing local farmers markets and developing the greenhouse vegetable industry.
William Upchurch Jr. was the organization's first employee and remains its executive director. An alumnus of the College of Agriculture and Life Sciences, Upchurch earned an agricultural education degree in 1991. He has participated in North Carolina agriculture for all of his professional life and recently stepped down from a two-year term as president of the CALS Alumni and Friends Society.
We sat down with Upchurch to learn more about the TTFC-CALS partnership.
Tell us about the Tobacco Trust Fund Commission.
In the 1990s, states sued tobacco manufacturers for smoking-related illnesses. In 1998 there was a historic settlement between 46 states and the four biggest tobacco manufacturers. None of the money was specifically designated for any purpose when it came to the state, so each state could use it as they saw fit. North Carolina created three different organizations to expend those funds. One was the Health and Wellness Trust Fund Commission, which was doing health-related investments. It's no longer in service. Then there was the Golden LEAF Foundation, which is focused on economic development in tobacco-dependent communities. There was a need for a group to address the impacts on the tobacco family, tobacco producers, quota holders, displaced tobacco workers and so forth, so they created the Tobacco Trust Fund Commission in 2000. The board first met in 2001.
There was a need for a group to address the impacts on the tobacco family, tobacco producers, quota holders and displaced workers.
Although our purpose is to address impacts in the tobacco industry as it relates to members of the tobacco family, we've always had the vision that tobacco is a cornerstone of the state's agricultural economy from a historical basis. If you invest in agriculture in North Carolina and move agriculture forward, you're going to benefit those members of the tobacco family. Since the TTFC's creation, we've focused on making investments that move agriculture forward in the state of North Carolina because it is the state's No. 1 industry.
Why did the Tobacco Trust Fund Commission partner with NC State?
NC State is a crown jewel among agricultural universities in the United States with phenomenal staff and people to work with. Because of NC State's core mission of research, education and outreach in North Carolina, they obviously are a good partner for us. We've felt very successful in making grants to them for several years now to address many different needs.
What have the grants accomplished?
We have done research, diversification and education. Some of the key grants that have been extremely successful are those supporting what's now called the North Carolina Tobacco Trust Fund Commission Agricultural Leadership Program. That program existed for many years under different variations. It has successfully taken people who are deeply involved in agriculture, whether it be actual farming or agribusiness, and helped enhance their leadership skills so they can use their experience and knowledge to help others. We have people serving as county commissioners and local school board members. Some of the previous classes included former North Carolina Farm Bureau President Larry Wooten and North Carolina Agriculture Commissioner Steve Troxler.
NC AgVentures works with N.C. Cooperative Extension agents to find farming operations where just a little money will help.
Another signature program with NC State is NC AgVentures. This program works with N.C. Cooperative Extension agents to find farming operations where just a little money will help that farm either try something that they've been wanting to do for a long time or stay afloat so they can continue to hire people and buy supplies in their local communities.
How does this partnership affect agriculture and farmers in North Carolina?
Anytime we can invest in our No. 1 industry, that's a positive thing. Agriculture, just like any economy, has its ebbs and flows, days of prosperity and challenges. It helps anytime there can be a funding source to do just a little bit more than what they're capable of doing at the present time. Obviously, NC State is a premier partner in helping us do that because the resources at the university are just beyond belief, from the people on the ground, to the people in the laboratories, to the people in the classroom. We're fortunate to have those kinds of partners. Obviously, we couldn't do it by ourselves, and the reach is just phenomenal when you partner with a good teammate.
What results does the Tobacco Trust Fund Commission hope will come out of this partnership?
We want agriculture to be a strong economic factor in the state for many, many years in the future. By working with a premier partner like NC State, I have high confidence that our investments will do that, and we'll continue to grow this economy and be a multibillion-dollar industry that will continue to create more jobs and opportunities to feed many more people.
What is the process for funding grant proposals?
Because we are now on state appropriations, we are subject to the General Assembly and have to issue a call for proposals. That becomes available in January each year with a deadline in early March, and then we take the applications through a multiple-stage process. We do quality checks at the staff level, and we bring in outside volunteers with expertise in different fields to help us review those applications and give feedback. We ask questions of the applicant and do site visits. Then all that information goes to a subcommittee of the board. They ask questions, reanalyze all the applications and prepare a batch to go to the full board for approval, usually in the fall of each year, in September or October.
What separates a good proposal from a great proposal?
An application that's straightforward is a positive thing. We just want to get to the heart of the matter. An application that has partnerships or relationships is very good. If you're getting ready to do something in a county, in a local area, have you talked to your Cooperative Extension Service? Have you talked to other farmers in the area to see if that's something that would meet their needs? Is that something that they want to be involved with? Skin in the game, obviously, is a positive thing. Every once in awhile, we'll receive an application from somebody living in a subdivision who wants to become a farmer and needs money to buy equipment, land and so forth. Those types of investments are not something that fits the Tobacco Trust Fund mission.
Skin in the game … is a positive thing.
We're looking more at existing operations that have a track record of success, that are looking at moving into a new field, but they're bringing proof to the table that this has been looked at and that this has been blessed by people who have knowledge in that area.
Answer all the questions, and if we reach out to you for clarification, reach back to us with that clarification.