N.C. Farm School Grows Supportive Network for Entrepreneurial Growers
Kristi Folta's dream of becoming a farmer started when she was around 6 years old, growing up in the Chicago suburbs. Now, thanks in part to her NC Farm School mentor, she's well on her way, running Artket Acres, a new goat farm in the suburbs of Charlotte.
Folta says that building connections and having a mentor was one of the best benefits of participating in Farm School.
The school, a partnership of NC State University's Department of Agricultural and Resource Economics and North Carolina Cooperative Extension with support from the North Carolina Tobacco Trust Fund Commission, aims to increase the number of sustainable and economically viable farms in North Carolina.
Derek Washburn, an Extension associate who helps coordinate NC Farm School, explains that it teaches aspiring or beginning farmers to put together solid business plans, while allowing established ones to see if they can add a profitable new enterprise to their farms.
Different Paths to Farm School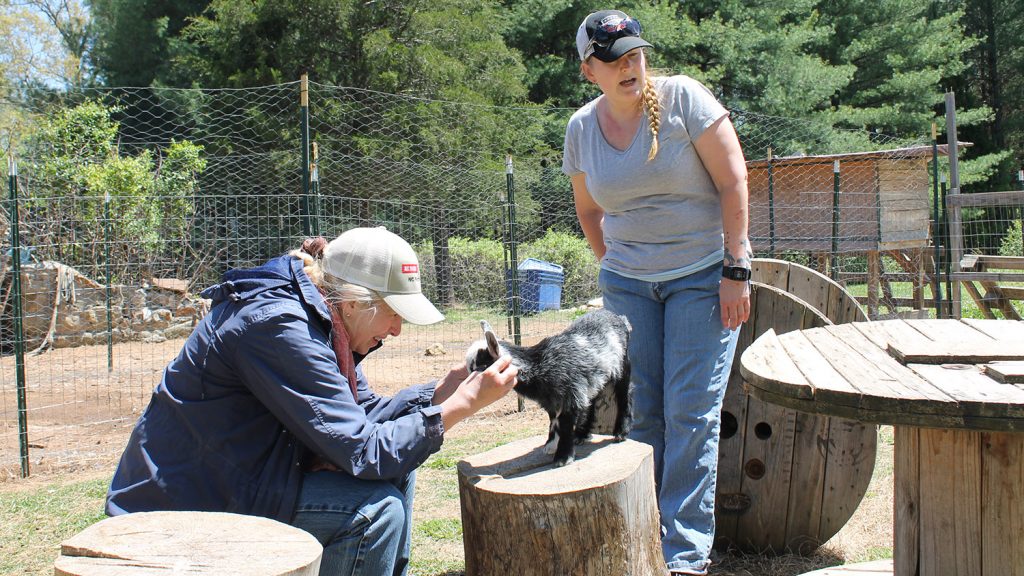 Folta and her mentor, Amy Foster of Gilcrest Natural Farm in nearby Iron Station, came to Farm School through different paths: Folta was a new farmer, while Foster had been farming with her husband and sons for five years when she decided to enroll about five years ago.
"I had taken every other class that Extension had offered," Foster says. "Still, I felt like I needed more business education that would help me make critical financial decisions and business direction decisions."
Farm School helped Foster's family finetune their approach to farming by changing marketing and investment strategies and by helping increase the farm's efficiency.
But that's just part of the picture: Foster and Folta both say that gaining knowledge and skills in farm business management was game-changing – and making mentorships a part of the school has had its advantages.
Adviser, Connector and Friend
Folta says that Foster has become more than a trusted adviser, she's also been a connector: Whenever Folta has a practical question Foster can't answer, she helps her connect with knowledgeable farmers and others who can.
"You can learn as much as you can from a piece of paper, from a book and from people lecturing, but the only way to really learn is to be out there doing things," Folta says. She believes that by walking around the farm and talking with Foster, her learning accelerated.
[pullquote color='red' align="right"]Amy has been a big help (when it comes to) figuring out where I am going.[/pullquote]
At first, Folta's Farm School classmates sparked her interest in pursuing many different enterprises, but Foster, encouraged her to start by developing a solid direction for the farm. "It's all about the goats," she says. "I will follow that direction into the future and build off that."
While Foster helped Folta get off to a good start with her new business, it's not the most important thing that came about because of their Farm School experiences. Foster is now a valuable friend.
Passionate Pursuits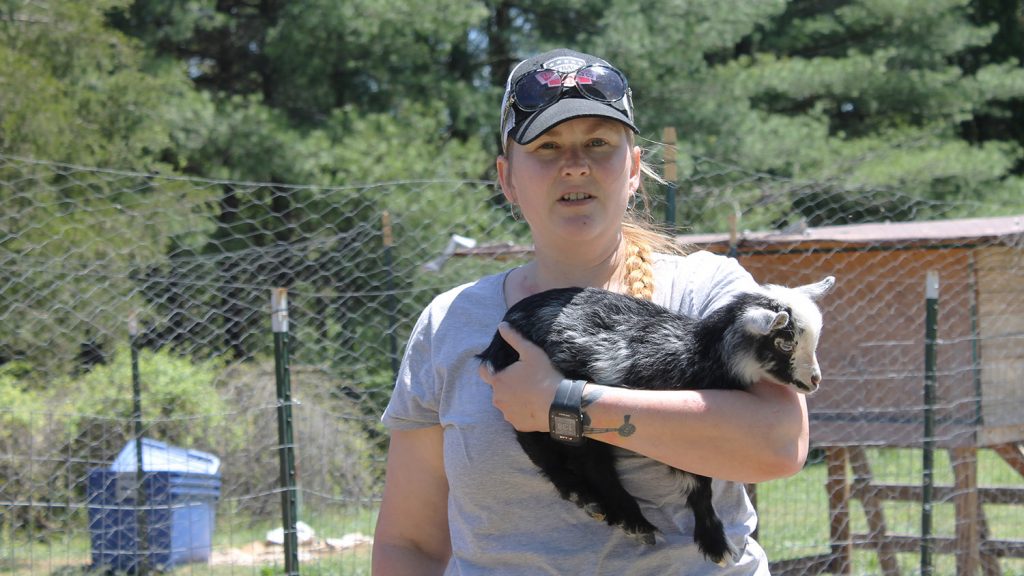 They found common ground in the importance they place on pursuing their passions. Foster has, for example, encouraged Folta to resurrect her lifelong love for art.
[pullquote color='red' align="left"]Kristi has brought back some of the things I forgot I enjoyed about farming.[/pullquote]
"She has been a real big help in getting to know me and helping me figure things out (about) where I am going, even with my art," she says. "I had lost a little bit of touch with that, and she brought that back to the light for me."
At the same time, Foster says she has also gained from the relationship.
"Working with Kristi has brought back some of the things I forgot I enjoyed about farming – seeing the beauty of nature and the art in it," she says. "She's been helping me, unbeknownst to her, to really fall in love with the part of farming … that the numbers and the bottom line get in the way of sometimes – the joy of it."
Want help in pursuing your farm dream? Visit NC Farm School online or call Washburn at (919) 515-4614.
NC State Extension is hard at work in communities across the state.
[button]Learn more[/button]