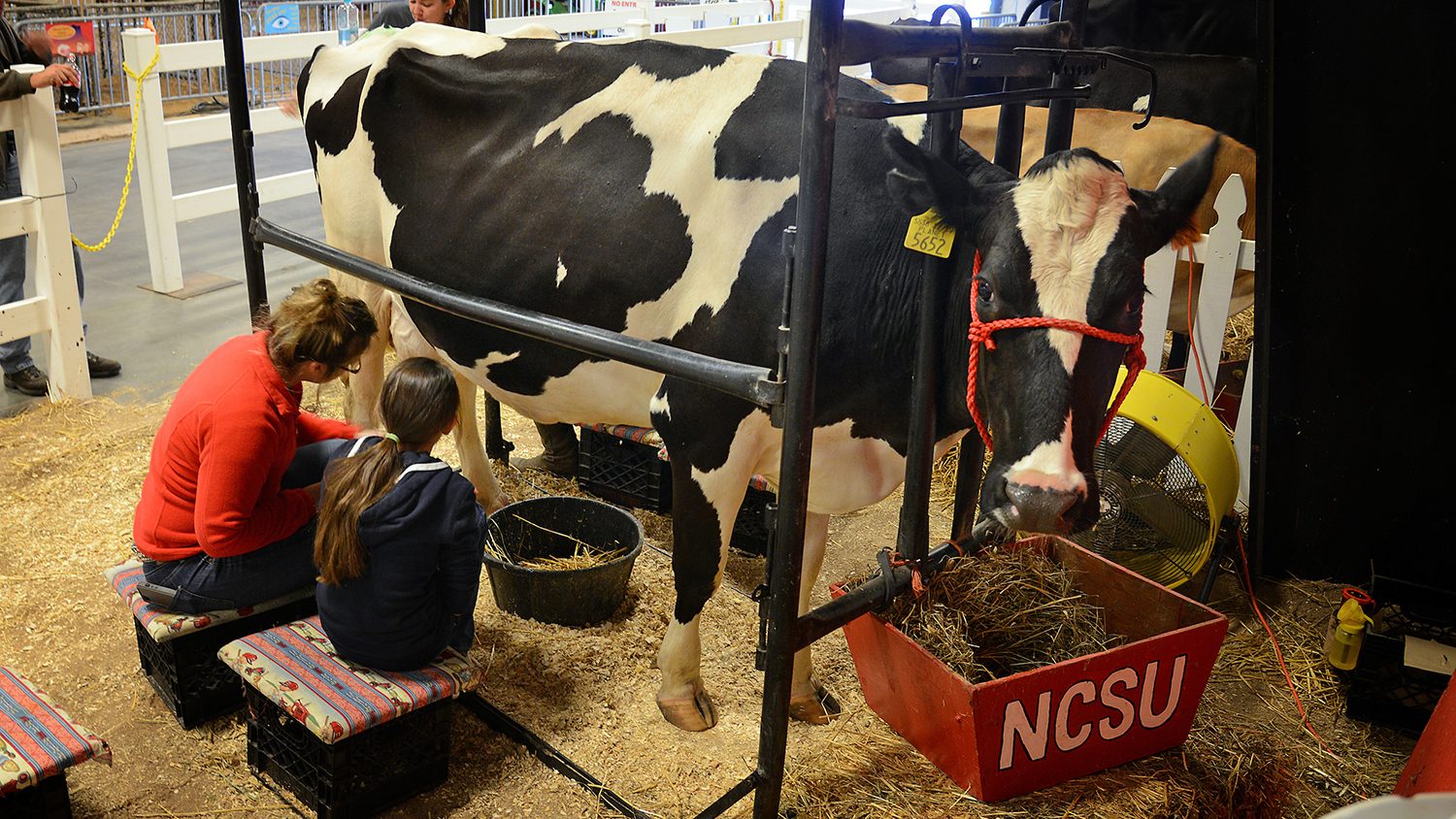 Turn a corner at the North Carolina State Fair, and chances are you'll encounter NC State University's College of Agriculture and Life Sciences.
CALS has a long history at the Fair, providing judges for contests, manning exhibits and dishing out its famous Howling Cow ice cream.
With the theme "Nothing Could Be Finer," this year's fair takes place Oct. 13 to 23 at the fairgrounds on Hillsborough Street in Raleigh.
New this year is a Graham Building exhibit that celebrates North Carolina agriculture and its farmers. CALS is part of the exhibit, along with agricultural groups such as the North Carolina Cattlemen's Association and the state Pork Council.
At the exhibit, fairgoers can take pictures with props ranging from beef to sweet potatoes and thought-bubble signs with messages like "#ThankNCFarmers."
A social-media contest associated with the exhibit encourages folks to post their photos to Facebook, Twitter and Instagram using the #ThankNCFarmers hashtag. Five Ag Swag Bags, with goodies from NC State and the other exhibitors, will be given as prizes.
Here are other places to catch CALS in action:
At the Howling Cow ice cream tent, where NC State Dairy Club members will be scooping the State Fair's exclusive new flavor, caramel apple crunch, and more.
Outside near Gate 11, where creative 4-H hay bale exhibits from counties across the state will be displayed.
In the Education Building, where you can visit exhibits for NC State Extension and its 4-H and family programs.
Under the poultry tent, where you can pick up baby chickens, poults and ducklings in a free exhibit hosted by NC State's Poultry Science Club.
In the Graham and Expo buildings, where 4-H'ers and FFA members will compete in livestock shows as NC State Animal Science Club members serve as ringmasters.
In the Expo Building, where you can visit the State Fair Ark to see about 60 animals representing the state's diverse livestock industry. Members of the Animal Science Club work around the clock there, and they also operate a nearby cow-milking booth.
At the usually peaceful Flower and Garden Show, where you can see information booths and exhibits from Extension Master Gardener volunteers and the JC Raulston Arboretum.
Inside the Old Farm Machinery building, where members of the college's Pack Pullers club will be with their award-winning quarter-scale tractor.