Breeding Success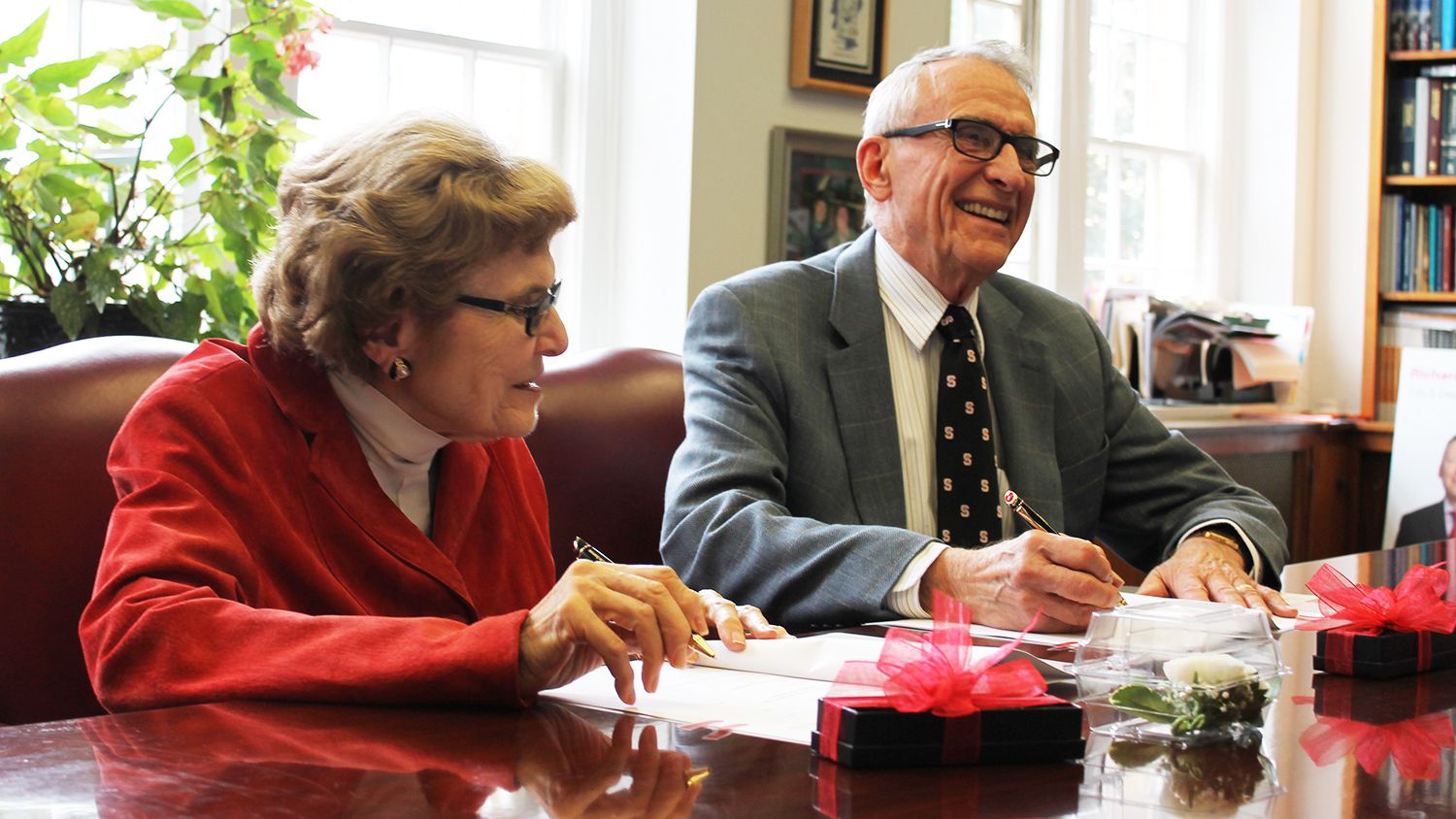 Over a pioneering career that spanned nearly six decades, NC State University alumnus and professor emeritus Charles Stuber helped shape the science of plant breeding and train dozens of graduate students in the field.
Now, thanks to the newly established Dr. Charles W. Stuber Sr. and Dr. Marilyn M. Stuber Distinguished Professorship in Plant Breeding, his influence on the field is expected to continue well into the future.
A year ago, the Stubers contributed funds to seed the Stuber Challenge, a campaign aimed at ensuring NC State's continued excellence in plant breeding. So far, the challenge has garnered about $1.9 million to support NC State's Plant Breeding Consortium, which Stuber helped establish and lead in 2006.
Before becoming the consortium's director, Charles held a joint appointment as a faculty member in genetics at NC State and a research geneticist with the U.S. Department of Agriculture's Agricultural Research Service. Marilyn chaired Meredith College's home economics department for nearly 30 years.
College of Agriculture and Life Sciences Dean Richard Linton hosted a celebration Thursday, March 22, to thank the Stubers for their gift. Among others who took part were the couple's son, Chuck, as well as Steve Lommel, the college's associate dean for research, and College Advancement representatives Catherine Maxwell and Thomas Manshack.
In thanking the Stubers, Linton noted that Charles' "passion … is one of the key pieces that have made plant breeding so strong at NC State." The endowment "will make a huge difference in what our college is trying to do with the Plant Sciences Initiative," he said.
Lommel concurred, adding that Charles' research was instrumental in the development of DNA marker-assisted selection technology used in major plant breeding programs worldwide and that his teaching influenced scores of graduate students.
"A lot of those students are now in leadership positions at many universities and at these global plant seed biotech companies," Lommel said. "They are all doing marker-assisted breeding as part of the process now."
Stuber responded by noting that he and Marilyn "are very passionate about keeping the plant breeding programs going here. … Much of what comes out of the Plant Sciences Initiative and gets to farmers is going to be through the plant breeders." 
Learn more about Charles and Marilyn Stuber
[button]Visionary Gift Bolsters Plant Breeding[/button]