Academic
Mason Pharr Symposium: Education, Extension and Storytelling in Plant Science
The Mason Pharr Symposium, North Carolina State University's Department of Horticultural Science graduate student-sponsored seminar, is held once every spring semester to present nationally and internationally renowned speakers and increase the horticultural knowledge of faculty, staff and students within the department, college and university.
The Mason Pharr Symposium, which was established by the Horticultural Science Graduate Student Association in honor of David Mason Pharr's legacy and his contributions as a William Neal Reynolds Distinguished Professor, creates opportunities for graduate students to share their research, learn about other ongoing research in the field of plant sciences and participate in networking opportunities that will help them become successful in their careers.
The theme of this year's symposium is "Education, Extension and Storytelling in Plant Science," and it will be held on Friday, March 24 from 9 a.m. – 3 p.m. at NC State's Plant Sciences Building.
Registration Deadline: Friday, March 9, 2023. Breakfast, lunch and coffee will be provided.
Graduate Student Competition
Graduate student 15-minute research TED talk and poster presentation. Prizes for each category will include:

First prize: $300
Second prize: $200
Third prize: $100

Career panel with industries and alternative plant science careers
Speakers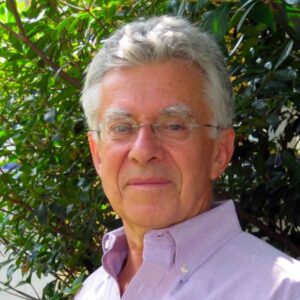 Professor Robin Moore
Title: Biophilic Designs and the Natural Learning Initiative
Bio: Robin Moore is a professor of landscape architecture and environmental planning and the director of the Natural Learning Initiative in the Department of Landscape Architecture and Environmental Planning. His research focuses on the design of natural environments and the integration of plants into urban spaces. His work revolves around the belief that built environments can be made more livable and sustainable by incorporating natural elements and biodiversity.
Throughout his career, Professor Moore has led contributions to the design and renovation of hundreds of outdoor play and learning spaces in childcare/child development centers, schools, special education facilities and nonformal education facilities, such asbotanical gardens, museums, nature centers and zoos. Moore holds degrees in architecture from London University and urban planning from Massachusetts Institute of Technology and has won many awards throughout his career. In 2021, Moore was awarded the Alexander Quarles Holladay Medal for Excellence by the NC State Board of Trustees – the highest recognition of faculty achievement.
Kavanah Anderson
Title: Would You Call this a Rose Garden? Lessons from Duke Gardens' Learning and Community Engagement Programs
Bio: Kavanah Anderson is the director of learning and community engagement at Duke Gardens. Anderson spent 11 years developing garden-based learning experiences as Duke Gardens' program coordinator for children, family and school programs before taking on her current role. Prior to arriving at Duke Gardens, Anderson worked as the Durham Inner-city Gardeners (DIG) coordinator at SEEDS in Durham, as well as a Duke Engage Durham site coordinator at Duke University and a farmhand on small family farms in North Carolina and the Midwest. Kavanah believes gardens are a place to be serious, playful, experimental and reverential in the pursuit of recognizing and celebrating the relationships between people and plants. She holds a bachelor's degree in history from Beloit College and a master's degree in liberal studies from Duke University.
Preston Montague
Title: Flowery Language: Expressing Stories in Plants
Summary: Plants occupy space not only in our surroundings but also in our psyches. For artist, landscape architect and alumnus Preston Montague, expressing a story in plants is at the center of his work. Join him in a conversation about taking a risk on degrees in science to become a better storyteller.
Bio: Preston Montague is an artist and landscape architect working to strengthen relationships between people and the natural world.
Draft Agenda
| | | |
| --- | --- | --- |
| Time | Topic | Speaker |
| 9.00 – 9.10am | Welcome remarks, Introductions and Icebreaker | HOD |
| 9.10 – 9.20 | About HSGSA and Mason Pharr | Luke Owen |
| 9.20- 10.00 | Keynote 1: NLI initiative | Robin Moore |
| 10.00- 10.15 | Q and A | |
| 10.15- 11.00 | Ist poster rounds and coffee break | |
| 11.00- 11.15 | Research ted talk 1 | |
| 11.15-11.30 | Research ted talk 2 | |
| 11.30-11.50 | Keynote 2: Flowery Language | Preston Montague |
| 11.50-12.00pm | Q and A | |
| 12:00-1.00 | Lunch Break | |
| 1.00 -1:45 | Keynote 3: Would You Call this a Rose Garden?: Lessons from Duke Gardens' Learning and Community Engagement Programs | Kavanah Anderson |
| 1.45 – 2.00 | Student's Research Ted Talks | |
| 2.00 -2.15 | Second poster rounds and coffee break | |
| 2.15- 2.30 | Career panel | |
| 2.30- 2.40 | Awards and Prizes | |
| 2.40-3.00pm | Closing | |