A Different Kind of Gardening: Ph.D. Student Brandon Huber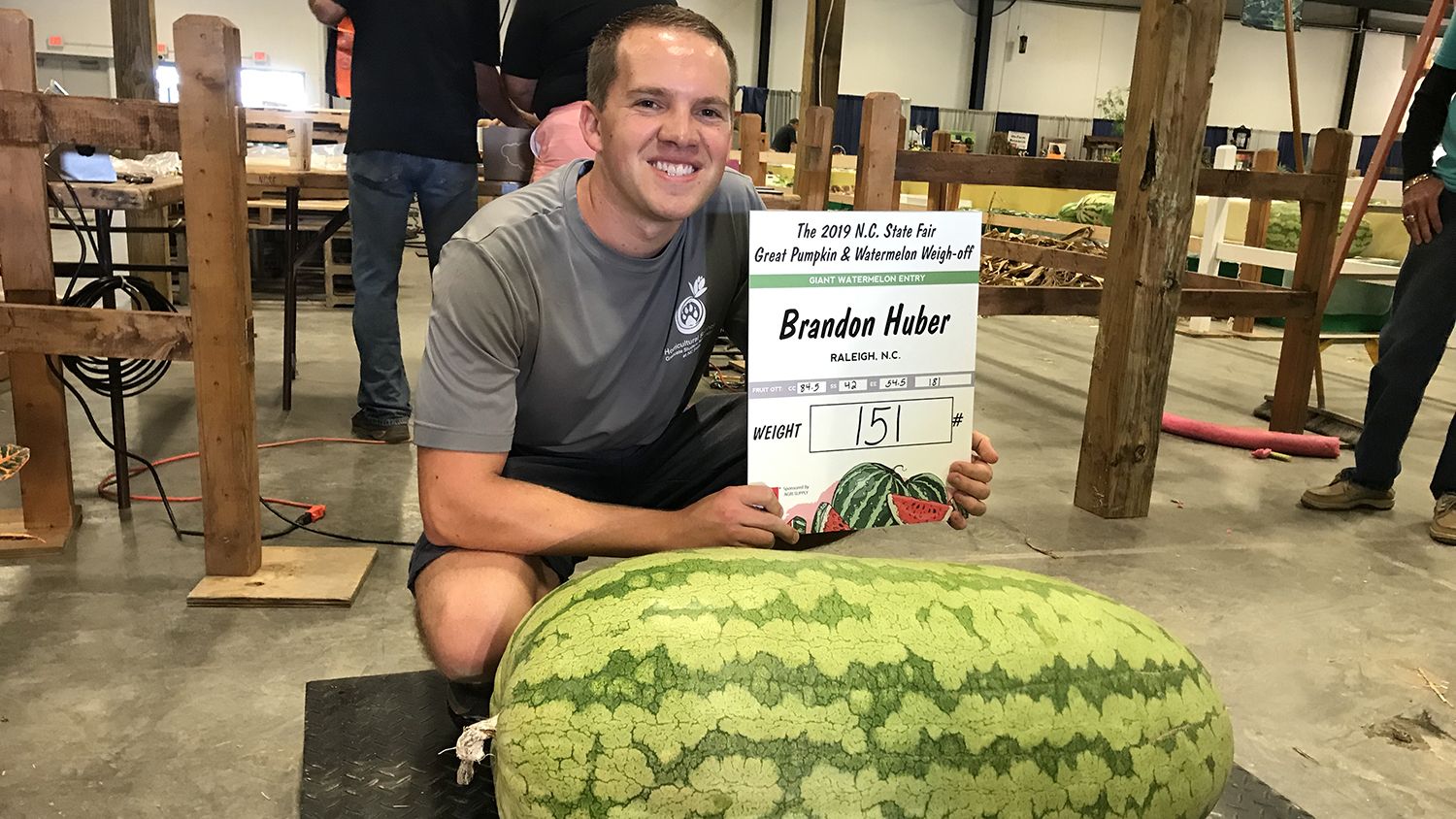 For Brandon Huber, horticulture takes on a different meaning. Huber's style of horticulture does not involve the typical finish of eating the newly-grown plants. Instead, Huber's harvests end with him showcasing his produce at competitions across the state.
The NC State University doctoral student participates in competitive gardening, the art of maximizing growth potential in commonly grown plants in contests against fellow gardeners. Huber grows an assortment of plants competitively, including gourds, pumpkins and watermelons.
As a graduate student of the Horticultural Science Department, Huber has been given several plots of land at the JC Raulston Arboretum to pursue his competitive growing projects. Huber also spends his time in the Arboretum teaching undergraduate students vegetable production. 
Huber has participated in competitive plant growing since 2010. In his years of competing, Huber has managed to rack up accolades, with one of his gourds coming in second place at the Elkin agricultural fair and a watermelon placing eighth at the State Fair in 2018.
He pointed to the final harvest as the most gratifying aspect of competitive gardening. 
"I think the finish line is probably the most rewarding part about it. It's that journey from starting the seed, the early season, and growing it and growing it, and finally arriving at the weigh-off competition, where all your other competitive friends are there as well. It's a competition. Who has the largest fruit, at that point?"
Huber has had his fair share of rewarding harvests over the span of his time as a competitive gardener. While in Pennsylvania he achieved a personal record, growing a 667-pound pumpkin. Huber has only continued this success in North Carolina, with his largest watermelon unofficially weighing 170 pounds. The average weights of these plants are 12 to 18 pounds and 20 to 25 pounds, respectively.
Competitive gardening is location-dependent because climate and soil properties vary from place to place. In North Carolina, Huber specializes in growing watermelons. Before moving here, he focused on maximizing the growth of his pumpkins in Pennsylvania. 
North Carolina serves as a great location for maximizing the growth potential of watermelons because the state's lengthy summer acts as a long growing season. The sandy soil within some of the state's regions also complements the growth of watermelons.
Huber's history of exotic horticulture goes beyond competitive gardening. In 2016, he was the gardener behind the popular Titan arum, or Corpse Flower, bloom in the Plant Conservatory. Now, for the second time in three years, Huber has successfully prepared another Corpse Flower bloom on campus.
When not tending to his massive plants, Huber is likely to be found doing research in the controlled environment horticulture lab. There, under Dr. Ricardo Hernandez, Huber conducts research on how light spectrums affect plant growth.
Huber expressed his anticipation about this year's state fair and his eagerness to compete in another watermelon weigh-off. 
"This is my second year competing at the State Fair," Huber said. "We are fortunate enough to be at one of the most competitive watermelon growing areas in the world. World records are often weighed right here in North Carolina at the State Fair."
Huber's harvest this year earned him fifth place in the weigh-off competition for watermelons. His weighed 151 pounds. He also entered a bushel gourd that weighed 141 pounds.
The State Fair began on Thursday, Oct. 17, and will go until Sunday, Oct. 27. The pumpkin and watermelon entrees can be found in the Expo Center of the fairgrounds.
This post was originally published in College of Agriculture and Life Sciences News.