A new partnership between the College of Agriculture and Life Sciences (CALS) and Peru will open doors for the country's aquaculture and fisheries industries while providing unique opportunities for faculty and students from both countries.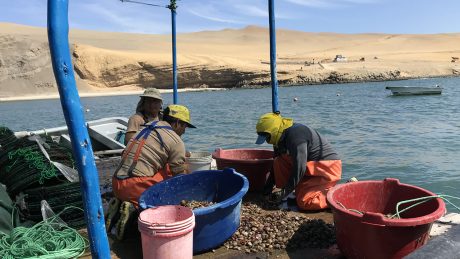 Through a new model of international cooperation called CREdO (Connecting Research, Education, and Outreach) CALS will partner with the Peruvian government to design and develop their educational, research and extension systems.
"What we are trying to do is work in a broader and deeper way, in a relationship with a country instead of just a one-on-one relationship with an institution," said Jose Cisneros, director of CALS International Programs. "Peru has a diversity of possibilities in agriculture and life sciences, and it has been in the path of good economic growth. But education and research are not growing at the same rate. We believe that if we work with the government, and with education and research institutions there, we can help them to accelerate the growth of education and science and extension."
Harry Daniels, CALS senior associate dean for administration who also serves as a professor of applied ecology and Extension aquaculture specialist, agrees.
"I'm quite excited about the opportunities that this partnership could present," Daniels said. "This is an interesting start to what will hopefully be a long-term relationship. I think it will give not only our faculty but also our graduate and undergraduate students a lot of opportunities."
Three new projects will focus on the development of fisheries and aquaculture in Peru. Two of the projects deal with a marine fish that is native to Peru, and the third involves rainbow trout cultivated in Lake Titicaca, the highest-altitude freshwater lake in the world.
According to Daniels, Peru produces the same amount of rainbow trout as the U.S., most coming from that single lake. But they have problems because of the altitude, he says, and through this project, CALS scientists will help them solve those problems.
"It's not that we will copy what we have done here in the U.S., but we know the key players, the interactions that are important to make it happen, and how to build and really apply research that will have an impact on Peru's rural communities," Cisneros said. "The idea is to work with them in order to develop their own systems."
The beauty of Peru, according to both Cisneros and Daniels, is the country's diverse climates – from tropical rainforest to arid desert to glacier-laced mountains – that invite all types of agricultural possibilities.
Each of the projects is slated to last three years, with three phases each. As part of the first phase, a CALS team has made exploratory trips to Peru.They visited three different regions and met with several universities, research institutions and a funding agency.
The partnership will involve faculty and students across CALS disciplines, with possibilities for research, training, internships and exchanges.
"I think that for the faculty, this is not your traditional project," Daniels said. "This is only a phase one. We are really just getting off the ground."
Partnership Profiles
Learn more about ways you can support and engage with CALS' academic, research, teaching and extension efforts.
This post was originally published in College of Agriculture and Life Sciences News.