Deep in the archives of the NCSU Libraries lie relics of CALS Christmas past: two vintage videos from a time when Extension agents wore fedoras to work and Baby Boomers were toiling through high school.
In addition to their peek into the past, the videos underscore some of the remarkable advances in Christmas tree cultivation.
Filmed on 198 feet of 16mm film (which originally ran about six minutes) at that year's NC State Fair, the first video (full-length version available here) was shot during a burgeoning Christmas tree boom, Extension specialist Fred "Mr. Christmas Tree" Whitfield explains to television producer Hal Reynolds.
The film inadvertently shows a major pioneer in North Carolina's Christmas tree industry at the pinnacle of a long and successful career. Whitfield was among the first to encourage the use of the native Fraser fir as a Christmas tree. When he retired in 1975, Whitfield was honored with an award from the North Carolina Christmas Tree Association as "a pioneer in the development of the state's Christmas tree industry" to its status as a major commodity.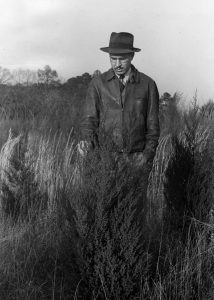 A few things have changed since the video was filmed, of course. At the time, the Scotch pine was the best-selling tree for the holidays, Whitfield says in the video. But the Scotch pine dove in popularity after the 1970s due to problems with disease. Though the white pine is still recommended by Extension, North Carolina also doesn't sell as many as they used to — the Fraser fir, Whitfield's "queen of the industry," the "best tree in America, in my opinion," now reigns supreme.
There have been other changes, as well. Whitfield tells Reynolds that planting a five-year-old seedling can take up to 15 years to be harvested at full size. That is no longer the case, according to NC State Christmas tree expert and Extension specialist Jill Sidebottom.
"Most growers now plant Fraser [fir]s that are started in the greenhouse where day length can be manipulated, causing the plant to grow again, so the tree is younger than 5 years though about the same size," Sidebottom said. "Most growers will start harvesting trees after six years in the field."
Only large trees stay in the field for a decade or more, Sidebottom explained.
The men go on to discuss what to look for in a Christmas tree — Whitfield's top three recommendations are symmetry, fragrance and soft needles that indicate good hydration and a long-lasting tree — as well as the varied cultivation conditions and decorating techniques required for each.
The second video covers Christmas plants, though Sidebottom cautions that its advice varies from NC State's current recommendations for planting a living Christmas tree.
The archives are a trove of other moments in CALS' participation in NC State Extension.
This post was originally published in College of Agriculture and Life Sciences News.