Written by Rebecca Nagy, Department of Biological and Agricultural Engineering
The opportunity to work outside the classroom on real-world problems is an invaluable experience for students. A new undergraduate scholars program in NC State's Department of Biological and Agricultural Engineering will provide just that.
The Dragonfly Pond Works Scholars Program will pair juniors and seniors majoring in Agricultural and Environmental Technology at NC State with mentors from Dragonfly Pond Works as well as faculty members from the department.
Dragonfly Pond Works is an environmental service company specializing in lake and pond management. After representatives were invited to speak with students in an Ecological Restoration Implementation class, Mick Ribault, founder of Dragonfly Pond Works, saw students in the department as a natural pairing.
"In learning more about the program and how it taught specific technical skills about what we were doing, it seemed like a great fit," he notes.
Barbara Doll teaches Ecological Restoration Implementation, a class that heard from the company's representatives.
"I think it is important to expose the students to real world projects and professionals in the field, so that is why I take students in this class out to projects that have been built or that are in construction," Doll explains. "And this is why I invite professionals to the class and to these field tours."
The Sky's the Limit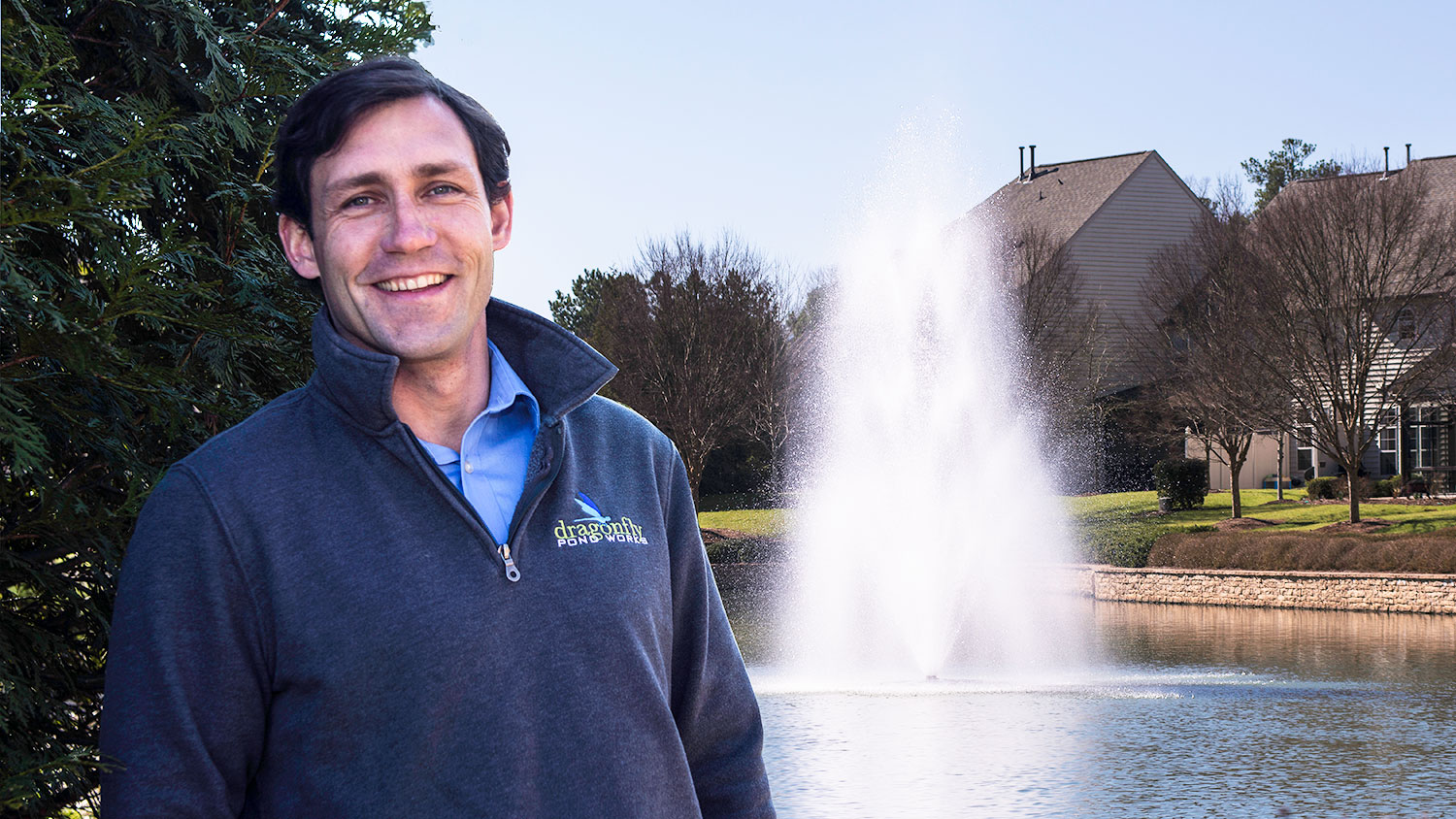 The scholars program appeals to Ribault on a personal level as well. "I'm a graduate of NC State and it's an important place in my development as a small business owner," he explains.
Ribault graduated from NC State with a degree in fish and wildlife science. He credits his interest in ecosystems and stormwater facilities to professors and advisors who brought water to life and encouraged a career solving environmental issues in the outdoors.
Founded in 2006, Dragonfly Pond Works began as a small company in Raleigh. Since then, offices have opened in Charlotte, Wilmington and Sarasota, Fla.
What projects will students work on? They sky's the limit.
"We definitely don't want to put a constraint on what students can work on. And there's benefits to having a group of students tackle a project they're looking at with new eyes," Ribault says. "We're really interested in tapping into that unconstrained creativity."
Garey Fox, head of NC State's Department of Biological and Agricultural Engineering, sees this as a great opportunity for students.
"Our Agriculture and Environmental Technology (AET) students are going to significantly benefit from this program because it intricately connects what they are learning in their classes to real world case studies," notes Fox. "We appreciate the commitment to supporting undergraduate education being made by Dragonfly Pond Works."
"This is a unique university and industry partnership that can easily be expanded to students in both our AET and Biological Engineering degree programs," he continues. "Such programs not only further develop the skills of our undergraduate students but also provide companies with access to our best students."
Companies and farms interested in creating partnerships can contact Fox.
Applications for the Dragonfly Pond Works Scholars Program must be submitted in the fall prior to the spring semester of the program. Students will develop a final report and deliver a presentation to Dragonfly Pond Works on their research project.
For more information, visit https://cals.ncsu.edu/biological-and-agricultural-engineering.
This post was originally published in College of Agriculture and Life Sciences News.