The Gift of Education: How A Farmer And His Family Pledged To Help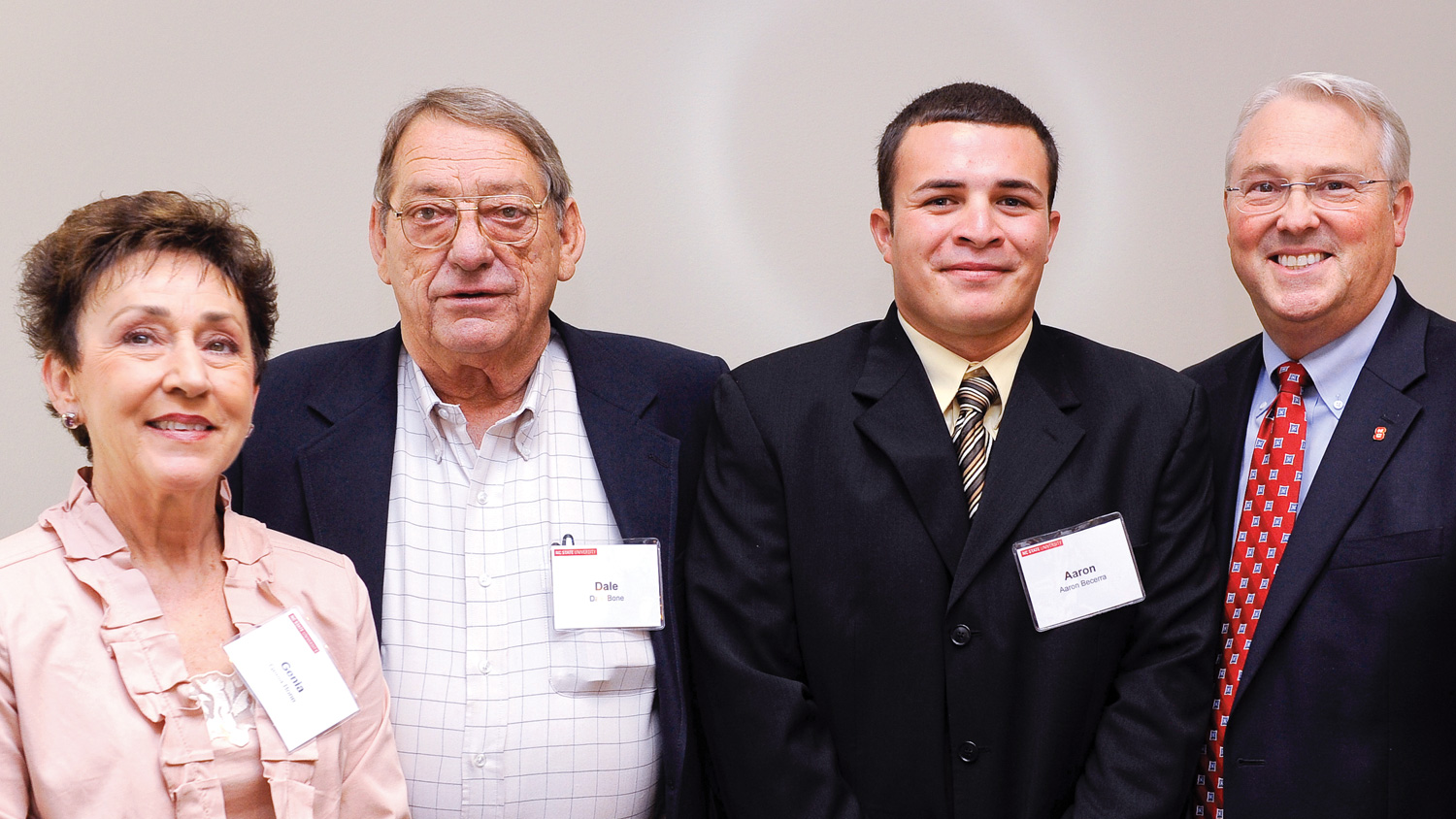 The late Dale Bone believed in the power of a college education – especially for those who couldn't afford one. That's why he established a scholarship for the migrant workers and their families who worked on his successful farm.
A 1964 CALS graduate with degrees in agronomy and agricultural economics, Bone farmed thousands of acres of produce, tobacco and cotton. Under the banners of Dale Bone Farms Inc. and Nash Produce Co., his operation was once the largest producer of cucumbers in the United States.
Bone was one of the most successful agricultural businessmen in North Carolina, and, according to his wife, Genia Tyson Bone, he recognized that his employees were a big part of the reason why.
"Dale valued his employees, always stressing the importance of education," Genia Bone said. "His employees were all offered the opportunity to be educated. They could go to a two-year community college or a four-year institution, and he would support them."
Bone also paid tuition plus hourly wages to employees who attended English classes at Nash Community College. His generosity – along with his determination to create access to education – also extended to the children of his employees.
In 2009, the Bones established the Dale and Genia Bone Scholars program at NC State to provide scholarships to migrant farm workers and their families. These funds can be used for tuition, books, supplies or other educational expenses. The students also receive specialized academic and career mentoring.
"Dale was always encouraging me"
Four Bone scholars have graduated to date, including Aaron Becerra, 26, who worked as a teenager alongside his family on Bone's farm.
With support from the Bones, he attended Nash Community College, then transferred to NC State. Becerra returned home nearly every weekend to work on the farm and learn from the man he describes as a "great mentor."
[pullquote color='red' align="]If you worked hard, he'd always be there to help you better yourself.[/pullquote]"Dale was always encouraging me to get an education," Becerra said. "So I earned a degree in agribusiness management…and now I'm the layer supervisor for Braswell Foods."
Becerra logs more than 1,000 miles on his truck each week traveling throughout eastern and central North Carolina to ensure that the company's egg producers are in compliance with regulatory standards.
Working with eggs is a world of difference from row crops, he said, but his experience on Bone's farm and the knowledge he gained in college prepared him well. He'll always be grateful, he said, for the chance to receive an education.
"Dale was one of a kind," Becerra said, overcome with emotion that made it difficult to speak. "He'd always say, 'If you want to help yourself, I'll help you.' And if you worked hard, he would always be there to help you better yourself."
Affectionately referring to the Bone Scholars as "my kids," Genia said, "I share Dale's firm belief in education. There are a lot of people who want to be educated but who don't have the funds, and I am very glad to be able to help those who are in need."
Inspired by Genia and Dale Bone's lasting impact on fantastic CALS students?
[button]Give back to CALS[/button]