Student Spotlight: Hakeem Jenkins on His Internship with Biltmore
Hakeem Jenkins, an NC State junior studying animal science, got the opportunity of a lifetime this summer when he secured an internship at the famous Biltmore Estate. Built in the 1890s, this Gilded Age wonder in Asheville serves as a historic house museum, and it's also home to a working farm.
Working at Biltmore allowed Jenkins to pursue his passion of working with animals in one of North Carolina's most scenic locations. There, he worked with cutting-edge programming like CattleMax and helped with day-to-day livestock operations that occur behind the scenes.
Why did you choose CALS for your animal science degree?
I chose the College of Agriculture and Life Sciences because they had a wide view of what would happen in animal science. In animal science you don't just deal with animals, you're also going to be dealing with the business side of it. You're going to be dealing with how to maintain and grow crops for those animals. It's really a system that intertwines. If you're an animal science major, you're going to need to know a little bit more than just animal science when you're going into your field of study.
What's the most exciting thing you learned in your internship?
The most exciting thing I learned about was a program called CattleMax, which kept track of all of our cattle. You would go in, put in the ID tags, put in the tattoos, and it would keep track of those so you could add data about those animals. For example, when you plugged in weights it had an algorithm that solved how much they gained per day.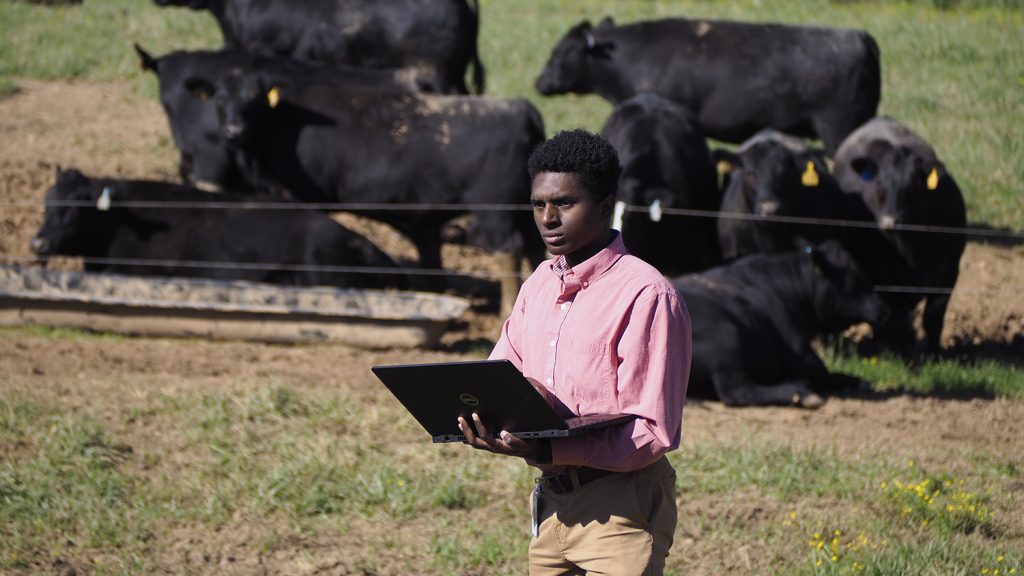 Why animal science?
I chose animal science because I love animals. I believe that if you help animals, you also help people. When you look at it, people love animals and teaching them animal safety also protects them. I believe keystone species are all a part of the foundation. When you lose one, the ecosystem comes crashing down. I believe that it's great to sustain all animals, including people, so that we can work together to live in harmony.
What's your advice to upcoming students?
[pullquote align="left" color="red"]You're part of this smaller community, and you're still part of this large, vast university.[/pullquote]I'd say just have a great time. There are over 34,000 students at State and when you end up where you are, it's just like that community becomes yours. It's kind of like being part of your high school and then being part of your town — you're part of this smaller community and you're still part of this large, vast university. There's so much to do. It's in Raleigh, so you can go downtown or you can stay around campus.
What's your advice to students looking for internships?
I think if you're a student and you're looking for an internship, the biggest thing is connections. My uncles told me that, teachers have told me that, everyone I know has told me that. Your ability is important and it's very necessary when you're doing a job, but who you know also gets you to where you're going to be and most of the time, in the internship, in your job, you're going to be learning on that job. Everything you know isn't always important, but definitely who you know is a big deal. Make connections, get to know people, because you never know what they do. I definitely didn't think I'd be at this internship just because my uncle works at HR.
What is it like work at the Biltmore every day?
Being at the Biltmore every day and being on the estate is absolutely beautiful. Just driving into work is like living in a castle. Then my job especially — not a lot of people have access to the west side since it's usually just groundskeepers and livestock operations. So coming to the west side, is like a whole different world. You have the house, and it's beautiful. But then you come to the west side and it's like this enchanted fairyland. I got to see the animals every day and work with them. It's a great time.
You can make a difference in the lives of students like Hakeem.
[button]Give Today[/button]