Helms Internship Update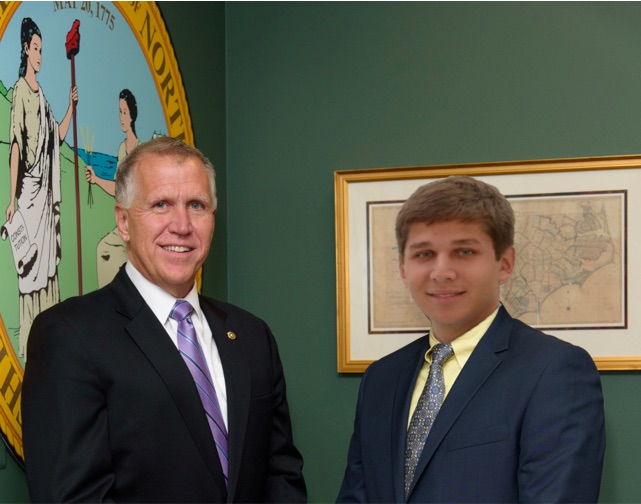 The internship program funded from an endowment established in recognition of the public service of the late Senator Jesse Helms contributed to the support of Ethan Holland, a junior at NC State majoring in poultry science with a minor in agriculture business management. Holland had the opportunity to serve as a congressional intern during the summer of 2016. The following is his report of his experiences in Washington, D.C.:
"This past summer I served as a legislative intern in Senator Thom Tillis' office working with the agriculture staff on current legislation and emerging issues in the agriculture industry. I composed memos, answered constituent phone calls, gathered data, attended and prepared for agriculture committee briefings. I also completed a research project on the FDA's new Veterinarian Feed Directive and its implications on the N.C. agriculture industry. In addition, I briefed Senator Tillis of my findings, and he decided to include my proposal in his 2017 legislative agenda.
"This experience truly had a tremendous impact on my future plans and goals and has confirmed that I want to pursue a career in agriculture policy. Growing up on a dairy farm and being surrounded by agriculture my entire life, I firmly believe that issues relating to agriculture policy will be crucial in the future. As policies are developed, they can certainly have a tremendous impact on the agriculture industry as people become more removed from agriculture and even our legislative bodies of government, for that matter.
"The experience, through the Jesse Helms Endowment, was certainly a once-in-a-lifetime opportunity, and I was truly blessed to be chosen to serve in this role over the past summer. I look forward to seeing where this past experience may lead me as I pursue a career in the agriculture industry."