Legendary professor and student farm win sustainability honors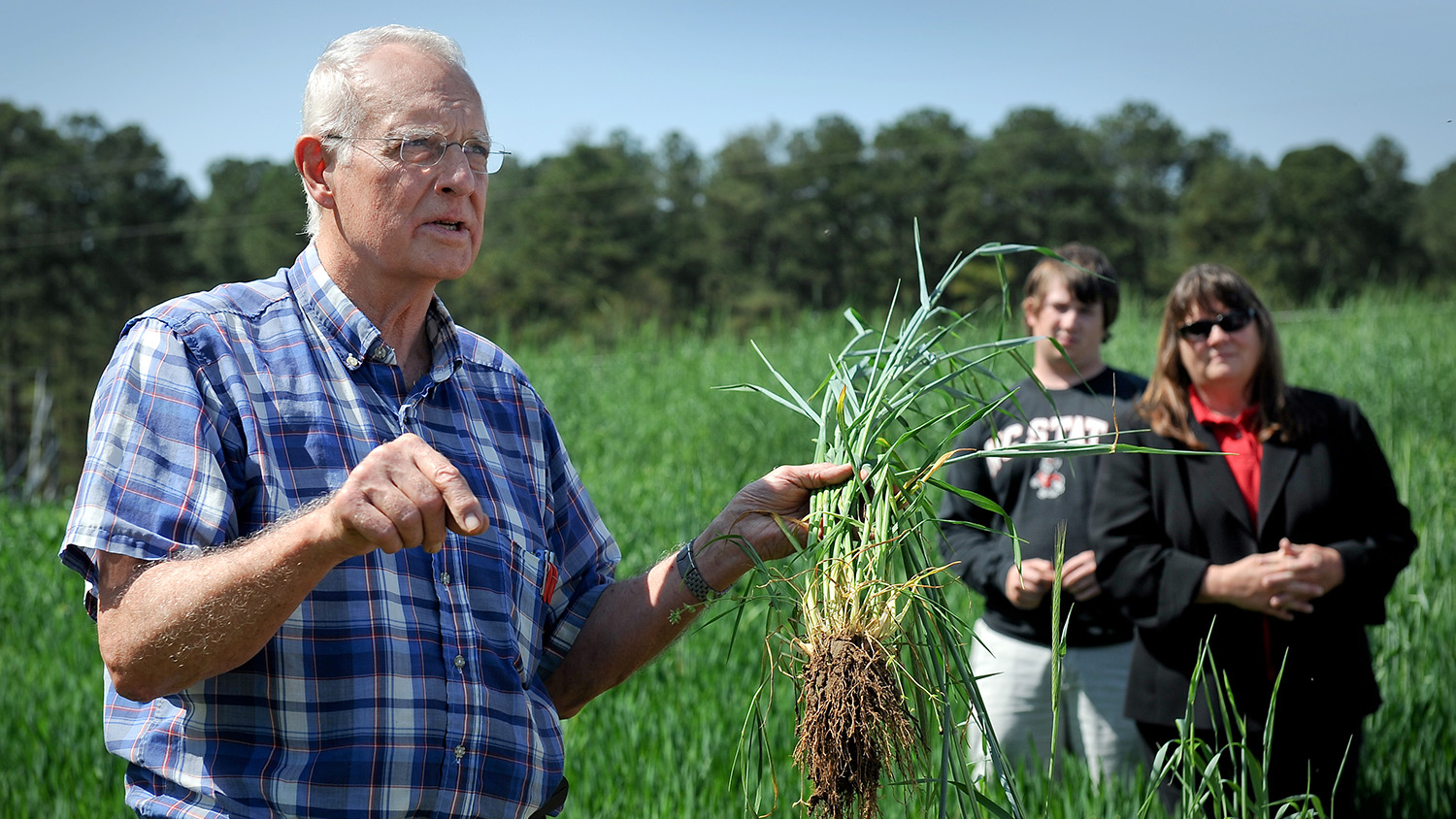 Two of 2016's Green Brick Award winners for sustainability are from the College of Agriculture and Life Sciences: the legendary Bob Patterson, who has taught crop science and conducted research on the sustainability of global food systems at NC State University for 48 years, and the Agroecology Education Farm, where students help raise produce for university dining halls.
"It's wonderful to know we have a university that makes this such a priority," Patterson said as he accepted his award, giving "heartfelt thanks" to NC State's Sustainability Office.
Sponsored by Coca-Cola and offered by the Campus Environmental Sustainability Team, the annual awards "outstanding achievement in environmental sustainability on campus, in the community or globally" with nominees in five categories: Student, faculty member, staff member, campus department or organization and innovation/impact.
The goal is to continue building momentum on the "culture of sustainability" across campus, said presenter Jack Colby, Assistant Vice Chancellor for Facilities Operations and co-chair of the Sustainability Council. The university has reduced water use by 50 percent since 2001, and energy use by 28 percent. About 70 percent of incoming students say the university's commitment to sustainability influenced their decision to attend.
"This just goes to show what we can accomplish if we get everybody thinking in the right direction," Colby said.
A complete list of all winners is available on the Sustainability Office's website.
Professor Bob Patterson: Legacy of Leadership
As the Alumni Distinguished Professor of Crop Science, Patterson has influenced thousands of students to think critically and volunteer locally for global impact. He started teaching at NC State as an assistant professor of crop science in 1968. Since then, his positive impact on campus has been "vast," wrote staff member Stephany Dunstan in her nomination.
"He challenges students to examine their own lives and asks them to think critically about what they can do to make a difference," she wrote. "All of his professional societies, appointments held, and courses taught exemplify his commitment to improving the current global ecological decline."
He conducts important research into ecological resiliency through the lens of agroecological sustainability with a focus on the needs of an increasing populations. Patterson has won dozens of awards over the course of his career, including the City of Raleigh's Environmental Awareness Award in 2014, and nine awards specifically for outstanding teaching.
"Dr. Patterson has consistently, for over half a century, gone well above and beyond the call of duty to engage students and communities in North Carolina and abroad in sustainable practices," Dunstan wrote. "He is driven to find solutions to the problems facing agriculture and sustainability."
Agroecology Education Farm: Sustainability Learning Lab
Winner of the award for outstanding campus organization, the Agroecology Education Farm is a double-impact instructional tool: The six-acre site off of Lake Wheeler Road gives practical experience to students taking agroecology-related courses or volunteering as a service project. And the abundance of produce it provides the university dining system each year – 3,222 pounds in 2015 – reminds students across campus to think about where their food comes from and how it is produced.
With the addition of a new season-extending hoop house, the farm will be able to provide even more produce for campus dining halls.
"My goal is to go beyond CALS students," said Michelle Schroeder-Moreno, associate professor of crop science and director of the farm. "I think students from across the university have the capacity to be leaders and advocates within their own food systems."
-C. Kellner