April Fogleman was armed with just about all of the book knowledge available on breastfeeding. The North Carolina State University faculty member had earned her doctorate on the nutritional components of human milk and was a health professional trained to help people navigate feeding, known as a lactation consultant.
Still, she says she was caught off guard by the realities of breastfeeding when she became a mom.
"What I really found out was that it's not about what you know, and it's not about your intentions," Fogleman says. "It's more about the support you have around you. It takes a village to be able to breastfeed."
Many women lack that village as they embark on motherhood, she says.
"People want to breastfeed, but it's not easy to do because we're being failed by all of these different sectors," she says.
Fogleman, an associate professor and NC State Extension specialist in the Department of Food, Bioprocessing and Nutrition Sciences, has adopted a multifaceted approach that leverages extension, research and teaching to meet this need. As the director of the Maternal and Infant Lactation Knowledge (MILK) Research and Education Group, she trains lactation consultants and sponsors support groups.
Closer to home, Fogleman, who is an NC State College of Agriculture and Life Sciences (CALS) alumna, teaches students and health professionals, and conducts research with the goal of improving breastfeeding resources.
Helping Future Health Professionals at NC State
Fogleman doesn't hesitate when asked about her favorite part of the job; she loves to teach.
Over the past 12 years, Fogleman has taught a whopping 6,000 students and amassed a variety of teaching awards, including the NC State University Alumni Distinguished Undergraduate Professor and CALS Outstanding Teaching Award.
Fogleman's courses, some of which she has created from scratch, focus on different vantage points surrounding the basics of infant nutrition, from clinical to public health perspectives.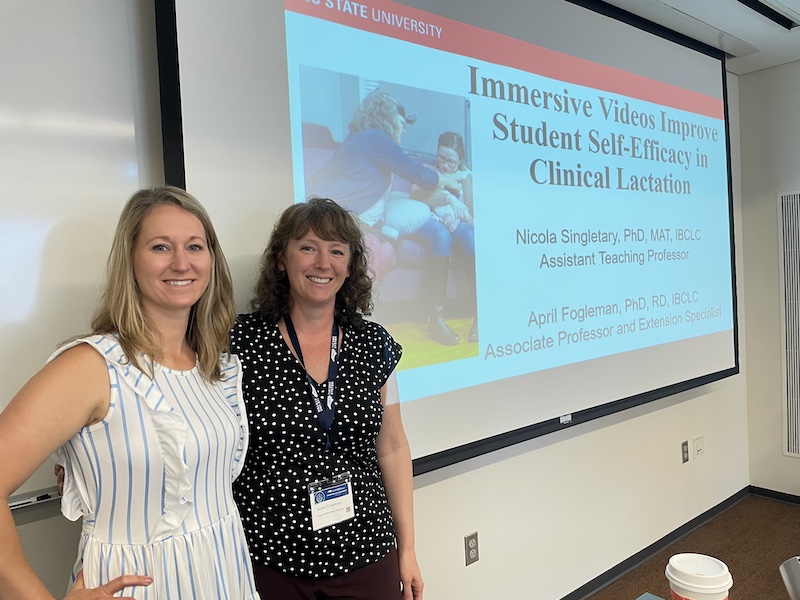 Students from a range of majors, including biology and nutrition, take her courses as electives on their path to becoming health professionals.
In addition to serving students in a future job, this coursework can benefit their loved ones, Fogleman says.
"They have this knowledge, and then they can help their sister or their best friend. They'll share stories in class where they'll say, 'My sister had a baby, and I told her some of what I learned,'" she says.
MILK also offers on-demand courses about breastfeeding that practicing health professionals can take for continuing education.
"In medical school and nursing school, there's maybe one unit on nutrition, and it may not even cover breastfeeding," she says.
The on-demand courses, such as Clinical Breastfeeding Support, assist with this knowledge gap by providing insight that health professionals can bring back to hospitals across the state.
Fogleman works closely with Adrianna "Adrie" Leonardo, curriculum coordinator for MILK, to offer on-demand courses and connect with the community.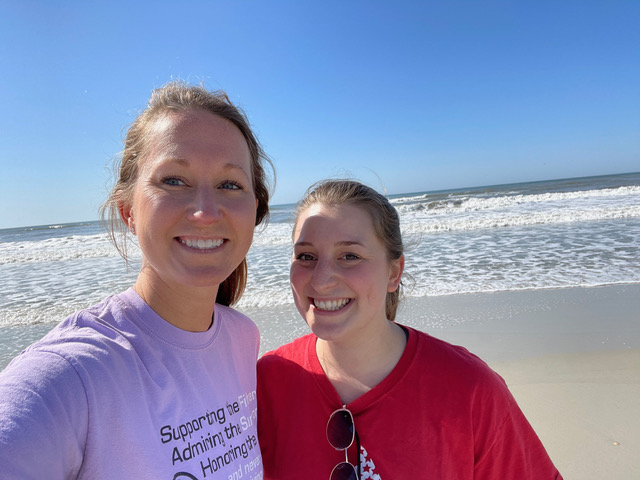 Leonardo, who graduated from NC State with a bachelor's degree in nutrition science in 2020, is a lactation consultant and a postpartum nurse at WakeMed in Raleigh, North Carolina. She says she decided on this field while working as Fogleman's teaching assistant in 2018.
They've worked together ever since and formed a strong bond.
"It's helpful to have that one person that you know you can go to with anything and they will point you in the right direction, and for me, that's April," Leonardo says.
Building Breastfeeding Support Across the State
Fogleman not only mentors students but also guides individuals' training to become lactation consultants by connecting them with hospitals for hands-on experiences and providing on-demand courses.
The goal: the mentees become the mentors and multiply support across North Carolina. "Our hope is that these lactation consultants will train more people," Fogleman says.
Fogleman's Extension work is complemented by her research efforts. One of her recent projects identified counties that have low breastfeeding rates and high infant mortality. Now, she is collaborating with community members in these locations to train lactation consultants.
Moving forward, she hopes to offer support groups in underserved areas. Already, MILK has a support group in Willow Springs, North Carolina to connect mothers. Sarah Ware, an Extension agent who is working on her master's degree with Fogleman, has started a breastfeeding support group in Morehead City, North Carolina.
"A lot of these moms — whether they're breastfeeding, bottle feeding, formula feeding —they need each other," Fogleman says, with the understanding of someone who has walked in their shoes. "They need somebody to talk to."
To build communities across the state, Fogleman relies on support from her community at NC State, the MILK team and her colleagues in the Department of Food, Bioprocessing and Nutrition Sciences.
"I just feel really blessed to be here because my department is phenomenal. The people here are so supportive and kind," Fogleman says. "I feel that village that you need as a mother; it's right here in the department."
This post was originally published in College of Agriculture and Life Sciences News.