Sophie Chance, a December 2021 NC State graduate, knows the value of being brave enough to pursue her dreams, especially when dreams change. As her last semester on campus comes to a close, she reminisces on her fondest memories of being part of the Wolfpack and her journey to poultry science.
Chance, a native of Annapolis, Maryland, came to NC State as a Thomas Jefferson Scholar. She planned to double major in poultry science and communications, but discovered along the way a passion for just one of her chosen majors.
"Two years ago is when I started doing research, and that was a pivotal point for me," she says, "I was like, 'All right, I actually enjoy science, so let's follow this.'"
After leaving the Jefferson Scholars program to follow the science, Chance found herself at the Food Animal Innovation Symposium competing against 17 graduate students presenting posters of their research. She says that winning first place at the conference was her greatest achievement as an NC State undergraduate student.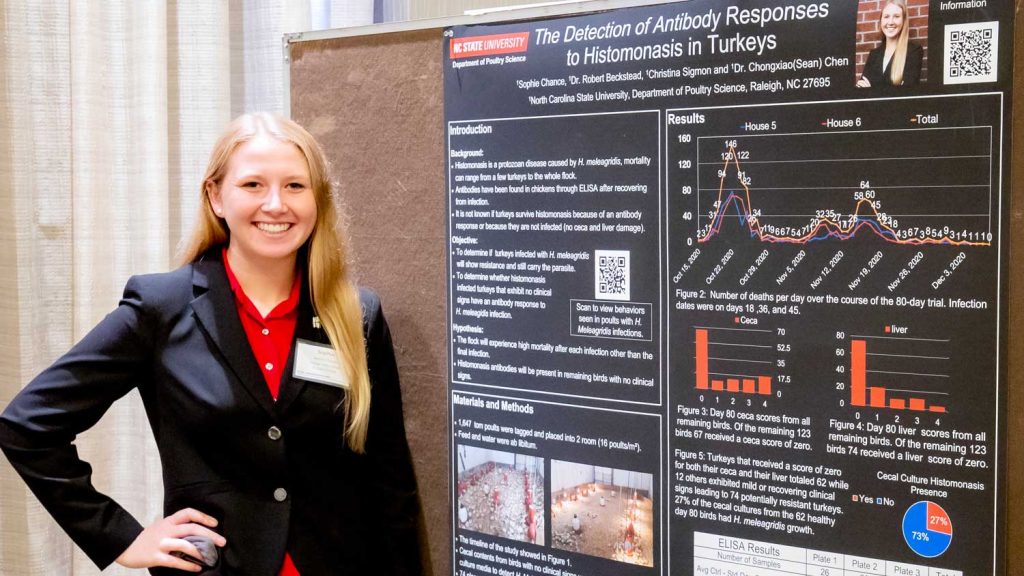 None of this would have been possible, she says, without her mentors, professor Robert Beckstead and professor Chongxiao (Sean) Chen. It was in Beckstead's lab that Chance assisted with the research that Chen encouraged her to present at the Food Animal Innovation Symposium. Like other CALS professors, Beckstead and Chen took the time to get to know Chance and became invested in her future success.
"Dr. Beckstead took so much time to mentor me and helped me decide on my classes and my path after graduation," she says. "He helped me make major decisions throughout my college career and was just a wonderful professor that took time to talk through different paths and where they might lead. It made the process a lot easier."
Chen came to NC State only a year ago, Chance says, and he quickly became invested in the success of the students around him.
"He encouraged me to present at both the Food Animal Innovation Symposium and at the International Production and Processing Expo this coming February. He always has a new idea or opportunity and he has been a great resource to me as I have been making decisions about graduate school. "
Chance says that this type of guidance was only possible through CALS.
"They give you so many opportunities to grow, whether it's in a leadership position in a club or as an ambassador, where they recognize your achievements and know that you can help mentor other students," she says "I think that's really valuable."
During her time as a student, Chance has been involved with various organizations, including the Poultry Science Club, the Western Riding Team, CALS Honors, Campus Crusade for Christ (CRU), CALS Ambassadors and Agriculture Future of America (AFA).
While Chance is nostalgic about her time at NC State coming to an end, she says she is hopeful she'll be back next fall as a graduate student.
"I've applied to five different colleges, NC State being one of them, and I'm planning on studying immunology," she says.
Wherever she ends up, Chance plans to obtain her Ph.D. in immunology and eventually enter the animal pharmaceutical industry as a technical consultant. Returning to the world of academia is also something she is considering down the road.
When asked if she has any advice for incoming freshmen, she stressed the importance of building relationships with professors early.
"I feel like there were so many times during my college career that I didn't know what I was doing," she says "I didn't know what my end goal was. That's completely okay. Having a faculty mentor to talk it out with me was the most valuable thing I could have experienced during my college career."
Because she was brave enough to change directions in her studies and had the faculty support to do so, Chance will graduate with a degree in poultry science and minors in genetics and biology. By trusting her gut, she says she has accomplished more than she could have ever imagined.
And it all started with that very first leap of faith — choosing NC State.
"When I came to State, I fell in love with the campus. I loved everything from the faculty to the resources and even the bricks. NC State valued my individual accomplishments and made me feel wanted and seen as a prospective student."
This post was originally published in College of Agriculture and Life Sciences News.