This interview with NC State's Natalie Hummel appeared first in the community news site Regency Park Partnership, edited by Joe Ragone.
If you've ever visited the Historic Yates Mill County Park on Lake Wheeler Road in Raleigh or only just driven by it, you can't help but have noticed the wide expanse of farmland and farm buildings that dot the landscape here. But did you know that what you are observing is a 1,500-acre farm with just about all agricultural commodities produced in North Carolina – from cows to corn and everything in between?
Natalie Hummel, director of university field labs and research stations for North Carolina State University's College of Agriculture and Life Sciences, oversees this expansive enterprise, and we sat down with her to learn more about this unique place that many of us pass by daily but know little about.
I often hike the trails of Yates Mill County Park and wonder what goes on in the farmland I can glimpse through the trees. While I have been to several annual farm day events there, I still can't get a firm grasp on the nature of operations there. What can you tell us?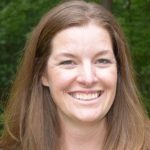 To start, the entire farm is actually a living laboratory – the Lake Wheeler Road Field Laboratory, to be precise. There, NC State University scientists generate knowledge and technology that solve agricultural and environmental challenges. Students there get hands-on experience with modern agricultural practices. And growers and others in allied industries learn ways to make their operations more efficient and sustainable.
That is certainly an impressive and wide range of operations. What do you see as the mission of the Lake Wheeler Road Field Lab?
Faculty and staff members can educate students and create and apply knowledge and technology related to agriculture and drive economic development to improve the quality of life here in North Carolina and beyond.
Can you tell us about some of the individual units that make up the site?
Our website includes a complete list of the numerous individual plant and animal units that are here and also lists the departments that manage those units. Generally speaking, our animal-related units include the animal and poultry waste management center's processing facility, a bee research unit and beef, dairy, poultry and swine units. You'll also see corn, sorghum and hay fields that are used to feed the animals onsite. And we even have one of the nation's largest university-based feed mills.
Earlier you mentioned that NC State University scientists generate new knowledge and technology here to solve agricultural and environmental challenges. Can you elaborate on these units as well?
Yes. We also have units supporting the work of scientists, students and Extension specialists in the areas of wheat breeding, turfgrass breeding and production, soil and water technology, composting, structural pest management training and more. The field lab also hosts agronomy and agroecology education farms.
There are also two units on the Lake Wheeler Road Field Laboratory that serve scientists from our federal government partner, the U.S. Department of Agriculture's Agricultural Research Service. The USDA sites are related to small grains and to air quality and plant growth.
What are some other things that happen there that might interest our readers?
One thing that may surprise you is that there's an informal birder hotspot along Mid-Pines Road. People come from all over the state to visit that site. Also, scientists from CALS and the College of Natural Resources are working together to restore a unique long-leaf pine savannah within the field lab.
That is very interesting.  I remember talking to a few students during one of your annual farm days.  Are there opportunities for internships and other activities for students at this site?
Yes, there most definitely are. Students who are interested in the types of activities we offer at the Field Laboratory can get more information from their respective departments such as for Animal Science; Prestage Poultry Science; Crop and Soil Sciences; Biological and Agricultural Engineering; Food, Bioprocessing and Nutrition Sciences; and Entomology and Plant Pathology.
One other thing about our student activities that I'd like to highlight is our agroecology education farm, which demonstrates sustainable agriculture near a natural area at the Yates Mill Park. Students pursuing majors and minors in agroecology use the farm to gain hands-on experience. Not only that, they are producing food that goes to the university's dining halls and to the Interfaith Food Shuttle.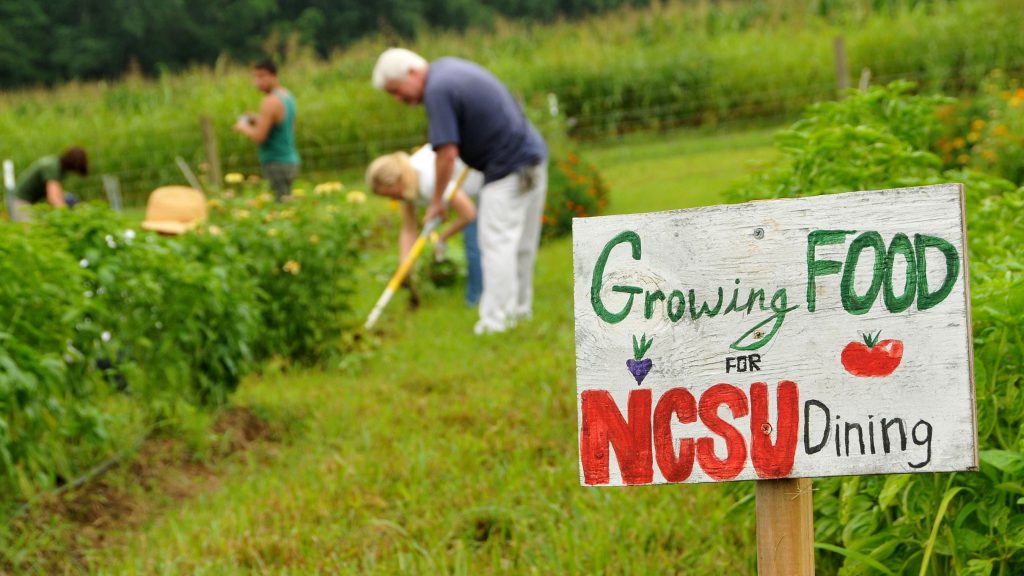 Are there opportunities for the public to get more involved at your facility?
Yes, there are, and I am so glad you asked this question.  We have regular volunteer days as well as club and group visits at the Agroecology Farm. The farm also serves as a classroom for an array of disciplines, including food science, crop science, soil science, entomology and more. If they want to, members of the public can get involved in the farm's regular workdays. Volunteers are needed to do such routine tasks as raking, weeding, mulching and turning compost.
And overall at Lake Wheeler, a lot of the units are in part run by students.  One thing I could say from my own experience: I went to a junior college, and they had a small student farm, and I lived and worked at the poultry unit. Through that experience, I got to learn how to run an egg layer house. I took care of the hens. I collected the eggs. I sold the eggs. We had a processing plant as well, so I was able to learn how to process the birds, and I sold the birds, too. By the time I earned my degree there, I understood the whole industry, and I decided I wanted to be a poultry geneticist. (I didn't wind up going down that road, but that experience is one reason I have the job I do today.)
Students can have that experience here, too. There are students who actually live out here and work in the units, and so it gives them hands-on experience.  It gives them a leg up for jobs in terms of having hands-on expertise. It also helps them to test out potential careers.
Are there other activities available to the public?
Most of the farm is closed to unchaperoned visitors, out of concern for the safety of people and animals. But the new Randleigh Dairy Heritage Museum, which was dedicated in April, is designed especially for the public. It shares the importance of the dairy industry in North Carolina, the history of Jersey cows and more. Those interested can schedule a tour and learn more online.
The Lake Wheeler Road Field Laboratory also hosts several big events. The two of them that would be most interesting to the public are Farm Animal Days and the Turfgrass Field Day.
Farm Animal Days is our biggest event, and it's free. It brings thousands of people to our Beef Education Unit for three days each spring. The event is hosted by NC State's departments of Animal Science; Food, Bioprocessing and Nutrition Sciences; and Prestage Poultry Science. While Farm Animal Days is designed mainly for school field trips for children in preschool through first grade, families and individuals are also welcome to attend. Visitors get to see and touch farm animals and learn about agriculture, and they're also treated to Howling Cow ice cream.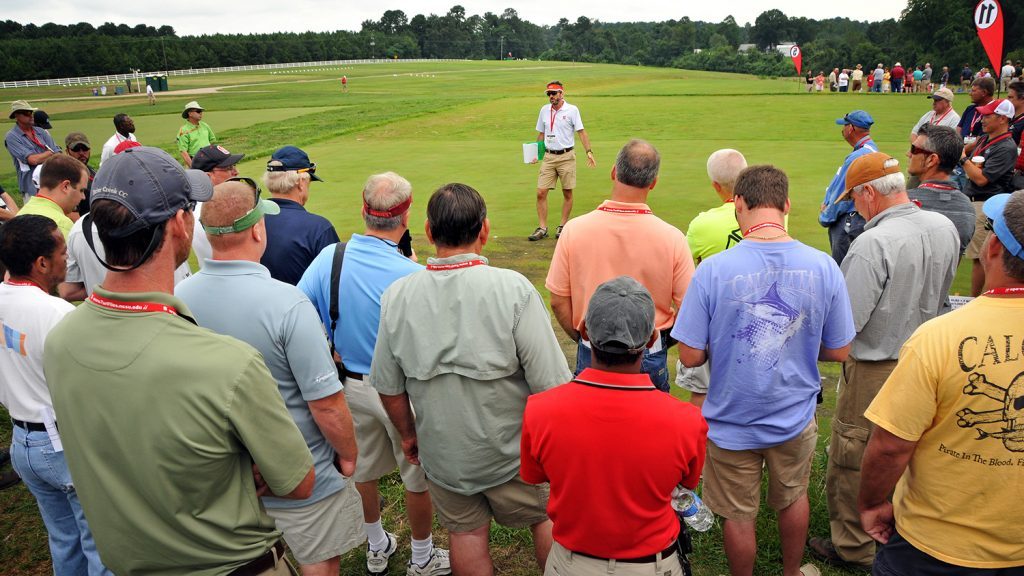 The annual Turfgrass Field Day, which takes place each summer, is geared both for professionals in the turfgrass industry and for anyone interested in learning about turfgrass and lawn care. The topics differ each year, depending on what research projects are underway, but they cover a wide range, from managing pests to using irrigation technology.
There is so much that takes place here and we are grateful to you for sharing this with us. May we ask you what is next at the Lake Wheeler Road Field Laboratory?
Innovation in agricultural science and technology is changing rapidly. At the Lake Wheeler Road Field Laboratory, we want to ensure that our faculty, staff and students will benefit from these data-driven advances. That's why we plan to invest more in making sure that we are "future-ready." This involves the Lake Wheeler Road Field Lab site as well as four research stations throughout the state. That will be an ongoing, long-term process.
And as an integral part of this process, we are preparing to move our small ruminant unit from the Reedy Creek field lab to Lake Wheeler.
Anything else?
Coming this December we are excited that we'll be adding a dairy education center and creamery. These will enhance our teaching, research, and outreach capabilities. Visitors will not only be able to buy our popular Howling Cow ice cream, they'll also have the chance to watch video feeds of the dairy plant in operation and take guided tours of our farm to discover the many facets of North Carolina's dairy industry.
Dr. Hummel,  thank you again for taking the time to share so much information with us. In closing can you tell us if there are any ways the general public can help here?
We already discussed our Agroecology Farm's volunteer days as well as club and group visits as well as our public dairy museum.  Another thing that would really help us would be with biosecurity, which involves following the rules and not trespassing. Another thing: I think that neighbors could be really strong advocates for this site. One of the things I would really like to do is to build an advisory board or even a Friends of Lake Wheeler-type association. And, of course, there are ways to provide financial support. On Sept. 14, we renamed our beef education unit for a generous donor, E. Carroll Joyner. The field lab is certainly a place to show your support for agriculture.
We transform challenges into opportunities that benefit everyone. 
This post was originally published in College of Agriculture and Life Sciences News.