VetPAC Calendar
Fall Seminar Series 4- Lab Animal Medicine with Dr. Marnie Metzler, Dr. Jenny Estes, and Ms. Jackie Iadicicco
October 20, 2022 @ 5:30 pm

-

6:30 pm
Event Navigation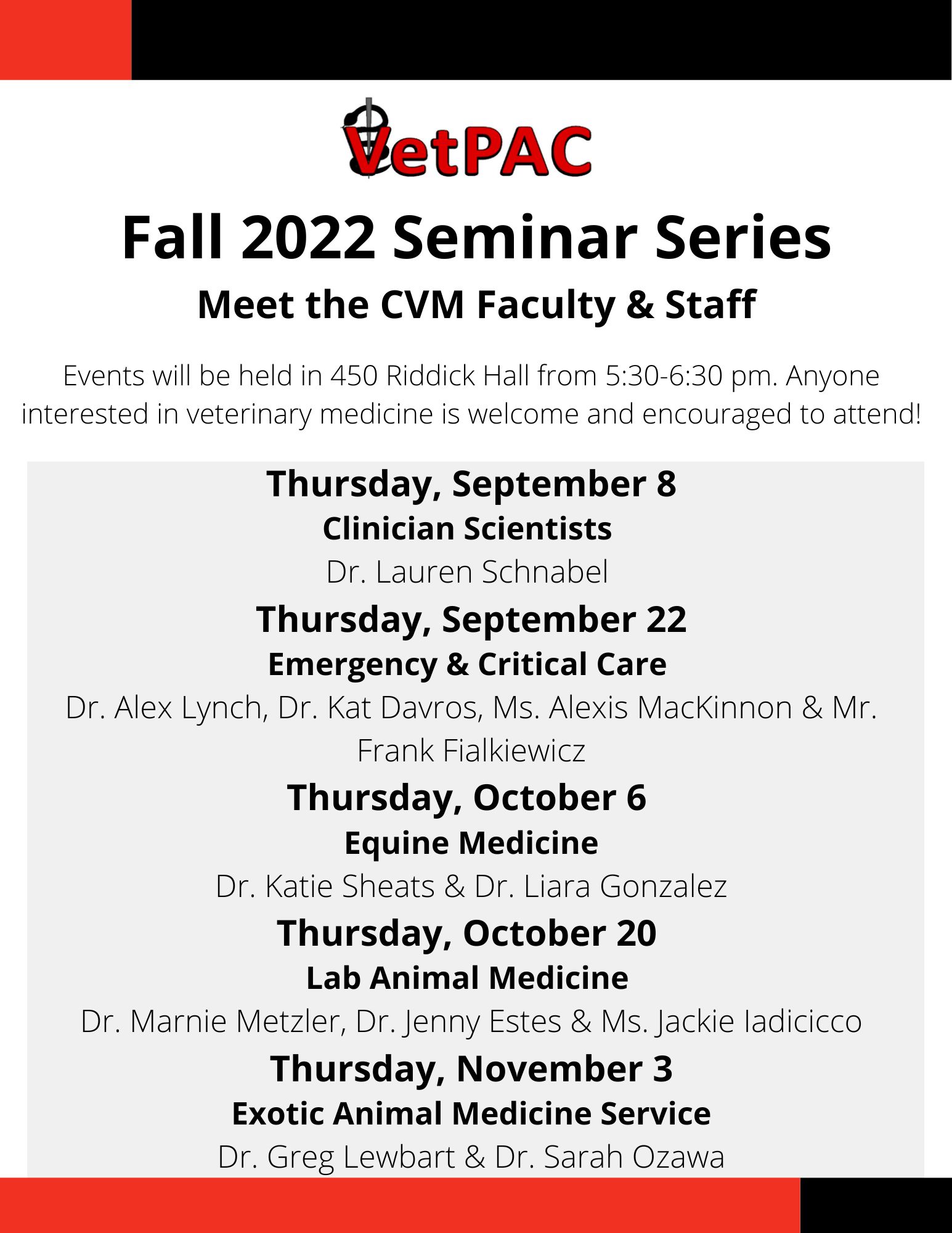 Join VetPAC in Riddick 450 on Thursdays from 5:30-6:30PM to meet the CVM NCSU Lab Animal Resources Faculty and Staff! These are the supervisors for VetPAC's Canine College Internship- https://cals.ncsu.edu/vetpac/canine-college-internship/
Dr. Marnie Metzler, DVM, PhD, DACLAM, is a Clinical Veterinarian and Interim University Attending Veterinarian. She is an alumna of NC State's CVM (2012), and  earned her PhD in Integrated Physiology and Pharmacology from the Wake Forest School of Medicine in 2016. She is a member of AVMA, ACLAM, ASLAP, AALAS, and NCALAM.
Dr. Jenny Estes, DVM, MS, DACLAM, is a Clinical Laboratory Animal Veterinarian. She earned her DVM in 2015 from Virginia-Maryland Regional College of Veterinary Medicine, and her MS in Biotechnology from Johns Hopkins University in 2009. She is a member of NCALAM, AVMA, NCVMA, and a Fear Free Certified Veterinarian.
Ms. Jackie Iadicicco, RALAT is the Training Coordinator for the Laboratory Animal Resources. She is an NCSU Zoology alumna (2016), and is currently working to complete her Veterinary Technician Associates at Penn Foster. She is Fear Free certified.
Date

October 20, 2022

Time

5:30 pm - 6:30 pm

Event Categories:

Event Tags

Website
Location