VetPAC Calendar
Fall Seminar Series 3- Equine Medicine with Dr. Katie Sheats and Dr. Liara Gonzalez
October 6, 2022 @ 5:30 pm

-

6:30 pm
Event Navigation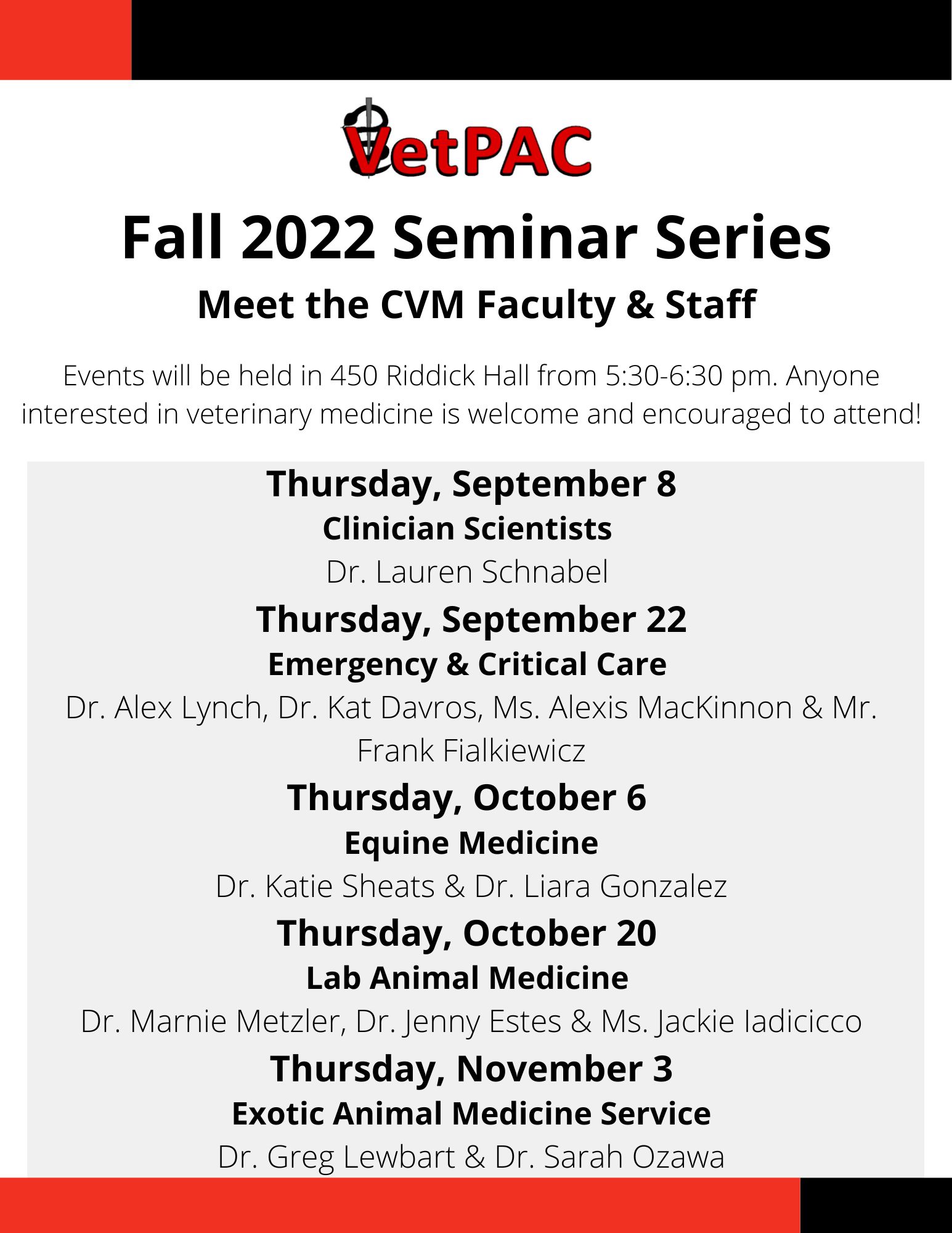 Join VetPAC in Riddick 450 on Thursdays from 5:30-6:30PM to "Meet the CVM Faculty and Staff," and learn more about Dr. Katie Sheats and Dr. Liara Gonzalez!
Dr. Katie Sheats is an Associate Professor of Equine Primary Care and a specialist in Equine Internal Medicine who works in the Department of Clinical Sciences at NCSU College of Veterinary Medicine in Raleigh, NC. She completed her DVM, Equine Internship, Large Animal Medicine Residency, and PhD in Comparative Biomedical Science at North Carolina State University and is board certified in Large Animal Internal Medicine. As both an equine clinician and veterinary educator, Katie has two main areas of research. One is focused on veterinary education, while the other is focused on equine health research. Her education research interests include curriculum development, competency assessment, communication and clinical reasoning. Her equine health research is focused on leveraging her understanding of innate immunity to improve the diagnosis, prognosis and treatment for neutrophil-mediated host tissue injury in patients with diseases such as sepsis and severe asthma.
Dr. Liara Gonzalez is an Associate Professor of Gastroenterology and Equine Surgery at North Carolina State University in Raleigh, NC. Dr. Gonzalez completed her veterinary degree at Cornell University College of Veterinary Medicine in 2006. She then completed a large animal surgery residency at NC State Veterinary Hospital and became a Diplomate of the American College of Veterinary Surgery in 2011. She remained at NC State and defended her doctoral thesis in 2014. As a faculty member, Dr. Gonzalez serves on the Equine Emergency Service. Dr. Gonzalez' clinical and research focus is on intestinal disease. She is particularly interested in identifying improved means to determine tissue viability following severe intestinal injury as well as studying the role of intestinal stem cells in modulating mucosal barrier repair following ischemic damage. Dr. Gonzalez hopes to apply her knowledge and expertise in advanced laboratory techniques to help solve clinically significant problems and further elucidate therapeutic targets that will ultimately improve patient survival.
Date

October 6, 2022

Time

5:30 pm - 6:30 pm

Event Categories:

Event Tags

Website
Location