Scheduling:
Emergencies occur at all hours of the day, therefore the Emergency and Critical Care Department is open and staffed 24/7/365. The ER is always staffed by at least one veterinarian and the ICU has a minimum of two veterinarians on shift at all times. This means that we are very accommodating to all schedules. All wards are staffed by Veterinary Technicians in addition to Veterinary Technician Specialists (ECC) who are all eager to teach and love interacting with students. 
Minimum Weekly Hours: 10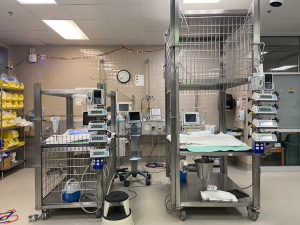 Students who complete the program, will be eligible and encouraged to apply for assistant positions in the Terry Center.
Basic Care
In all areas of the ECC department, interns will
Help obtain Vitals (Temperature, Heart Rate/Pulse, Respiratory Rate/Effort, Mucus Membranes, Capillary Refill Time, Pain Assessment Score, Noninvasive Blood Pressure)

Practice restraint: help with physical exams, blood draws and catheter placement 

Assist with room stocking and tidiness

Walk and weigh patients
ER (40 hours) 
Help obtain and complete Packed Cell Volume, Total Solids, Blood Glucose, Lactate, Ketones, and other point of care blood tests.
IMC and ICU (60 hours) 
Basic Nursing Care and Continuous Monitoring

Basic Medication Administration (PO, IV, IM)

Help set up pumps and make basic fluids.

Continuous/Serial Monitoring including ECG, Blood Pressure and temperature 

Medical Math – Constant Rate Infusions and fluid additive calculations

Advanced patient care including: tube feedings, maintain JP drains, maintain urinary catheters, etc.

Help restrain for Serial Point of Care Ultrasounds
Rounds (Minimum 3 hours of observation and participation)
Interns will attend at least 4 group rounds sessions with the 4th year students OR 3 hours of in depth rounds with the doctors moving patients into ICU or IMC. 
Physical Requirements:
Several sections of the program can be physically demanding such as husbandry, dog walking, restraint of animals, etc. Any student with concerns should consult their doctor prior to beginning the program. Any student that has any allergies to dogs, cats, rabbits, etc. should consult their doctor prior to beginning the program.