What we Think and Do drives innovation in plant improvement, data-driven plant science and resilient agricultural systems.
Click the links below to learn about our interdisciplinary research teams, and their extraordinary discovery and outreach.
Learn about our research, discovery and outreach
Grants for Game Changers
NC State provided competitive seed funding for four interdisciplinary team-based research and outreach projects tackling global challenges. The funding totaled $2.3M
GRIP4PSI Projects
The Game‐Changing Research Incentive Program for Plant Sciences Initiative (GRIP4PSI) was initiated to encourage the NC State community to collaborate on integrated research/outreach projects that are focused on one or more of the Research Platforms that comprise the N.C. Plant Sciences Initiative (PSI).
Fertilizer of The Future
Harnessing New Technologies to Cut Energy Use, Protect Water and Help Farmers
An interdisciplinary team of researchers at NC State, led by Katharina Stapelmann, is setting out on an ambitious 3-year project to tackle the energy-intensive process of producing and shipping nitrogen-based fertilizer.
They will test two game-changing methods of on-farm fertilizer production and develop an on-demand, precision fertigation system to detect soil moisture and nitrogen levels and then supply water and nutrients exactly where they are needed. This should lead to less waste, less fertilizer runoff into the water supply and increased crop yields.
Plant-Aid
Developing a Cost-Effective Sensor System to Detect Emerging Plant Diseases
An interdisciplinary team led by Jean Ristaino will develop an innovative platform to monitor crops for signs of early plant disease, empowering farmers to make real-time, data-driven decisions.
They will attach cost-effective sensors to tomato plants, checking for physical, chemical, environmental and biomolecular markers of disease or plant stress. That data — collected wirelessly on smartphones — will then be integrated with a bioinformatics and geospatial database, to alerts growers of new outbreaks. The team will use the data to model the disease spread to inform a more effective, rapid response.
Big Data for Better Sweetpotatoes
Big Data Platform to Take Tons of Sweetpotato Photos to Improve Productivity
A multidisciplinary team led by Cranos Williams is developing a data-driven platform to find out how to grow a superior sweetpotato.
They aim to combine information from images of hundreds of thousands of sweetpotatoes and their growth conditions to determine the factors that impact sweetpotato size and shape to increase the percentage of sweetpotatoes that are USDA grade 1. The platform will use custom imaging to detect shape, size, surface texture and internal composition, as well as the presence of harmful crop damage. That data then enters a computational platform — which will be created in partnership with Intero Life Sciences and SAS, Inc. — to improve decision-making for North Carolina growers, producers and distributors.
FUN-CROPS
Using Leaf-Living Fungi to Improve Crop Resilience to Drought, Disease
A team of engineers, plant pathologists and microbiologists led by Christine Hawkes will study how plant fungal symbionts can improve crop resilience.
They will determine if fungi can be manipulated across entire landscapes, identify highly beneficial fungi and the genes that produce the benefits, develop methods to identify microscopic fungi, and explore potential policy implications and stakeholder responses to fungal manipulation in crops. The team aims to develop practical tools to adapt crops to later cold snaps, longer heat waves, bigger hurricanes and atypical droughts.
Other N.C. PSI Projects
Collaborative Crop Resilience Program
Interdisciplinary Research Program Targets Wheat Microbes for Resiliency
Amy Grunden is leading a six-year, $30 million study on the wheat microbiome to make the staple more resilient. The project is supported by the Novo Nordisk Foundation, the parent organization of NC State partner and biological solutions leader Novozymes.
An interdisciplinary team of experts from North Carolina State University and three Danish universities will examine the roles of plant-associated microbes and their interactions with plants. The goal is to help make crops more resilient against environmental stresses, including drought, while reducing the need for chemical treatments and irrigation.
The University of Copenhagen, Aarhus University and the Technical University of Denmark will collaborate on the project.
Precision Sustainable Agriculture
Nationwide Project on Cover Crops, Big Data to Improve Agricultural Sustainability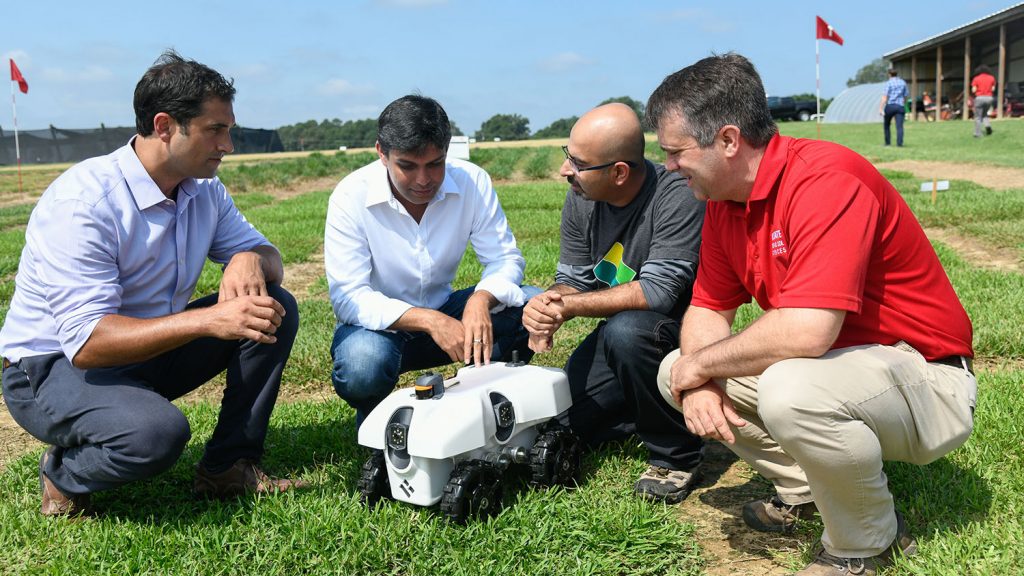 Chris Reberg-Horton will co-lead a five-year, $10 million grant from the U.S. Department of Agriculture to improve the sustainability and profitability of agriculture by advancing the study and use of cover crops such as rye, clover and radishes.
The interdisciplinary team that includes crop experts, computer modelers and social scientists from 36 institutions, will research questions ranging from the extent to which cover crops can increase drought tolerance to how the lushness of the cover crop in different parts of the field impacts soil nitrogen levels.
Talking the Plant Talk
Tiny Sensors to Translate the Language of Plants for Precision Farming
A cross-college team of plant scientists and engineers have developed small, inexpensive sensors to detect the volatile organic compounds plants use to communicate with each other.
They are using an array of these sensors to eavesdrop on crops such as tomatoes and wheat to detect pests, pathogens and other stressors before the plants show visible signs of trouble. They hope to develop a system to translate the plants' messages reliably and accurately to help farmers prevent crop loss.
Science and Technologies for Phosphorus Sustainability (STEPS) Center
Interdisciplinary Research Community Focused On Phosphorus Sustainability.
Jacob Jones is the Director of the Science and Technologies for Phosphorus Sustainability (STEPS) Center, a convergent research group addressing the complex challenges in phosphorus sustainability by integrating disciplinary contributions across the physical, life, social, and economic sciences. Although the headquartered in the new Plant Sciences Building, the center includes researchers from eight institutions across the country.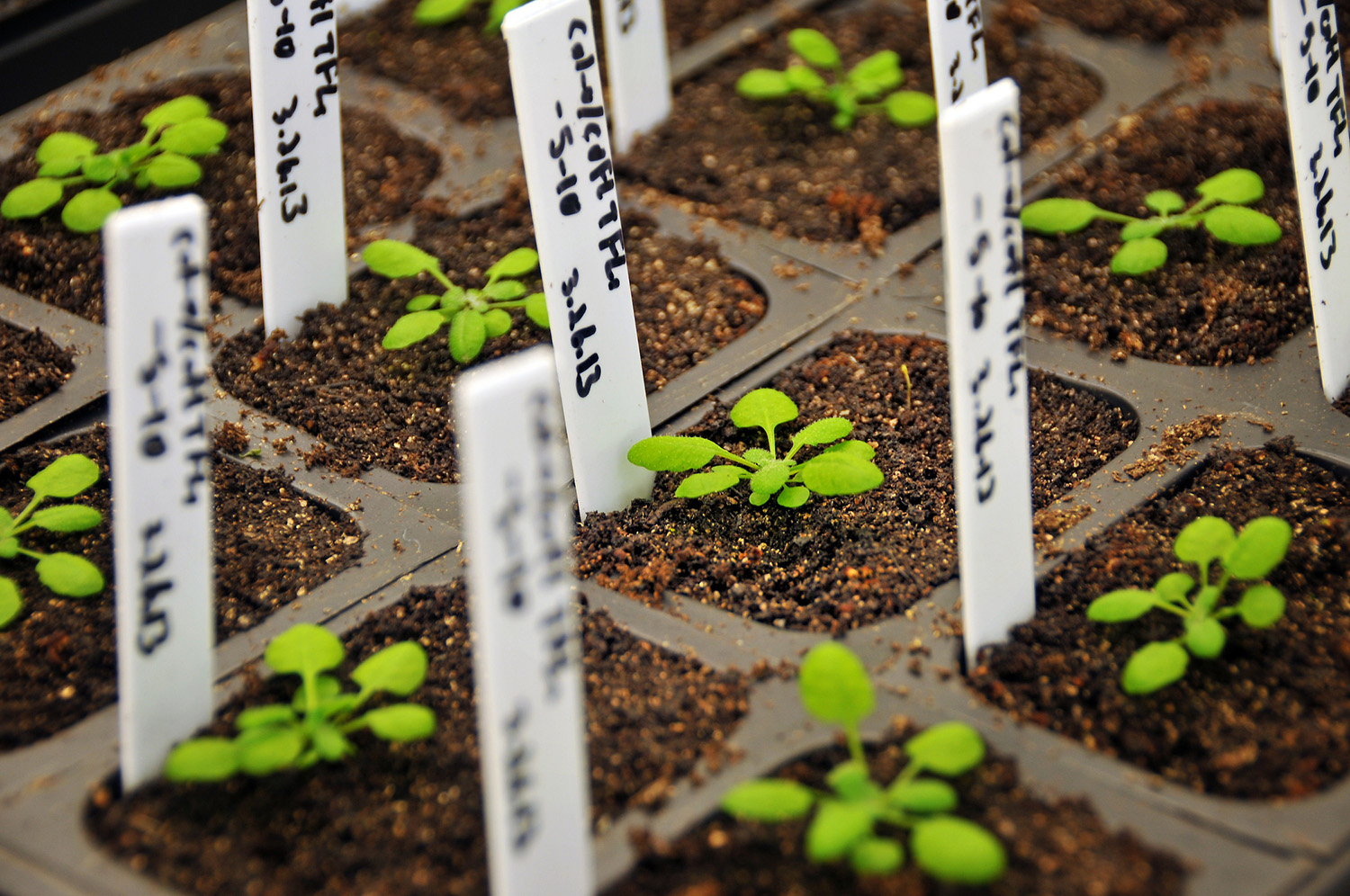 N.C. PSI brings together experts across multiple disciplines to solve agricultures grand challenges.
Let's Talk
Stay Connected
Stay up-to-date up with these research projects and much more through our newsletter.
Subscribe to N.C. PSI News Bulletin