As the North Carolina Plant Sciences Initiative continues to take shape, partnerships between VIB, a Belgian life sciences institute, and NC State University's College of Agriculture and Life Sciences are growing.
The strength of the 3-year-old relationship of VIB and NC State was in the spotlight last week when Dirk Wouters, the Belgian ambassador to the United States, visited Raleigh to learn more.
The College of Agriculture and Life Sciences' International Programs office hosted the Dec. 10 visit, and Bailian Li, NC State's senior vice provost for global engagement, welcomed Wouters and the Belgian colleagues visiting with him. Ryan Combs of the Research Triangle Regional Partnership arranged the opportunity.
The meeting highlighted North Carolina's Plant Sciences Initiative, Centennial Campus partnerships, the college's agricultural research stations and field laboratories, and the N.C. Food Innovation Lab.
USDA, NC State and VIB Work Together on Drought Research
A key outcome of CALS' partnership with VIB is research aimed at better understanding the effects of drought on soybeans. Anna Locke, a U.S. Department of Agriculture research physiologist, is the project's principal investigator. She said the project grew out of a 2016 agreement that facilitates research between NC State and VIB.
Locke's collaborators include Ross Sozzani, an NC State plant scientist, and Ive de Smet of VIB. Lisa Van de Broeck, formerly of VIB, is currently working in Sozzani's lab as a visiting scholar. Exchanging students and postdocs is one of the partnership's major benefits, according to Deborah Thompson, CALS' director of research partnerships.
Locke, of USDA's Agricultural Research Service, said the research project is "a good example of how … collaborative research and internationally collaborative research are critical to ensure food security, not just for soybeans specifically but crops broadly."
Wouters expressed his enthusiasm for the research, the Plant Sciences Initiative and other partnerships discussed. He also praised  NC State's dedication to international and cross-disciplinary research aimed at bolstering food security around the globe.
"If we sound excited, it's because we are excited," Wouters said.
Learn more about ways you can support and engage with CALS' academic, research, teaching and extension efforts.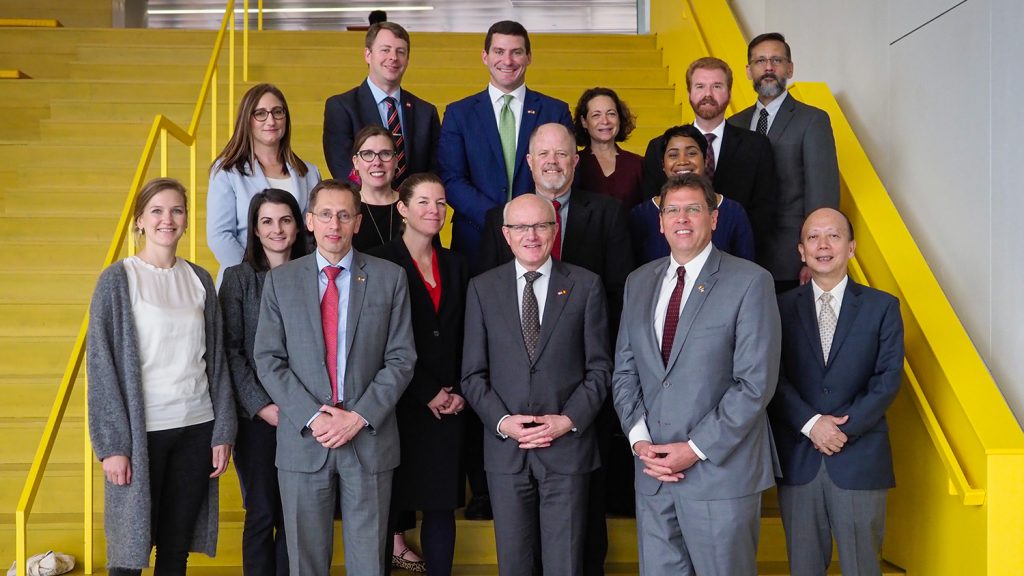 This post was originally published in College of Agriculture and Life Sciences News.