As the wife of a career Marine, Roxanne Reed has seen post-traumatic stress and its impact on families. She's also experienced the calming effect that producing your own food can bring. In January, she and her husband, Ron, will begin opening their farm in Clinton as a place where military veterans can learn more about homesteading and hobby farming.
The couple took part in the 2019 North Carolina Farm School, an annual NC State Extension program that helps new and aspiring growers learn more about agriculture. Its goal is to increase the state's number of sustainable and economically viable farms.
Gary Bullen, an Extension specialist in NC State's Department of Agricultural and Resource Economics, directs Farm School. He said he's seen a recent rise in the number of military veterans taking part in the program. Their reasons vary.
"Some want to know where their food comes from," Bullen said. "Several mentioned that they have seen food insecurity in other countries and wanted to grow their own food. They have also said they want to see things grow for therapeutic reasons."
Others, like the Reeds, want to use their Farm School experiences to help other veterans and their families, especially those who want to take up hobby farming or homesteading. Homesteading, Roxanne explained, is a lifestyle centered on becoming self-sufficient in producing food and other household goods.
Introducing Bleu Egg Farms …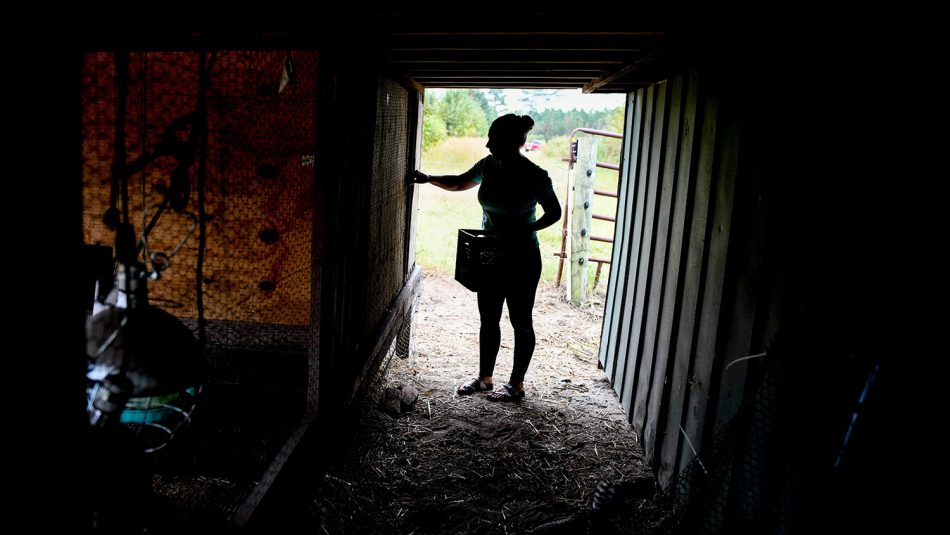 When Roxanne and Ron started their farm, they knew little about raising crops and livestock. "We didn't know what we didn't know," Roxanne said.
But they did know the kind of assets they could bring to what they now call Bleu Egg Farms. Roxanne knows a lot about developing small businesses. She has a master's degree in business administration, plus 15 years of related experience. And Ron understands troubleshooting and hard work, having served in the Marine Corps for 20 years.
For Roxanne, Ron's retirement brought about new possibilities for pursuing harbored passions.
"As a military spouse, one of the nicest things to come with retirement was not having to worry about him going off to training or more deployments," she said. "We could finally sink our teeth into something and not have to worry about having to move around."
Homesteading was among those things at the top of the list.
"The idea is, how do we make this land pay for itself?" Ron said. "We didn't just jump into things without learning how to do things first."
That's why they signed up for Farm School. What they learned there will inform the farm training they plan to offer in 2020.
Provided through the Granit Training Group, the Reeds' training will give an overview of homesteading and hobby farming. Other focus areas include agritourism, market garden development and pasture-raised beef and poultry.
"Our training will be a beginning-level course, compared to the more advanced course taught through the Farm School," she said. "In fact, for me, I felt like going to NC State's farm school was like earning an MBA in farming.
"We jumped light years ahead of our knowledge base," she added. "If I had to try to figure this out without Farm School, it would have taken me at least three years to understand what we've learned in a few months through Farm School."
… and FUBAR Farms
About 100 miles away from the Reeds' Sampson County Farm, their Farm School classmates Joe and Sara Kidd have created a 34-acre farm. It's in Red Oak, a small town in Nash County.
Like the Reeds, they want to help other veterans interested in farming. They plan to offer hands-on experiences, including apprenticeships, as they continue to grow their farm.
Sara had developed a business plan for a small family farm while at Lenoir Community College. "But we were scared about owning a farm and not knowing how to make it profitable," she said. "Farm School has been good for both of us and very eye-opening."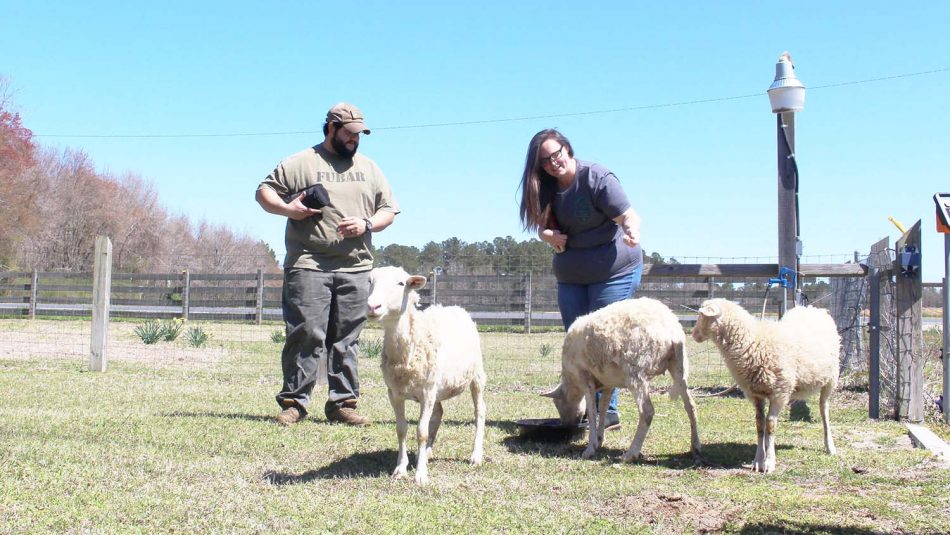 The Kidds started their farm with chickens and sheep. Their next step: expanding their pasture-raised livestock operation. Meanwhile, Sara is working toward a master's degree in agricultural and extension education at NC State University.
"I'd like to use my degree to teach veterans through hands-on learning, having them apprentice with us and take part in one-day workshops here on the farm," Sara said.
For Joe, who served in the Marine Corps for four years, farming has been affirming.
"With farming, you can see the benefits — you get to actually see what you're doing, watch things grow and see something good come out of it," Joe said. "There's a therapeutic benefit to it as well. You get calm out here. It's relaxing and takes you away from the busy lifestyle that the military and the world hands you."
Look Before You Leap
Robert Elliott is a veteran-turned-farmer who heads the Agricultural Institute's Soldier-to-Agriculture Program, an NC State educational effort to introduce soldiers to the business of agriculture.
"There is a definite need to train veterans to be farmers because we need farmers in this country," he said.
Still, he urges the veterans that he counsels to look before they leap. "Some of these vets are going to jump into farming with the thought that there's a ton of money waiting for them to go into farming," he says. "The truth is, there's not."
Because of that reality, Farm School stresses the financial aspects of farming.
"We help them turn their dream of farming into a reality while avoiding a lot of pitfalls or mistakes that people make when starting out," Bullen said. "It's not always a high profit, but people – including veterans – have a lot of reasons for wanting to be farmers.
"Other reasons include connecting back to the land and providing good food for themselves and others," Bullen said. "The demand is still growing right now."
To meet that demand in 2020, NC State Extension will offer the 4-month Farm School course in three locations: Roxboro, Concord and Taylorsville. Once-a-week sessions start in January. For more information or to apply, visit www.ncfarmschool.com.
The North Carolina Tobacco Trust Fund Commission provided funding for the 2019 North Carolina Farm School.
NC State Extension is hard at work in communities across North Carolina. 
This post was originally published in College of Agriculture and Life Sciences News.