The world is changing rapidly, a global pandemic notwithstanding, and by investing in digital infrastructure at its research stations and field labs, the College of Agriculture and Life Sciences' research office is ensuring these vital facilities will help keep North Carolina agriculture growing.
The N.C. Agricultural Research Service (NCARS) has invested in high-speed fiber internet at several of the 18 research stations and four university field labs as well as improving other types of digital infrastructure.
"This project will make it a lot more efficient for faculty members to remotely monitor their experiments and have their data uploaded to the cloud," said David Monks, the associate director of NCARS. "Being able to monitor their studies remotely, and collect and manage large datasets will allow our researchers to learn much more about the crops and animals they study. This will allow us to achieve results quicker to support our growers. Quicker solutions will have more impact on supporting their operations, and should reduce their risk in production."
The NCARS and the N.C. Department of Agriculture and Consumer Services teams conducted a needs assessment to determine the needs of the research stations and field labs and what facilities could be upgraded most economically.
The Sandhill Research Station, located in Montgomery county, was upgraded with high-speed fiber internet at the end of 2019. The fiber line, which was connected to the station's office, is 250 Mb. This means it can transfer a 4GB file (about the size of a standard-definition movie) in 18 seconds.
In the past year, the station staff have worked to connect a few locations throughout the 570-acre site, including the pesticide storage building, the station shop and the turfgrass unit — used to study turf pest and weed management and the impact of heat and drought stress on turfgrass maintained to mimic golf courses such as the nearby Pinehurst Resort — to the high-speed internet.
Jeremy Martin, the superintendent for Sandhills Research Station, said, "We hope to build out the network in the future to get more in-field direct access for data transfer from sensors, data loggers, drones and more."
Several other research stations, namely Mountain Research Station in Haywood County and Cherry Research Station in Wayne County were previously upgraded to fiber internet.
The Upper Piedmont Research Station, located in Rockingham County, is in the process of getting a new GrowSafe system to track and monitor beef cattle. This precision agriculture system uses RFID-tags and cutting-edge predictive analytics to help producers make more informed decisions for managing their cattle herd. The system will allow for remote monitoring of feed intake and weight gain for the station's Black Angus herd.
The Piedmont Research Station, located in Rowan County, has gotten a state-of-the art robotic calf feeding barn that individually feeds the dairy calves based on an algorithm.
Here's how Lake Wheeler Road Field Lab and the Central Crops Research Station are going digital.
Lake Wheeler Road Field Lab Upgrades
Just a few miles south of NC State's main campus, the Lake Wheeler Road Field Lab is home to numerous research, teaching and Extension facilities, including the one-year-old Howling Cow Dairy Education Center and Creamery.
Due to its convenient location and three-fold mission, during a normal year the field lab hosts dozens of research projects; numerous Extension workshops, trainings and field days; and hundreds of students for hands-on experience, especially from the Animal Science Department and Prestage Department of Poultry Science.
Thanks to the efforts of the NCARS office, and support from the university's Communications Technologies office and CALS IT, Lake Wheeler is in the process of getting high-speed fiber internet.
Bridget Lassiter, the field lab superintendent, said that during the first phase they will establish high-speed internet at the poultry unit's teaching classroom, several swine unit research barns, the soil science and entomology outreach and education building and the Feed Mill Education Unit.
"We really have made inroads on getting high-speed fiber internet installed out here," Lassiter said. "That is going to be a huge improvement for us. Having this secure internet connection is going to allow us to do a lot more research here than we have before. It's going to allow researchers to have cameras to monitor their livestock from campus."
Specifically, having high-speed internet in several swine research barns will allow faculty to collect much richer information on animal behavior and how it is affected by different stressors. In fact, in one barn they are planning to install numerous cameras, three for each sow, one over the top, one in the front, and one in the back to monitor how each sow interacts with her piglets, Lassiter said.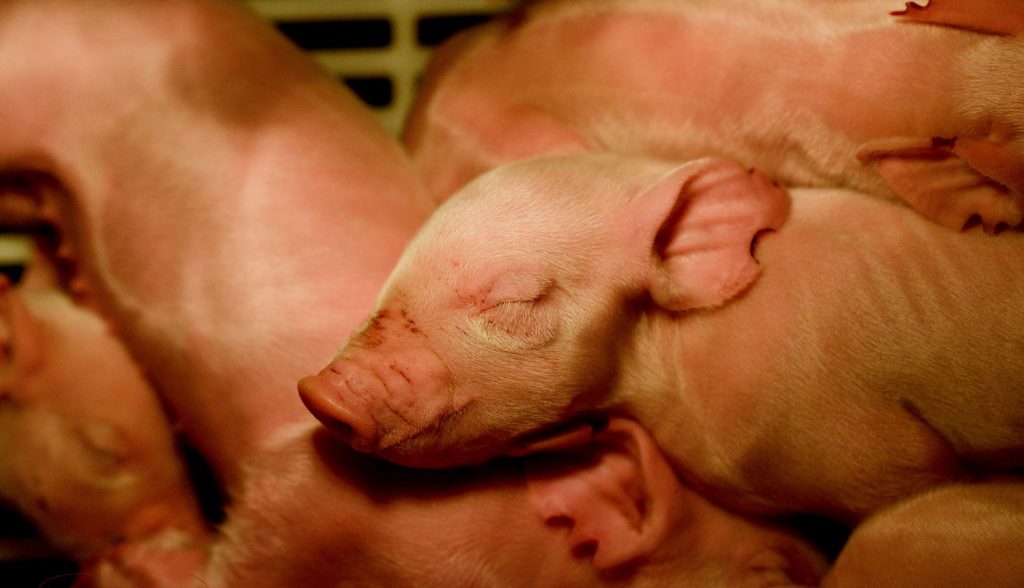 The network has built in redundancies to ensure smooth operations, just like students, faculty members and staff would get at the main campus. Within the next three years, additional building and units will gain access to the high-speed internet network, as determined by needs, potential impact and economic considerations.
Advanced Wireless Research Platform
The installation of high-speed fiber at the field lab was partly made possible because researchers at the College of Engineering received a $24 million grant from the National Science Foundation to test different 5G technologies, frequencies and algorithms. This project, called Aerial Experimentation and Research Platform for Advanced Wireless or AERPAW, will be using a portion of the Lake Wheeler Road Field Lab as one of its three real-world testbeds.
Early this summer, the AERPAW project built a site distribution facility and the first 5G radio node at the edge of a field at Lake Wheeler. Once the fiber internet is fully installed in early 2021, the AERPAW team will be able to access the live 5G network from that node.
Thomas Zajkowski, a project co-PI with the Institute for Transportation Research and Education, has been regularly flying unmanned aerial vehicles (UAVs), commonly known as drones, at the field lab to test how UAVs could be used to extend 5G networks in rural areas as well as testing the use of 5G networks to operate UAVs.
"The field lab is a great place for us to start our drone testing," Zajkowski said. "At Lake Wheeler we're able to test the technology out in an environment where we don't have lots of people. In areas where we'd be flying over a lot more people, like Centennial Campus, we'd need waivers or permissions, which is a lot more difficult. Eventually we'd like to have trials with one person operating multiple UAVs at the same time."
Zajkowski said they also plan to test unmanned ground vehicles, like rovers, at the field lab. He added that the AERPAW team would be happy to partner with CALS researchers interested in testing agricultural equipment or sensors on the 5G network.
Other Infrastructure Upgrades
In addition to the fiber internet, recently the field lab got a new smart center pivot irrigation system. This system interfaces with an app so that the farm managers can turn the system on remotely and track how many inches of water it has applied to the field. Ultimately, it should increase the yield of feed corn from that field, Lassiter said. The vast majority of the corn grown on the field lab is turned into silage for the dairy cattle that produce Howling Cow ice cream.
The smart center pivot irrigation system is also being used by Chadi Sayde, an assistant professor in the Department of Biological and Agricultural Engineering, and his graduate student Mahmoud Shehata, to test their fiber optic-based soil sensors. The sensors can measure moisture levels every four or five inches for up to six miles. Eventually, the soil moisture system should help farmers increase yields while decreasing inputs, Lassiter said.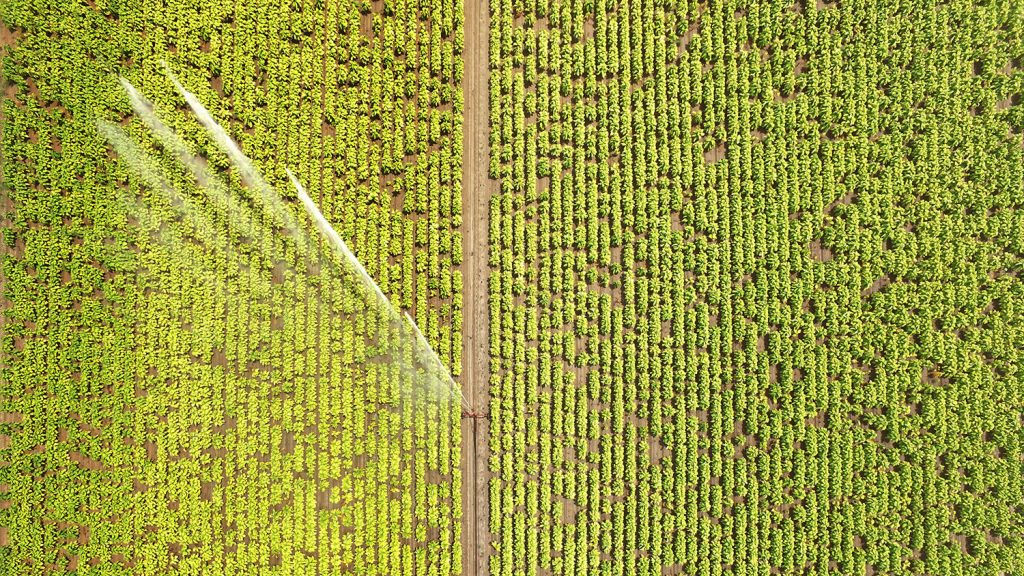 In addition to the center pivot, a new electronic gate was installed at the field lab's pesticide storage complex to help secure the complex and regulate access to the hazardous pesticides stored there.
Once fully installed, the high-speed internet will allow for other updates at the field lab such as VoIP telephones in the main office, security cameras for certain areas, card swipe locks on some doors and time clocks in staff breakrooms.
"I am very thankful for the money and the planning that has gone into this fiber internet project," Lassiter said. "Anticipating that we're going to return to semi-normal activities next year, we're going to serve a lot of people by having enhanced internet access out here, students and all the other clients that we serve through outreach and Extension. For the Extension workshops, soon we'll have enough bandwidth so that everybody can log on to whichever website the presenters are sharing."
Central Crops Research Station
Central Crops Research Station, located about 15 miles southeast of main campus in Johnston County, is home to much of the college's plant breeding research as well as important research on managing weeds and soil-borne pathogens.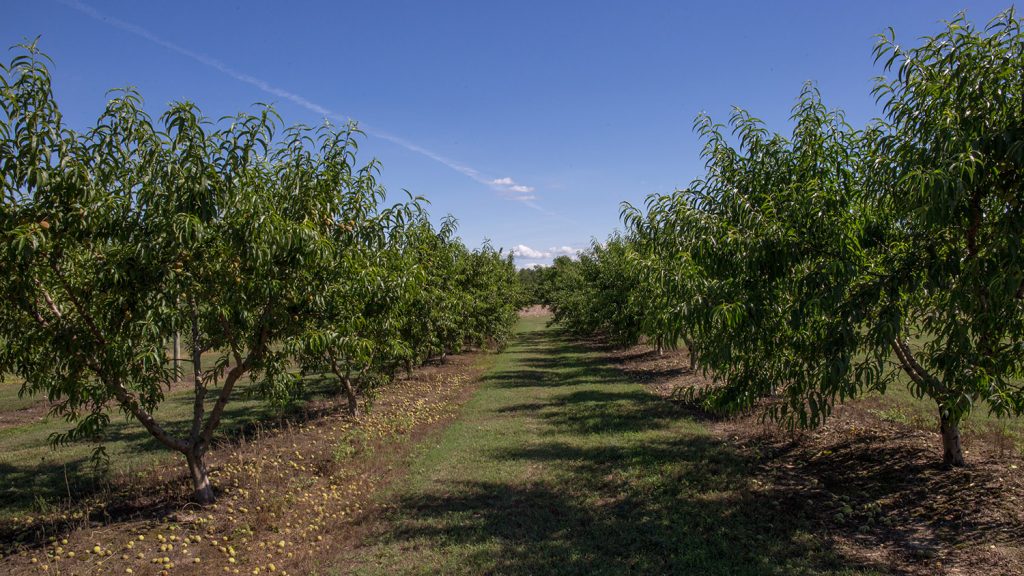 This spring, Central Crops had 250 Mb fiber internet installed in its main office. By the end of May, they had built a WiFi backbone out to seven locations across the 523-acre station, including WiFi coverage over portions of a few fields.
Cathy Herring, the station superintendent, said that the big thing about the high-speed internet is that it will improve record-keeping and speed up research and the dissemination of information, such as the results of official variety trials.
"Getting this internet backbone is a good thing for the station," Herring said. "It's a good thing for research in general. And big picture, it's going to be a good thing for the growers in North Carolina. There are growers in the state that aren't going to get good internet for another 10 or 20 years, but the varieties bred on the station and the solutions tested on the station, they can use those right now."
Additionally, the WiFi network has made it a lot easier for faculty and staff to film and upload videos for Extension specialists and segments for virtual field days.
Herring hopes to extend the WiFi backbone further, including possibly mobile units, to provide access to additional fields to allow the uses of in-field sensors, cameras and more.
Drought Sensing Cameras
One of the research projects that has used the station's high-speed network and will eventually produce information that North Carolina farmers can use is Chris Reberg-Horton and Paula Ramos-Giraldo's StressCam project. The two crop and soil science researchers are developing low-cost, WiFi-enabled cameras to track drought stress in corn and soybeans.
The WiFi at the station has allowed them to monitor, manage and improve the cameras and the software interface. They, and their collaborators, were able to access the StressCams and related temperature sensors remotely and collect crop images on demand this summer.
The team will use the photos collected from the cameras at the station to develop a machine learning algorithm to automatically monitor corn fields for drought stress, having already developed one for soybeans with the aid of a computer engineering class.
Next year, the StressCams will be installed in farms in N.C., Maryland and Georgia. Eventually the results from the project will inform the selection of the best water management practices for farmers in the region, such as cover crop mulching.
Other Infrastructure Upgrades
In addition to the StressCam research, the WiFi network has made it possible for Matthew Krakowsky, a U.S. Department of Agriculture corn breeder and geneticist who is also an associate professor in NC State's Department of Crop and Soil Sciences, to invest in improved WiFi-enabled sensor and alarm system for three of the seed storage walk-in coolers at the station, Herring said.
These walk-in coolers provide secure, temperature- and humidity-controlled storage for the seed stock essential for corn breeding programs. The coolers also store samples of eight corn diseases prevalent in the southeastern U.S., in order to test the new varieties for resistance to the diseases. Both the seed corn and disease samples are critical for multiple breeding efforts to improve corn traits such as resistance to southern leaf blight or Fusarium ear rot as well as yield and other agronomic traits.
The new WiFi-enabled system can measure the temperature and humidity in each walk-in cooler and send text alerts to the station staff and the researchers who use each cooler. The researchers will also be able to check on their seed storage coolers remotely, from their office on campus or even from home.
This system will improve the storage of critical seeds and decrease the number of headaches the research station staff have to handle.
Having internet at the station's shop has also made it much easier for the mechanic to order parts, Herring said. Also, the improved internet network has made it much easier for the research station staff to sign in and out of WolfTime to track their hours.
"One of our big hopes from the research station side is that we can get recordkeeping software in place that is compatible with our technology-enabled equipment so that every time we go into a field, whatever we do is recorded and goes straight into a recordkeeping software," Herring said. "Currently crop managers spend several weeks each winter just transferring field notes and field application data into our permanent record. If we can get all that transfer and more done electronically, then the researchers can have their data in a more timely manner, which means they can get their information on the results of their trials to the farmers more quickly."
Our 18 research stations are the proving grounds for NC State research that grows the N.C. economy.
This post was originally published in College of Agriculture and Life Sciences News.