Faculty and Staff
Fall Plant and Microbial Biology Newsletter
'The Scoop' from the Department Head
In lieu of our ice cream social event, we have prepared a fall newsletter to introduce new members of our department and to make note of new grants, papers and other achievements of the last year.
It was an unusual summer for sure, but we have now transitioned into the start of the semester. I am happy to welcome 26 new graduate students into the department together within the MB, MMB and PB graduate programs. We also welcome a number of new researchers, postdocs, and visiting scholars that have joined the department over the summer. I wish you great success while at NC State.
With respect to teaching, we are able to offer a limited number of face-to-face course offerings, mostly at the graduate level. We are maintaining high academic rigor and engagement in our virtual course offerings and look forward to the spring when we hope that at least a subset of our undergraduate courses can be offered in a face-to-face format as well.
Research moves along quite rapidly and successfully as our faculty continue to be awarded a large variety of competitive external grants to support their work. In this newsletter we highlight some of the larger grants awarded to our faculty over the past 12 months. These 14 grants total over 9 million dollars in funding for research in the areas of Plant and Microbial Biology. These projects explore how microbes influence plant growth, stress response and crop yields; how plasma treated water can be used in sustainable agricultural systems; how microbes can be helpful in soil remediation applications; as well as foundational scientific research into homologous recombination, DNA replication and stomatal movements. Many other areas of investigation continue on as well, spanning the spectrum from molecular through to the ecosystem scales.
Although students, faculty and staff are on campus only to meet critical needs and we spend many hours working from our home offices, we continue to interact socially in online coffee or social hours, as well as in our weekly seminar series.
I hope that you enjoy a taste of the activities that are still going on in the department as presented here in this newsletter. I want to thank Kayla Telford and Catherine Freeman for their efforts to put this newsletter together and all of you for sending in your updates about the great work your groups are doing.
-Bob Franks
Academic Programs and Clubs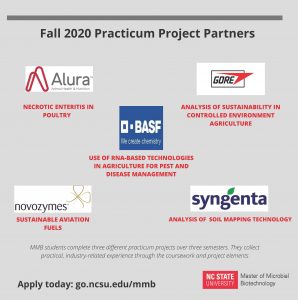 The Masters of Microbial Biotechnology (MMB) has 15 new graduate students in their program. For the fall semester, the MMB program has partnered with the following companies: Alura, Gore, BASF, Novozymes, and Syngenta. Students will work with these companies over the next semester to complete their practicum projects. Thank you to all of the companies and partners for their continued support in providing meaningful industry-related experiences to our students through guest lectures and practicum projects.
The Microbiology Graduate Program welcomes 6 new graduate students into the department. Each graduate student has put together a biography to tell you a little bit about them and their research below.
Lisa Metzger: I'm a first-year Ph.D. student in the Microbiology program, hailing from Morrisville, North Carolina. I graduated from UNC Chapel Hill in May 2020 with a double major in Biology and Chemistry. I fell in love with microbiology while working in an oral microbiology diagnostics lab and have been very focused on learning more about translational research since. When not in lab, I can usually be found hiking on forest trails or trying out fun DIY projects.
Afaf Abdelrahim: I am a Fulbright student from Egypt. My undergraduate project was based on the identification of rcsA gene in Klebsiella pneumonia and that is when I became interested in resistant genes. In my country, antibiotics are treated as over the counter medications, meaning no prescription is needed to dispense an antibiotic. And that misuse leads to increasing death rates due to antibiotic resistance. So, I chose to be a part of the Thakur lab as I am interested in superbug's bacteria that are resistant to most of our antibiotics. As for my hobbies, I enjoy playing volleyball, and violin. I also like meeting new people and trying different types of food.
Sivaranjani Palani: I am an International student from India. I have my Bachelor's degree in Civil Engineering from Anna University, India and Masters in Civil Engineering (concentration – Environmental Engineering) from University of Delaware. I am a first year Microbiology Ph.D. student and I work in Dr. Francis de los Reyes III lab. Currently I am working on quantification of SARS-CoV2- Virus (COVID-19) in wastewaters from various municipal wastewater treatment facilities across North Carolina. My primary research is to study the microbial community assembly/ microbial ecology in anaerobic digesters and develop both wet lab techniques and mathematical models. Other than being a researcher, I am a painting artist and love cooking spicy food.
Andrew Ratchford: I graduated from NC State in the spring with a bachelor's degree in Microbiology. I am currently doing lab rotations. I love the area, and I can't imagine myself studying anywhere else. I spend my free time cooking, playing sports, or reading science fiction.
Tess Overton:

I'm from Raleigh, but I went to UNC Charlotte where I earned a BS in Biology and a BA in Chemistry. I have a wide variety of research interests including DNA damage repair and gene regulation, and I'm excited to be back home for my graduate degree. I am currently doing a lab rotation.
Pressley Wilson: I am very excited to be in my first semester of graduate school at NC State! I received my B.S. in Biology from USC Aiken, South Carolina. My research area of interest is environmental microbiology, specifically microbial ecology and bioremediation. I am currently on rotation. Outside of research, my hobbies include staying active outdoors and fostering cats.
Leo W. Parks Lectureship
The Leo W. Parks Lectureship in Microbiology was expanded this year to include a panel discussion on Diversity in the Sciences, ePoster Sessions, and the keynote Lecture by Dr. Susan Golden of UC, San Diego. You can read a more thorough summary of the day's events featured in this news posting.
The Plant Biology Graduate Program welcomes 5 new graduate students to the department and welcomes the continuation of Emma Vtipil (Spring 2020 MR graduate) as a PhD student. Each new graduate student was asked to share an introduction about themselves and their research interest.
Aurora Toennisson: She is a new PhD student in the Perera Lab with an interest in space biology. She has a MS in Entomology from the University of Tennessee, and she previously worked as an entomology research associate at NC State University. Her eclectic collection of hobbies includes gardening, hiking, fiber crafts, high altitude ballooning, and ham radio.
Cameron Reed:

He is a first year PhD student currently in rotations. My research interests are in plant genetics and crop improvements. When I'm not in the lab, you can probably find me biking or hiking the beautiful trails surrounding Raleigh. It has been a pleasure meeting all the friendly faces of the department and I want to thank you all for making my experience here a welcoming and inviting one.
Tallis Donnelly: She grew up in Atlanta, and comes to NC State by way of UNC Asheville. She is interested in plant physiology and functional ecology, particularly regarding rareness, unusual niches, and conservation. Tallis will be pursuing these research interests in the lab of Dr. Bill Hoffmann.
Anne-Marie Noblitt: I grew up in a small town outside of Charlotte, and went to UNC for undergrad. I am currently rotating through labs, and I am interested in studying applications of genetics to making crops more tolerant of abiotic stressors. I really enjoy gardening and since the pandemic have gotten into embroidery as well. Though I am a Tarheel, I'm excited to continue my education at NC State, and look forward to all the wonderful opportunities this program has to offer.
Anna Yaschenko: I

am a first-year graduate student pursuing a Ph.D. in Plant Biology. I grew up in Gaithersburg, Maryland and attended the University of Maryland, Baltimore County where I studied computer science and bioinformatics. My research interests lie in the genetic basis of plant adaptation and the mechanisms by which plants respond to their environment. I am also interested in exploring how we can increase disease resistance and quality of crops. Currently I am doing lab rotations. Outside of research, I love growing crops hydroponically and playing video games in my free time.
The Plant Biology Graduate Student Association (PBGSA) has been working to engage students throughout the pandemic through a handful of different opportunities. Throughout the summer they hosted weekly "Productivity/Writing Support Group" that met on Zoom to keep each other accountable while trying to work from home. It was meant to provide the "coffee shop" environment that encourages productivity. We took a break when lab access started, but we are hoping to get back on track with regular meetings soon.
PB Grad Students and the PBGSA have been proactive in organizing socially-distanced social activities in order to foster a sense of community. Plant Biology grad students now have our own Discord server to coordinate game nights, maker/craft nights, etc. (shout-out to Aurora Toennisson for fantastic ideas!) Our first social event was held recently to welcome the new graduate students by having a chance to meet, chat, and ask questions to current students.
The Plant Biology graduate students would like to thank the Plant Biology Graduate Program Travel Awards for funding the registration fees for them to attend virtually attend the Plant Biology Worldwide Summit hosted by the American Society of Plant Biology (ASPB). This was a great opportunity not only to hear/see exciting research, but there were many networking and professional development opportunities that we were able to take advantage of – for free! Huge thank-you to all involved!
The Plant Biology Undergraduate Program would like to welcome all new students who have joined our program this year. We would like to give a shout out to the Botany Club for their continued willingness to stay connected to their peers during this very different academic year at NC State. The club has continued to meet bi-weekly using Zoom to stay connected with all its members. Thank you to all the Botany Club officers who are also meeting during the off weeks when there are no club meetings to help prepare agendas and discuss different activities and presentations that can be given during the meetings with the whole group. The Botany Club Officers for 2020-2021 are: President – Fisher Stines; Vice President – Isaiah McBryde; Secretary/Treasurer – Katie Lohff; and Agri-Life Council Representative – Sydney Buck and Sallie Taylor-Parker.
Additions in the PMB Department
Jacob Parnell has joined our department as an Adjunct Associate Professor. Dr. Parnell is the Principal Investigator and Project Lead for the Core Microbiome division at Novozymes BioAg in Research Triangle Park, North Carolina. As an adjunct he will be able to provide our faculty, staff, and students with important industry perspectives for both the fundamental understanding of plant-microbe interactions as well as the more applied development of effective microbial bioactives for use in agriculture. Dr. Parnell provided a seminar presentation to the department in November 2019.
Publications and Lab Updates
Alonso-Stepanova Lab
We have a new postdoc in the Alonso-Stepanova lab — Matthew Neubauer. He comes with a PhD from the Roger Innes lab at Indiana University. He is working on implementing lambda red recombineering for genome editing in plants.
We have had 2 publications:
Haigler Lab
We would like to welcome Nik Pettit, PMB undergrad, who had joined the group as an undergraduate researcher. Aniko Verbrugge, PMB undergrad, is continuing her work in our lab.
Ethan Pierce successfully defended his M.S. thesis on August 13th, 2020. Dr. Ben Graham continues his research in the lab as a Postdoctoral Research Associate beginning in January 2020.
In September 2020, Dr. Candace Haigler was awarded the first inaugural Women in Agricultural Biotechnology & Genetics Award, administered by the Agricultural and Environmental Research Department at Cotton Incorporated.
Hanley-Bowdoin Lab
Drs. Linda Hanley-Bowdoin and Bill Thompson have a new grant entitled "Comparative Genomic and Spatial Organization of DNA Replication in Maize" from the NSF Plant Genome Research Program for $3.32M. This grant is a renewal of a project that Linda and Bill have worked on together since 2003 and is the fourth in a series of grants that they have received from PGRP for this project. The project addresses a neglected area in plant biology and one that has important implications for understanding how plant DNA replication programs influence chromatin organization and nuclear processes like transcription. The grant is a collaboration between NCSU ( Linda and Bill), Florida State (Hank Bass, a former Plant Biology Ph.D. graduate student with Becky Boston), and Jawon Song (Texas Advanced Computing Center). To read more about this research grant, please visit this article.
The project has three new papers describing research supported by our previous NSF PGRP grant:
Kleiner Lab
Please welcome the following to the Kleiner Lab:
Alfredo Blakeley-Ruiz (Postdoc Research Scholar)
Nicole Parsley (Postdoc Research Scholar)
Anna Garrell (PhD student)
Alexandria Bartlett (Research Technician)
Ty Grewell (Undergrad Researcher)
We would also like to congratulate Alexandria for graduating this summer with her Masters degree from the Microbiology Program.
We have also had a number of publications come out this year from our lab group. Please see the publications listed on our lab website.
Long Lab
Please welcome Chloe Alexander, a sophomore in Horticulture and Spanish double major, to the Long Lab!
The lab has had four new publications since May:
Sederoff Lab
Eli Hornstein and Nathan Wilson gave a talk in Spanish to the Inter-American Development Bank in Bolivia. This is a group that provides loans, grants, technical assistance, etc. to increase local capacity in the regions of South and Central America (https://www.iadb.org/en). Their talk was on Biotechnology and Genetic Modification in Plants and focused on the "big picture" of the science behind transgenics and public engagement and education. A big thanks to Jose Cisernos, Director of the CALS International Programs, who helped set up this wonderful opportunity for them to take part in.
Sheth Lab
Aleah Querns successfully defended her Master's thesis and has accepted a Ph.D. Position with Dr. Allison Louthan at Kansas State University. Aleah also won best graduate student poster in ecology at the virtual Botany meeting in July.
Dr. Rachel Wooliver, a post-doc in the Sheth Lab, led our first publication using data collected here at NCSU in the journal Evolution, and her photo of the scarlet monkeyflower is featured on the journal cover. Rachel recently began a postdoctoral position with Dr. Sindhu Jagadamma at the University of Tennessee.
Emma Vtipil is a new Ph.D. Student in the Sheth Lab.
Xiang Lab
We would like to welcome Morgan Miller an undergraduate student researcher to our lab group.
Current and former students, Bean Zhou, Kira Lindelof, Andrew Pais, have published three papers with each student as the leading author, respectively.
Publication of a special issue in Journal of Systematics and Evolution organized by Jenny Xiang available to view here: In Memory of Prof. Tang Yan-Cheng – New Perspectives in Systematics and Evolution
Other Publications in 2020 listed below:
Xiang, Q-Y(J), ZD Chen, BH Song, DE Boufford. 2020. In memory of Professor Tang Yan‐Cheng: New perspectives in systematic and evolutionary biology. Journal of Systematics and Evolution 58 (5), 527-532.
Lindelof*s, K, JA Lindo*s, W Zhou*s, X Ji, Q‐Y(J) Xiang#. 2020. Phylogenomics, biogeography, and evolution of the blue‐ or white‐fruited dogwoods (Cornus)—Insights into morphological and ecological niche divergence following intercontinental geographic isolation. Journal of Systematics and Evolution. 58 (5), 604-645.
Pais*s#, A, R Whetten, Q-Y(J) Xiang#. 2020. Population structure, landscape genomics, and genetic signatures of adaptation to exotic disease pressure in Cornus florida L. – insights from GWAS and GBS data. Journal of Systematics and Evolution. Journal of Systematics and Evolution 58: 546– 570. https://doi.org/10.1111/jse.12592
Zhou*s#, W, Q-Y(J) Xiang#, and J Wen. 2020. Phylogenomics, biogeography, and co-evolution of morphology and ecological niche of the eastern Asian-eastern North American Nyssa (Nyssaceae). Journal of Systematics and Evolution 58: 571– 603. doi: 10.1111/jse.12599.
Wahlsteen#, E, W Zhou*s, Q-Y(J) Xiang#, K Rushforth. 2020. Rediscovery of the lost little dogwood Cornus wardiana (Cornaceae) – its phylogenetic and morphological distinction and implication in the origin of the Arctic-Sino-Himalayan disjunction. Journal of Systematics and Evolution. https://doi.org/10.1111/jse.12576.
Du*vf, ZY, AJ Harris, Q-Y(J) Xiang#. 2020. Phylogenomics, co-evolution of ecological niche and morphology, and historical biogeography of buckeyes, horsechestnuts, and their relatives (Hippocastaneae, Sapindaceae) and the value of RAD-Seq for deep evolutionary inferences back to the Late Cretaceous. Molecular Phylogenetics and Evolution. 145:106726; https://doi.org/10.1016/j.ympev.2019.106726.
Thomas#, SK, X Liu*rs, ZY Du*vs, YB Dong*p, A Cummings, L Pokorny, Q-Y(J) Xiang#, JH Leebens-Mack#. Submitted. Comprehending the Cornales: Phylogenetic reconstruction of the order using the Angiosperms353 probe set. American Journal of Botany. Invited paper.
Melton#, AE. SC Chen, YP Zhao, CX Fu, Q-Y(J) Xiang, SF Cheng, GKS Wong, PS Soltis, DE Soltis, and MA Gitzendanner. 2020. Genetic insights into the evolution of genera exhibiting the eastern Asia – eastern North America floristic disjunction: a transcriptomics analysis. American Journal of Botany. Accepted.
Xie Lab
Welcome Salvador Cruz Matus to Deyu Xie's laboratory. Salvador became a new Dad in the summer of 2020.
Deyu Xie, Adrienne Tucker, and Jose Cisneros won a new USDA/FAS Borlaug Fellowship grant. This grant will fund a new Borlaug Fellow from Turkey to work in Xie's laboratory. The fellow is expected visit our campus in 2021.
Thomas Wentworth
Dr. Wentworth provided the image on the left of Trillium pusillum taken on April 4, 2020 during his travels. Even during his retirement he has been a coauthor on three publications this year.
Faculty Awards and Acknowledgements
Grants Awarded in the Last 12 Months
Even though many members of the department have been working remotely during this unprecedented time, many are still actively writing grants and receiving funding to sustain on going research in our department.
| Investigators | Title | Direct Sponsor | Amount |
| --- | --- | --- | --- |
| Ross Sozzani | AccelNet: International Collaboration to Accelerate Integration of Engineering, Plant Sciences, and Agricultural Research | National Science Foundation (NSF) | $749,441 |
| Christine Hawkes | Collaborative Research: Microbes, Memory, and Moisture: Leveraging DroughtNet to Predict how Microbial Moisture Responses will Impact Carbon Cycling | National Science Foundation (NSF) | $497,234 |
| Linda K. Hanley-Bowdoin | Comparative Genomic and Spatial Organization of DNA Replication in Maize and Sorghum | National Science Foundation (NSF) | $1,825,302 |
| Manuel Kleiner | Metaproteomics to Investigate Intestinal Microbiota-Host and -Diet Interactions | National Institutes of Health (NIH) | $356,930 |
| Xu Li | Biochemical Characterization of Key Enzymes in Steviol Glycoside Biosynthesis | Pepsico, Inc. | $120,000 |
| Xu Li | Improving Oilseed Crops Via Phenylpropanoid Pathway Engineering | US Dept. of Agriculture (USDA) – National Institute of Food and Agriculture | $389,112 |
| Cranos Williams and Ross Sozzani | Improving Crop Productivity and Value Through Heterogeneous Data Integration, Analytics, and Decision Support Platforms | Game-Changing Research Incentive Program for Plant Sciences (GRIP4PSI) | $196,225 |
| Christine Hawkes | Foliar Fungal Endophytes for Enhanced Sustainability and Resilience of Corn, Hemp, Soybean, Switchgrass, and Wheat | Game-Changing Research Incentive Program for Plant Sciences (GRIP4PSI) | $225,061 |
| Katharina Stapelmann, Marcela Rojas-Pierce, and Amy Grunden | Harnessing (bio-)electrochemical Technologies as Sustainable Sources for on Demand Precision Agriculture | Game-Changing Research Incentive Program for Plant Sciences (GRIP4PSI) | $250,281 |
| Michael R. Hyman | Assessment of the Biotreatability of 1,4-Dioxane by Aerobic Cometabolism | Haley & Aldrich, Inc. | $98,684 |
| Jose M. Alonso | EAGER: Lambda-Red-Enhanced Homologous Recombination in Plants | National Science Foundation (NSF) | $299,988 |
| Amy M. Grunden | Collaborative Crop Resiliency Program (CCRP) | Novo Nordisk Foundation | $1,404,026 |
| Christine Hawkes | The MATRIX: Microbiome Assisted Triticum Resilience In X-dimensions | University of Copenhagen | $1,608,576 |
| Marcela Rojas-Pierce | Vacuole Remodeling in Guard Cells During Stomata Movements | National Science Foundation (NSF) | $999,883 |