Faculty and Staff
50th anniversary of the first Black faculty member at NC State
Last week our Twitter Feed is filled with #BlackBotanistWeek Posts, which made our department take a moment of reflection to appreciate and understand the history of Black Americans in our department and across campus. And we are proud to share our history with you!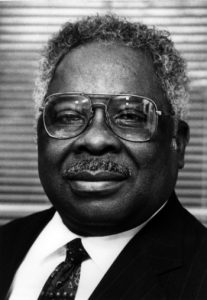 This year is the 50th anniversary of the first Black faculty member at NC State, Augustus M. Witherspoon, and he was a Botanist!
Augustus Witherspoon was not only the first Black student to earn their M.S. (1969) and Ph.D. (1970) in Botany at NC State, he is also the second Black student to earn his Ph.D. in the University's history. The first was Stephen Benton Latimer, who received a Ph.D. in Animal Science from NC State in 1967. Also of note, the first Black female student to earn a Ph.D. degree in Botany was Carol Janerette (1977). Learn About Our Department's History.
In 1971, Dr. Witherspoon joined the Botany Department faculty, becoming the first Black teacher in NCSU's history to achieve the rank of professor. Over the course of his 23 years at NC State, Dr. Witherspoon held several important positions in the university's administration, including Associate Dean of the College of Agricultural Life Sciences Graduate School, Associate Provost and Coordinator of African-American Affairs, and he helped establish the first Black fraternity, the Eta Omicron chapter of Alpha Phi Alpha, at NC State. In addition, during his time at NC State, he produced many academic publications and ground-breaking research, and became a community leader, leading efforts to support minority students and break down racial barriers on campus.
The NCSU Black Alumni Society established the A.M. Witherspoon Graduate Scholarship in his honor in 1990. The University's Board of Trustees honored Dr. Witherspoon with a citation of appreciation in 1992 for his services to the university as an outstanding teacher, researcher and community leader. Because of his hard work and commitment to students and NC State, the Student Center named the "Augustus McIver Witherspoon Student Center" in his honor in 1994, making Dr. Witherspoon also the first Black-American to have a building named in his honor on campus.