You've Got A Friend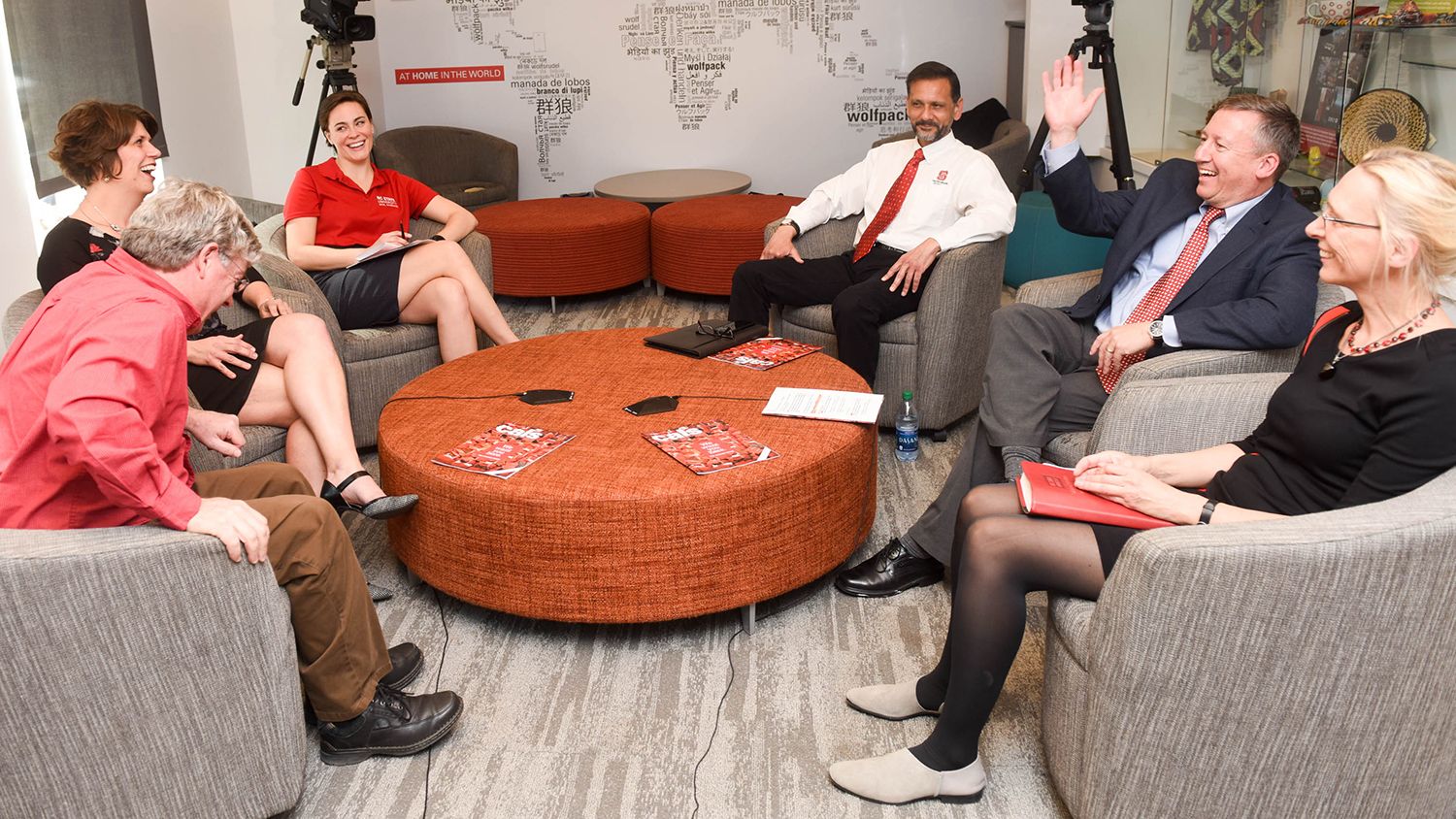 What do we mean by "CALS is here," anyway?
Sure, we're in all 100 North Carolina counties and 90 nations of the world, but presence is more than just geography — it's a mindset and a practice. CALS Dean Richard Linton gathered a panel of experts from industry, faculty, Extension, international programs and the student body to discuss why CALS' presence in grand challenges leads to impact and how we can position the college and its partners to continue as leaders in the future.
Participants
Craig Yencho, William Neal Reynolds Distinguished Professor, Department of Horticultural Science
Sheri Schwab, Associate Director; Director of County Operations, NC State Extension
Liz Gillispie, Third year Ph.D. student, Department of Crop and Soil Sciences
Jose Cisneros, Director of International Programs, CALS; Professor, Department of Horticultural Science
Richard Linton, CALS Dean
Karin Herbers, Vice President, Integrated Trait Knowledge and Research Management, BASF
Dean Linton: Starting in our great state: how is CALS present through Extension in all 100 counties?
Sheri Schwab: Every day, you can go to a small rural county, and … talk to the people there, whether it's the county government, producers, youth or families, and hear how Extension made a difference to them. Not a little difference, like "This was an extra bit of knowledge," but "This made the difference whether I could be in business or not. Whether my kid went to school or not." It's not just one-and-done, here-and-gone. Every day there's that network, and it can really make a difference.
Dean Linton: Now I'm going to look to José. … Tell us why and how CALS is present in global impact and international activity.
Jose Cisneros: We can think about really an international Extension. With the expertise developed by Extension, with the diversity of our state, with the different type of climates, different type of soils — the fact that we have mountains, we have ocean — you have countries with all these different types of needs, and we are really well-prepared for that.
It is amazing when you connect farmers, how they speak the same language, even if they don't "speak the same language." … The interest is growing. … I was talking with collaborators in Jamaica [and Peru], they're interested in redesigning their Extension programs.

Dean Linton: Craig, what do you think about CALS being here to address the grand, global challenges of agriculture?
Yencho:  We have a very applied focus. … In many ways I feel, because of what we do so well here already, it prepares us to help others help themselves.
I think the Sweet Potato Breeding Program is a great example of that. Our Genomic Tools Program, funded by the Gates Foundation, is developing next-generation breeding tools for the sweet potato, our most important vegetable crop here in North Carolina. That's being applied in East and West Africa right now, but those very same tools that we're developing for breeders in Sub-Saharan Africa are going to help … develop new varieties here and address our needs here.

Dean Linton: Why is it important for CALS to be here for feeding the world?
Yencho: [N.C. Commissioner of Agriculture Steve Troxler] said, "Hungry people are angry people." If we can't feed people and give them good nutrition … then it's going to make our world a more volatile world. I think that's one thing, in our own very small way, that we can help address.
Schwab: Our Extension folks are training military to go into other countries as part of the civilian units. … You think about the impact of that in other countries, not only from a food security perspective, but safety — that those places are stabilizing. … And who's training the U.S. military, in part, to do that? CALS.
Liz Gillispie: I know a lot of the work we do in CALS to help the military look at water contamination and cleanup. It's to help them … make sure that, not only their military community is clean, but the communities around them stay healthy. That's awesome.
Dean Linton: Liz, do you feel that CALS is here when you need us?
Gillispie: CALS has met and gone beyond my expectations. No matter where I go after this, I'm always going to have CALS. I'm always going to have people to come to, I'm always going to have professors to collaborate with.
Dean Linton: I'm going to shift to another part of the strategic plan. … Karin, can you tell me why BASF might've chosen NC State and CALS to work with?
Herbers: I think you are extremely open. You are very entrepreneurial. You are moving forward with a vision that is also very much aligned with BASF's vision. … Whether it's in food systems, in animal systems, or in agriculture and plant systems, you are so strong. We have, in BASF, corresponding divisions.
We are always considering CALS. If we approach a project, is there somebody at NC State … with whom we could collaborate? It's really always one of our first thoughts. … There is an underlying mentality and culture that fits. I love the Plant Sciences Initiative. The transdisciplinary research that is being addressed there really is the concept of the future. What comes out of there is the student and employee of the future.
Linton: And we want students to leave this institution with a feeling that CALS prepared them well, so they can be leaders.
Cisneros: When local students get exposed to international agricultural environments, they become more aware of how North Carolina products and services can meet the needs of a global market. For our students to be competitive finding jobs or starting businesses, they have to be globally competent.
Gillispie: When I hear "CALS is here," I think of an army. … CALS trains us, and then when we're done, we go out and make our own armies from what CALS taught us.
Yencho: One of the things I really like about being a faculty member here … is that, no matter where [my wife and I] go, we know we're going to meet folks that have worked with us. I would rephrase it from an army — I actually consider it more like a family. I love having that connection.
Cisneros: And we do have a huge global network. … We can link future business for our state, provide economic development in different areas. Just last year, I went to China with a [North Carolina] company that builds greenhouses, and now they will be building greenhouses in China. … Because we have this network, we can vastly affect future business.
Schwab: I think it's all done with a mind around service.  I think that's what makes it feel like a family. … It has that global feel to it, like we're all part of CALS, we're all "here" no matter where we physically are.
Herbers: I would like to come back to the local view. BASF has been here nearly 30 years. … It is very important, your Extension program, where you teach and instruct your farmers. … We do the same, because we want our products to be used in a sustainable way, in an efficient way. These are complementary — because you are educating, it is so much easier for any industry, including BASF, to be in this market and providing this service.
Dean Linton: When you think about partnerships, or potential partnerships, what are some of the things that come to mind?
Gillispie: One is local organizations – for me, local environmental organizations. … Being able to partner with other people who are interested in how to communicate environmental or water quality issues. … And the second thing I think of is looking at my colleagues, my fellow students.
Yencho: Bingo.
Gillispie: I've always thought that the students I grow up with … are going to be professors. They're going to be the people I collaborate with. So building those partnerships now is only going to make my work stronger and more collaborative in the future.
Dean Linton: Sheri, Extension might have the most diverse partnerships in the whole university. What can you relay about our partnerships that folks might not realize?
Schwab: People don't know as much about our partnership with county governments. … For example, right now we're going to start working with our county government partnership around the opioid issue. It affects people at all these different levels, and because we are this great hub of connection, they came to us to say, "Hey, what can we do together?"
Yencho: This partnership thing is sort of like an onion. It's multi-leveled and multi-tiered, and critical to our success.
Dean Linton: What partnerships do you think are critical for having CALS be "here"?
Herbers: My first suggestion is to partner up with a theoretical institute about how to optimize, to define what sustainability and its processes are. … You'll have to look at it in a very abstract way. Then I think you can focus the research on those areas, and it makes you really authentic and believable in the future.
Dean Linton:
 

As I close this conversation, I've learned a lot today. … I hope everyone can recognize that CALS being here means much more than CALS being "right there." It means that CALS is everywhere. What we do matters because it is important for our community: our state, our students, our faculty, our partners and our increasingly global economy.