Student entrepreneur challenges hunger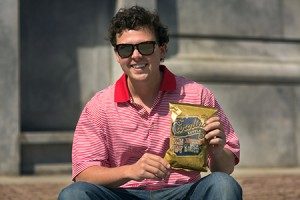 Junior agribusiness management major Josh Monahan is putting his degree into practice a little early. He's a year from graduation, but his new Southern-inspired potato chip company debuted online April 11: 1 in 6 Snacks, makers of Carolina Kettle Chips.
Josh decided to take on the challenge of a business launch despite a full-time class schedule because of a statistic that startled him: one in every six people in America do not know where their next meal will come from.
He thought it over and took action — five cents of every bag sold by 1 in 6 Snacks goes to support local food banks.
"It's definitely been a learning experience," Josh said. "You have to be on your toes, and you have to know what's going on around you."
That learning experience took two years of planning while holding down a full 15-hour course load every semester. Managing the business was like taking an extra semester's worth of work on top of his regular classes, Josh said. His classes at NC State University were invaluable as he developed the business, as was his lifetime of watching his parents run perennially popular flavored nut retailer The Peanut Roaster out of Henderson, North Carolina.
Currently, Carolina Kettle Chips are available by the case from 1in6snacks.com. Flavors include Down East Carolina BBQ, Southern Twang Salt and Vinegar and Low Country Crab Boil. According to the bag, the chips are also "certified awesome" – which means gluten-free and cooked in 100 percent coconut oil, with no preservatives, MSG or trans fats.
Josh is working to get Carolina Kettle Chips available by the bag in local stores. Ultimately, he hopes it grows enough to be his full-time job post-graduation.
Assistant Professor Ivan Kandilov, Josh's academic advisor at NC State, described Josh's approach to school as very similar to his business sense: well-prepared, with a longterm vision and a "can-do attitude."
"I am not surprised that he has plenty of entrepreneurial spirit," Kandilov said.