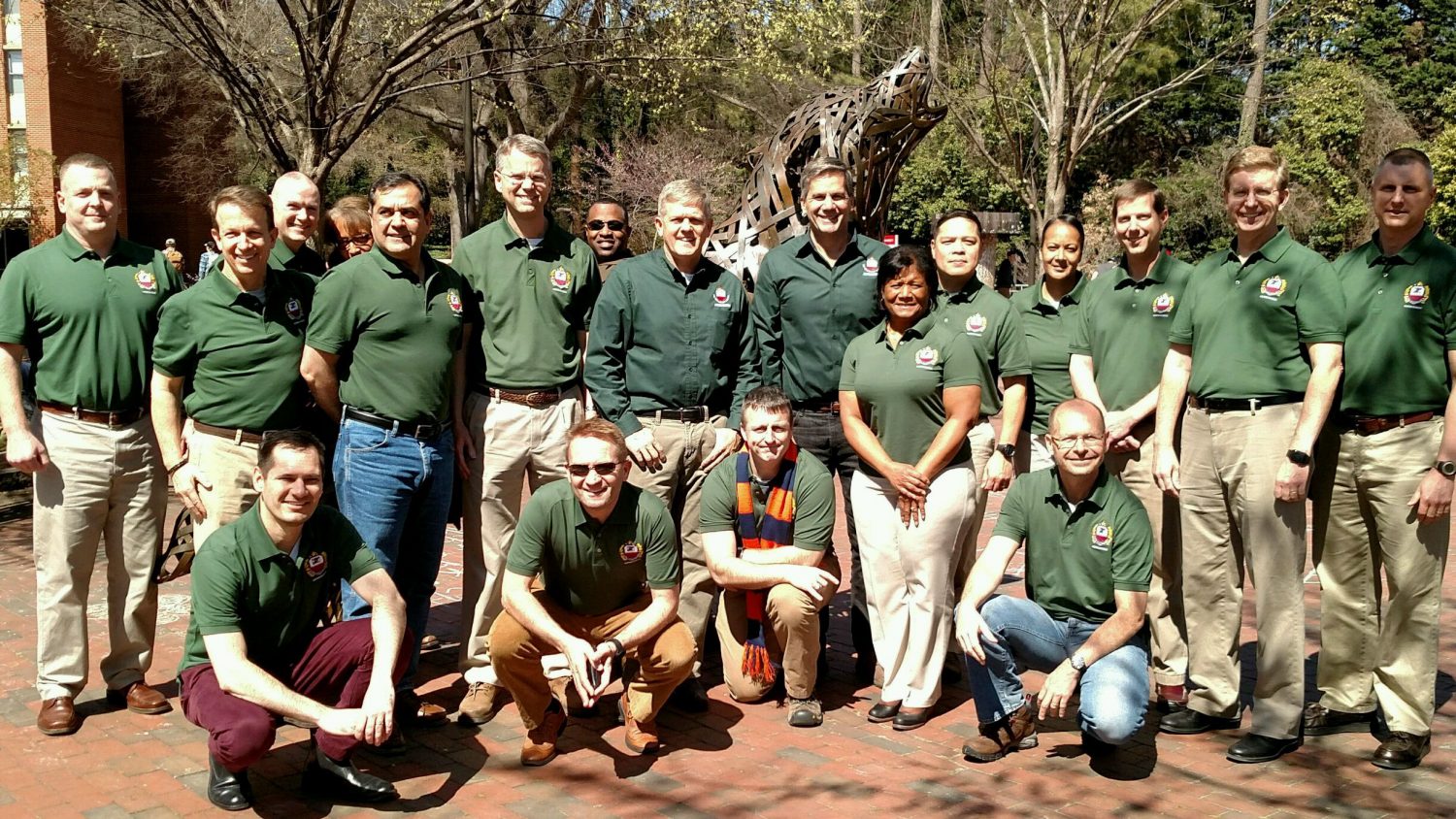 Master's students and faculty members from the National Defense University's Eisenhower School recently visited NC State's campus to learn more about agribusiness and biotechnology and their relationship to national security.
The school's agribusiness industry and biotechnology study groups joined with representatives of local life sciences companies and students and faculty from the College of Agriculture and Life Sciences for a Thursday evening networking event.
Then on Friday morning, CALS' Department of Agricultural and Resource Economics Department Head John Beghin hosted the agribusiness study group for a series of presentations from CALS faculty members and administrators.
Here, CALS research scholar Godshen Pallipparambil and recent Crop and Soil Sciences Ph.D. graduate Lottie Ou share insights from the visit.
Transcribing the triple helix of government, industry and academia
by Godshen Robert Pallipparambil, Center for Integrated Pest Management
The Dwight D. Eisenhower School for National Security and Resource Strategy, formerly the Industrial College of the Armed Forces (ICAF), is a part of the National Defense University dedicated to preparing its graduates "to lead the strategic institutions and activities associated with the integrated development and resource execution of national security and national defense strategies." On March 16 more than 35 members of the Eisenhower School agribusiness and biotechnology study groups attended an interactive poster, or "chalk talk," co-sponsored by NC State and the North Carolina Biotechnology Center.
One of the event's lead organizers, Dr. Deborah Thompson, CALS' director of research partnerships, welcomed the guests as the fourth Eisenhower School cohort to visit the NC State campus. She acknowledged the excitement of having participants from the government, local ag industry and academia sharing knowledge and building new opportunities.
Dr. Ernie Hain and I, participants from the NSF/ NC State Center for Integrated Pest Management, presented our center's activities to protect U.S. agriculture and natural resources from exotic pests and foster development and adoption of integrated pest management while promoting food security.
Accompanied by refreshments from NC State Brewery, discussions were highly interactive and dynamic, spanning the use of deep machine learning in pest management, complexities in implementing effective information security programs, strategies adopted in military communication, intricacies in cross-border resource utilization, new innovations from local agribusiness and promising ongoing agricultural research.
Dr. Jiwei Zhu, of the Department of Entomology and Plant Pathology, brought live mosquitoes and demonstrated a novel repellent that uses an active ingredient derived from wild tomato plants. He articulated the steps taken to identify unique compounds, methods to determine their efficacy and challenges encountered during the repellent's commercialization.
Abigail Brown, a recent valedictorian and a new graduate student in the Department of Crop and Soil Sciences, shared her research on wildflowers for stormwater control. She also described her eagerness to interact with agricultural stakeholders and traveling abroad.
Cole Smith, of the Department of Horticultural Science, shared his mission-driven research on developing a herbicide program for sweet potato plant production beds and noted that "research on crop safety is often taken lightly, but nevertheless is of utmost importance."
Each presenter had a unique perspective about the event but all were equally excited to share their research and network with the triple helix of government, industry and academia.
Poster session sparks heated discussion
by Ling "Lottie" Ou, Department of Crop and Soil Sciences
Amidst a North Carolina cold spell, a heated "chalk talk" discussion among Dwight D. Eisenhower military school students and faculty, NC State students and faculty, and RTP industry representatives warmed the room in Williams Hall on March 16. More than 70 people attended the evening event, designed to facilitate cooperation among government, university and industry.
Gen. Jen Zakriski, a member of the Eisenhower School's biotech faculty, said that she was excited to attend because "biotech is emerging in North Carolina, and innovations, new ideas, and opportunities make this place exciting."
Her students Chad Jagmin, Jeffery Holland, Mark Lamcyk, and Dan Brooks have been in active duty for about 15 to 20 years, and while they look slightly different than most NC State students, they were just as inquisitive and energetic. They said the program helped them be better leaders and see different perspectives.
Jiwen Zhu, a post-doctoral researcher in entomology and plant pathology at NC State, brought his mosquitos and repellent developed from tomato vine for an interesting and demonstrative talk; he also researched fumigants for fire ants and bio-pesticides for military base camps. He started his research as an undergraduate and has cooperated with industry since his master's degree. He also collaborated with military research for his post-doctoral research. Like many other presenters, he was excited to learn cooperation opportunities with the Eisenhower School.
Rick DeRose, a technology acquisition lead at Syngenta, really enjoyed the event and said that talking to students is his favorite thing to do because their minds are not constrained.
"Technology is so interdisciplinary; I never thought we would cooperate with satellite companies," he said. "I'm supposed to tell people what will be the next big tool in five years, but I don't even know what (will be big) six months from now."
The event ended with excitement and satisfaction on people's faces, knowing that great things happen when people work together and that the next breakthrough can be tomorrow.