Special Delivery: Flowers from Raulston Arboretum
Staying home has become the temporary new norm. It's tough for all of us, especially during this time of year when all we want to do is go outside, visit a park or other outdoor venue to enjoy the sun, fresh air and blossoms. 
The coronavirus has temporarily closed NC State's JC Raulston Arboretum. And although you won't get to feel the warmth of the sun or smell the fresh flowers, you can still experience everything the arboretum has to offer online! Let's take a virtual stroll.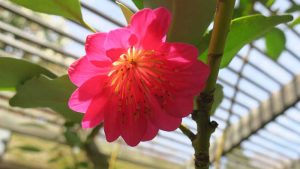 Here are a few plants you would see if you were able to visit the arboretum in person today.
Rhodoleia henryi 'Scarlet Bells': Otherwise known as Evergreen Rose Hazel. This form of plant is a shrub and requires part sun and part shade. It typically blooms in March.
Rhododendron 'Brandi Michele Raley': Also referred to as Southgate Brandi this shrub is heat tolerant and thrives in the South. It's known for its pink buds and pink opened ruffled blooms. These shrubs like to be planted in partial sun and shade.
Iris 'Nada': Also called the Butterfly Iris, this plant grows well in wet soil conditions and also tolerates moderate droughts.
Because of its evergreen foliage and dainty orchid-like quality of its numerous flowers, the 'Nada' has become one of the most popular iris of its kind in southern states as well as California.
Of course these are only a handful of blooms you might see and smell. There are many more species in bloom right now. For a look at additional plants and flowers check out the arboretum's "Now Showing" section of its website. The staff and volunteers do a great job of taking photos and posting a variety to its website.
You can learn more about these beautiful blooms and more on the JC Raulston Arboretum YouTube page. They've also launched a new lecture series with Director Mark Weathington titled "Midweek with Mark." They are scheduled every Wednesday at 3 p.m. while the facility is closed. Check out the schedule and topics of interest on their calendar. 
And one final thing, check their Facebook Page for dates about the upcoming spring plant sale. They're still planning to have a sale when it's safe to do so!