"Realization of a Dream": NC FFA Center Breaks Ground on New Dormitory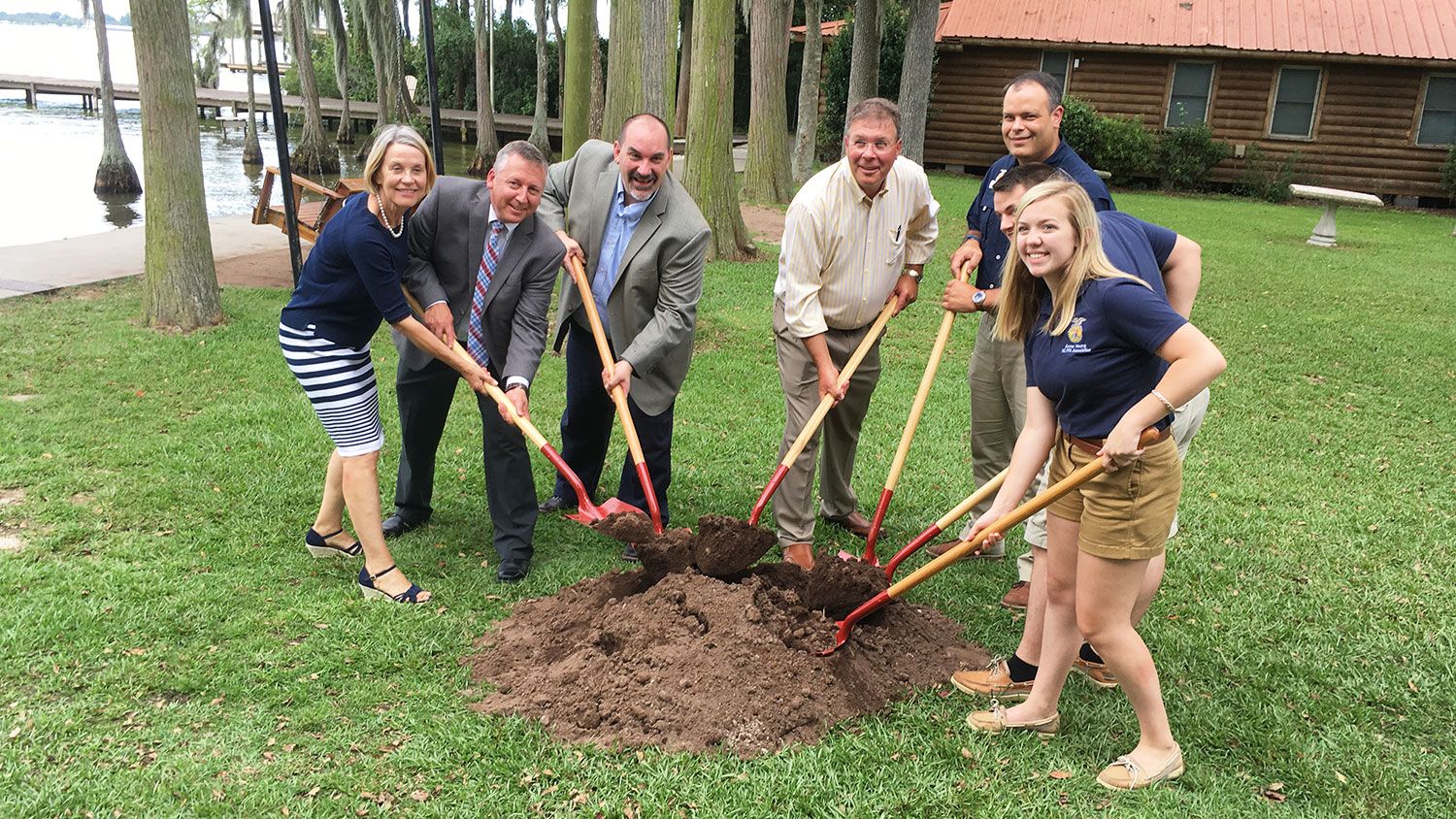 On an early August afternoon along the banks of White Lake in Bladen County, North Carolina, state FFA leaders, youth, educators and corporate supporters gathered to celebrate the ground-breaking of a new female dormitory at the NC FFA Center.
With a contribution of $400,000, the SECU Foundation makes possible the construction of the new dormitory, which will bear the organization's name. The new facility will have 72 beds, an attached bathhouse and individual bathroom features in each of the rooming quarters.
Other partners were recognized at the event, including BASF, who contributed $200,000 toward the female dormitory at the center, which has served NC FFA members and agriculture teachers since 1928.
To date, NC FFA has raised $685,000 of its $1,025,000 fundraising goal for major improvements to the center, including the dormitory and a new male bathhouse.
"This ground-breaking ceremony marks the realization of a dream that many have had for the NC FFA Center for many years," said State Agriculture Education Leader Gerald Barlowe at the event. "The construction of these two new facilities will allow us to meet the housing demands for our female members and provide clean, heated and cooled restroom facilities for our male members. These new facilities will also allow us to use the camp in the cooler months of the year with heated facilities for both male and female members. We would especially like to thank our donors of this project for helping us to make these improvements a reality."
Today there are nearly 20,000 FFA members in North Carolina, and over 1,900 students attend FFA camps each summer. More than 480 agriculture teachers deliver innovative and integrated agricultural curriculum to students statewide. Teachers often convene at the FFA Center for training and professional development workshops throughout the year.
"As a young female leader who will benefit from this new dormitory, I want to sincerely say thank you to all of the donors who have helped to make today possible," said State FFA Vice President Anna Young at the event.
CALS Dean Richard Linton participated in the ceremony, which he described as "a wonderful celebration of philanthropy and support for North Carolina FFA and agriculture education.
"The leadership and recreation programs that are held at the NC FFA Center play an important role in the experience of FFA members," he said. "FFA camps give youth and school groups an important opportunity to expand their learning outside of the classroom."
[button]Learn more about NC FFA[/button]