PowerPack is the newest Howling Cow dairy product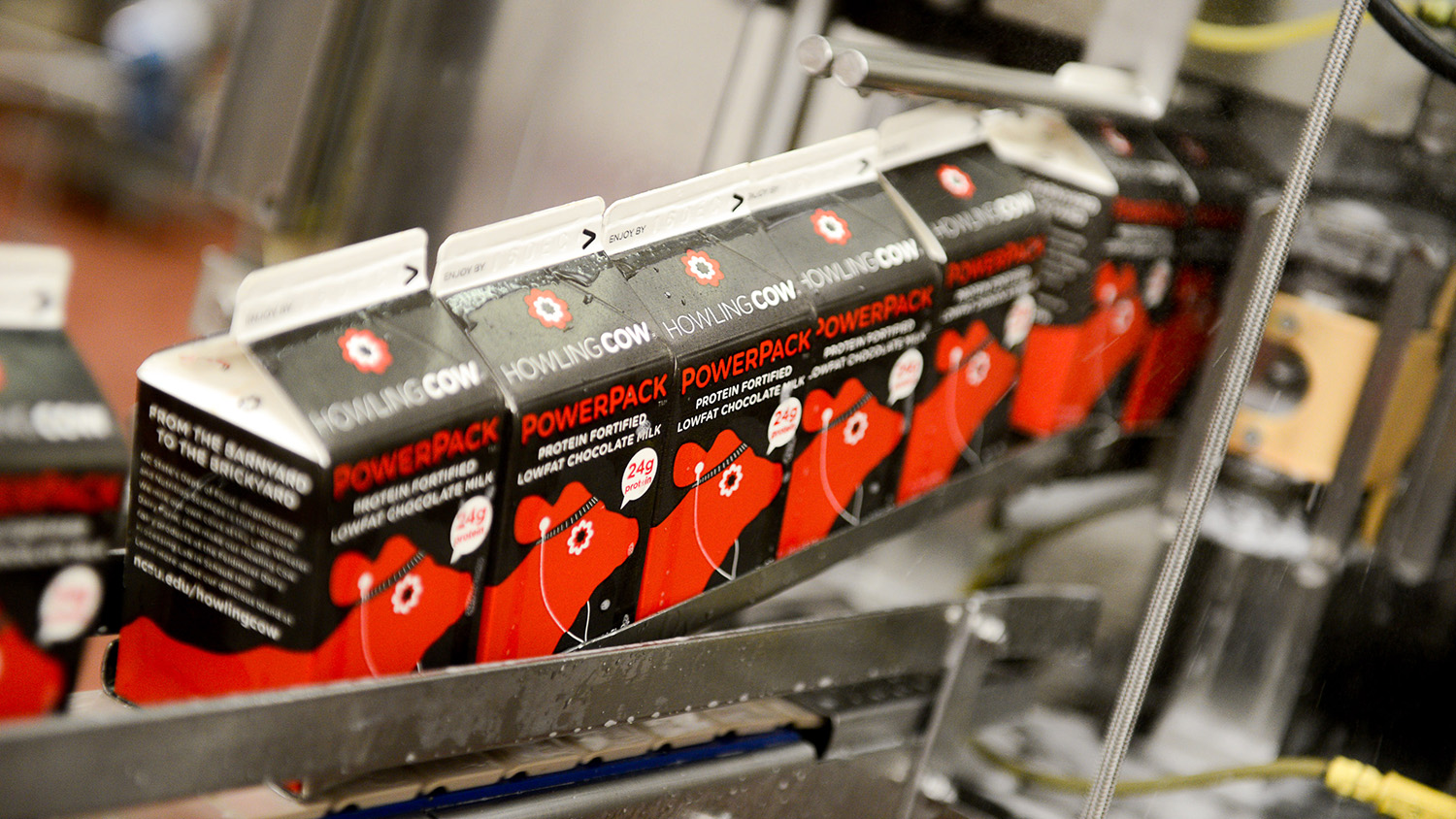 Sodium hexametaphosphate. Acesulfame potassium. Cellulose gel. Sucralose. These are just a few of the tongue-twisting ingredients in a bottle of chocolate-flavored Muscle Milk.
How about, instead, another beverage made from real milk from cows grazing at a dairy farm just down the road? With real cocoa, pure cane sugar and 24 grams of protein? Seems like a no-brainer.
And thanks to the College of Agriculture and Life Sciences' Dairy Enterprise System, this alternative muscle-building/exercise-recovery beverage recently became a reality.
Meet PowerPack, the newest member of the Howling Cow family of dairy products.
Produced in the Feldmeier Dairy Processing Lab in the college's Department of Food, Bioprocessing and Nutrition Sciences (FBNS), PowerPack has quickly become a favorite on campus.
In early 2013, Carl Hollifield and Gary Cartwright, assistant director and director, respectively, of the NC State Dairy Enterprise System, developed the concept and created an initial formula for PowerPack.
"There are formulas for these types of beverages that involve processes that we don't have in our dairy plant, with ingredients we don't use," Hollifield said. "So we knew it had to be a fresh milk beverage, not water based, and it had to have pure cane sugar, not high fructose corn syrup, in order for us to make it."
Hollifield and Cartwright next reached out to Dr. Craig Sherwin, who conducted undergraduate research in Dr. Allen Foegeding's lab and graduated from NC State in 1994 with a bachelor's degree in food science. Sherwin, technology director at Davisco Foods International Inc., helped Hollifield and Cartwright determine the best type of whey protein to use in the beverage. They settled on a product called BiPro, which is made by Sherwin's company.
"BiPro is a whey protein isolate at the highest purity available, and it contains only the protein fractions in whey that have the most complete essential amino acid content," Sherwin said. "This means you can use less of it and still get the amino acid leucine that is recommended for muscle protein synthesis. The purity and the gentle ion exchange process also leads to an exceptionally clean flavor, and it tastes particularly good just straight in water without any fillers. In a fitness-oriented chocolate milk, these nutritional and functional properties make it ideal."
With their formula complete, Hollifield and Cartwright next submitted the concept for consideration as a spring 2013 FBNS senior design project. A group of four students – Audrey Caster, Katrina Connor, Merrie Levi and Erin McMurtrie – jumped at the chance to develop the beverage.
"I thought it sounded really interesting," said McMurtrie, who earned bachelor's degrees in food science and chemistry in 2013. "It was a great concept, and I liked that we could help create a mutually beneficial relationship between the dairy and the athletic program. Besides, who doesn't like chocolate milk?"
While the student team was busy working on everything from nutrition analysis to production, Hollifield forged agreements with University Dining and NC State Athletics.
PowerPack hit the shelves of campus dining halls and c-stores during the summer of 2013. After a tweak to the formula that made the protein-to-calorie ratio compliant with NCAA regulations, PowerPack also became a key component of the nutrition plans of NC State student-athletes.
"PowerPack is an additional recovery drink that is unique to NC State, and our student-athletes love it," said Diana Nguyen,
NC State director of sports nutrition. "What sets PowerPack apart is that it is made here on campus, and you can't find it anywhere else."
Low-fat chocolate milk is considered to be a good base standard for a recovery beverage, Hollifield said, but adding protein to it also makes it a muscle-building beverage. One 14-ounce serving of PowerPack delivers about 300 calories and 24 grams of protein.
After two years in production, PowerPack sales on campus are going strong. For the students – now alumni – who helped develop it, seeing those cartons for the first time was a moment they'll not soon forget.
"It's hard to explain how exciting it is to see your hard work pay off," said Katrina Connor, who received bachelor's degrees in food science and bioprocessing in 2013. "Seeing it on the shelves was cool, but seeing people enjoy it was even better. I knew we had made something awesome, and I was so proud to be part of the amazing team that had made it."
For Sherwin, being part of the PowerPack process was a full-circle experience.
"This project started with student research using our protein in chocolate milk, which is an activity I'm really proud to support and encourage," he said. "To think that not only are thousands of students enjoying this product on my old campus but also that some of my favorite athletes might be as well, that makes it particularly cool for me as an alumnus. Go Pack!"