Partner Profile: Novozymes Strengthens Research Partnership with NC State
A milestone in university-industry collaboration at NC State occurred April 3, when representatives from Novozymes and the College of Agriculture and Life Sciences signed a five-year research agreement.
Novozymes, which has its North American base in Franklinton, North Carolina, is a global biotechnology company with headquarters in Denmark. It is the world's leading producer of enzymes and microorganisms used in products that range from laundry detergents to biofuels, animal feed and crops.
CALS' Director of Research Partnerships Deborah Thompson explained that the new agreement makes it easier and faster for Novozymes to partner with university faculty on research projects.
"The agreement defines the terms of the industry-university research partnership, and with this in place, Novozymes only has to submit a task order to initiate a new project after discussion with a university faculty member," she said.
At a ceremony held at the Dorothy and Roy Park Alumni Center on NC State's Centennial Campus, Novozymes' Adam Monroe and Mike Elder signed the agreement with CALS' Dean Richard Linton and Associate Dean Steve Lommel.
The agreement, Lommel said, could benefit the North Carolina Plant Sciences Initiative, an effort at NC State to make the state a world hub for solving some of the most important challenges in agriculture for the state and the world.
Linton shared a similar perspective. "We hope that this research collaboration synergistically creates great things for the university, great things for (the College of Agriculture and Life Sciences) and great things outside of agriculture and life sciences," he said.
Monroe, president of Novozymes in the Americas, agreed, adding that "great science and great relationships can create great things."
5 Questions with Novozymes' Mike Elder
In a phone call after the ceremony, Elder, Novozymes North America's head of business relations and business development, shared his insight about the problem-solving power of the relationship between NC State and Novozymes.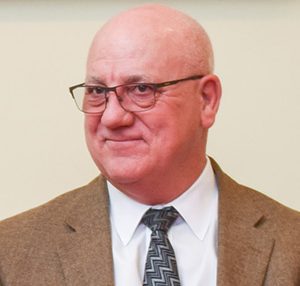 Tell us a little bit about Novozymes.
Novozymes is the world leader in biological solutions. Together with customers, partners and the global community, we improve industrial performance while preserving the planet's resources and helping to build better lives. We are unique in our dedication to harnessing the power of enzymes and microbes. For more than 70 years, our work with these biological problem solvers has made a big difference to our shared world.
Why was the signing of the research agreement a significant milestone for Novozymes?
The world is changing at a very fast rate, and we feel that partnering with NC State in several areas will enable synergies for both NC State and Novozymes. Novozymes has been in North Carolina for 40 years, but it's only been in the last two years that we've embraced the university in such a strategic manner. We'd done one-offs based on a particular need, but the master research agreement with NC State will be the floor for doing more projects and more research with the university. We expect to have our first project under that agreement in a couple of months.
Why are you partnering with NC State? 
As a land-grant university, NC State has a big focus on partnering. Under the leadership of Chancellor Randy Woodson and Dean Linton, partnering with the university is state of the art. At NC State, you find world-class talent and also find world-class relationships and collaborations.
Why now?
Our work in biological solutions for agriculture, animal and human health is growing and we see NC State as a global technology leader in these spaces. NC State has been working with Danish universities to develop proposals for projects related to the Plant Sciences Initiative. Those partnerships are ongoing, and I believe they will begin to make a forever bridge between Denmark and NC State that will benefit Novozymes in the long run.
What outcome is Novozymes looking for in this partnership?
Novozymes is not like companies that have traditionally used universities to do their basic research. We do basic research ourselves. We actually have more patents than we have people in our company. What we are doing is finding out how we can use NC State in other ways – in plant sciences, human health and agricultural biosciences.
These are all spaces that we're exploring with CALS, and we are also pursuing projects in the College of Textiles.
We are just two years into this. We've been embracing NC State like never before, and I see so much potential as I open new doors at NC State – doors that I didn't even know were there.
Help CALS grow talent, solutions and the economy by supporting and engaging with our academic, research and extension efforts.
[button]Let's Connect[/button]
Interested in expanding or creating a research partnership with CALS?
[button]Email Deborah Thompson[/button]