Outstanding CALS Grad: Serene Ahmad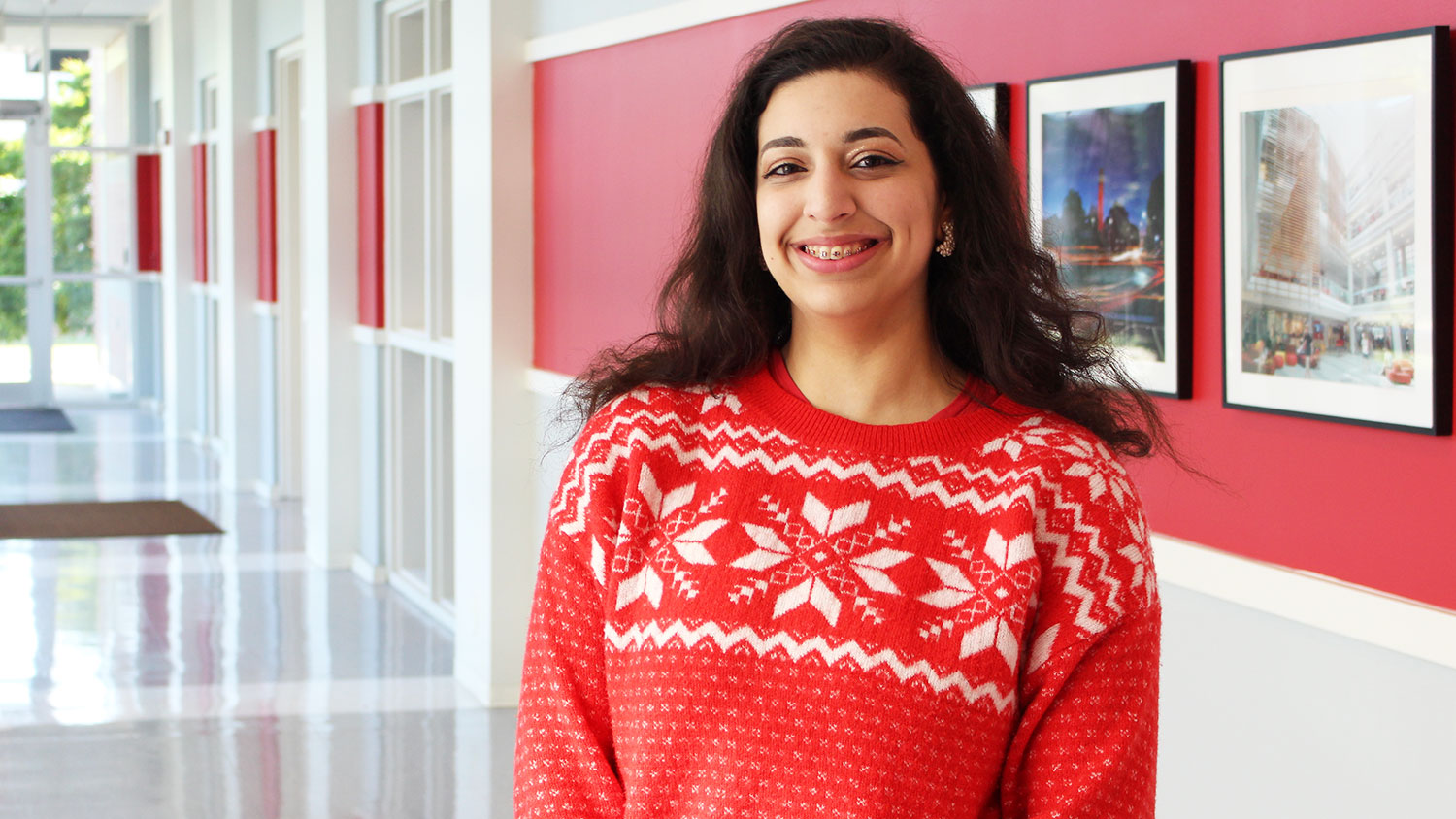 During the first week of finals, Serene Ahmad jokes that "senioritis" has set in full-force. It's no wonder the accomplished student is ready for a break – her NC State career is packed with scholarly achievements and extracurricular activities.
A senior double-majoring in biochemistry and Spanish, Serene served as a doula for UNC Healthcare Women's Health Center and as a Spanish-language translator for patients at the UNC Healthcare Center for Latino Health. She was a chancellor's aide and service chair of the Muslim Student Association. She also served for two years as president of VOLAR (Voluntarios Ahora En Raleigh), a group that provides volunteer Spanish translation in a variety of settings, including a free healthcare clinic, a local elementary school, a clothing ministry program and community and cultural events.
Serene chose to study Spanish because she knew it would be a useful skill in her future career as a doctor. She is a Presidential Scholar and is in the University Honors Program.
And she's accomplished all of this as the third of ten children. Read on to learn more about this outstanding CALS grad.
Why did you choose NC State?
I chose NC State because it has a welcoming atmosphere and offers a wealth of opportunities for its students. Everyone here is on a journey to create change, whatever it may be. CALS stood out to me, as it aligned with my interests in biology, biochemistry and a practical application of the life sciences. I also knew the challenging, rewarding experience would better prepare me for my professional career.
What is your career goal?
I aspire to practice clinical medicine and provide care to my community. My time at NC State not only supplied me with the tools to prepare myself, but also has helped me better understand how my professional goals fit in the greater picture.
What are your plans for after graduation?
I am thrilled to attend the UNC School of Medicine. No matter where I go, I am a proud member of the Wolfpack.
How has your experience in CALS helped prepare you for your career?
CALS has especially prepared me for a medical career because it emphasizes the practical application of science. Students learn the biochemical foundations while gaining exposure to how the science is used outside of the classroom.
What activities do you enjoy outside the classroom?
Apart from my studies, I enjoy spending time with my friends and family, and exploring around NC State. It's difficult to find a dull moment because there are so many events, shops, and people to see. I also had the opportunity to spend my last semester with the NC State Dabke club, where we performed traditional Arabic dance.
What have you learned here that you'll take with you when you graduate?
Through my experience at NC State, I learned that curiosity and passion are essential to making anything you do, worthwhile. If you take the initiative to address the "what-ifs" and make the most of the present moment, you open the door to unimaginable opportunity.
In five words or less, what's the best thing about CALS?
We're all truly one Pack.
You can make a difference in the lives of students like Serene!
[button]Give Today[/button]